The success of the Toyota Prius speaks for itself: even if you know nothing about cars, you probably know exactly what the Prius is and what it can do. Building on the back of that success, Toyota is now looking towards the future as it places ever-increasing emphasis on the importance of hybrid, hydrogen and pure electric cars.
After updating the regular Prius last year, it's now the turn of the Prius Plug-In. After asking customers what they wanted from their next-gen cars, Toyota whittled it down to three headline things: a purer electric vehicle experience, more comfort and new looks to further distinguish it from other hybrids.
At a glance, it's certainly different with all sorts of new lines and angles to differentiate it, along with a rather fantastic new double-bubble roof with an integrated rear spoiler. But it's what's going on under the skin that's the real headline news.
There's quite a lot new about this car, from a larger capacity battery to a special integrated heater so the car can operate in temperatures as low as -20 degrees centigrade with no loss in power. There's also the option of a solar panel roof, along with some really clever kit like a new dual-motor design for better power delivery.
In short, Toyota isn't shying away from the Prius' ability to continue to innovate, so is it now better than ever?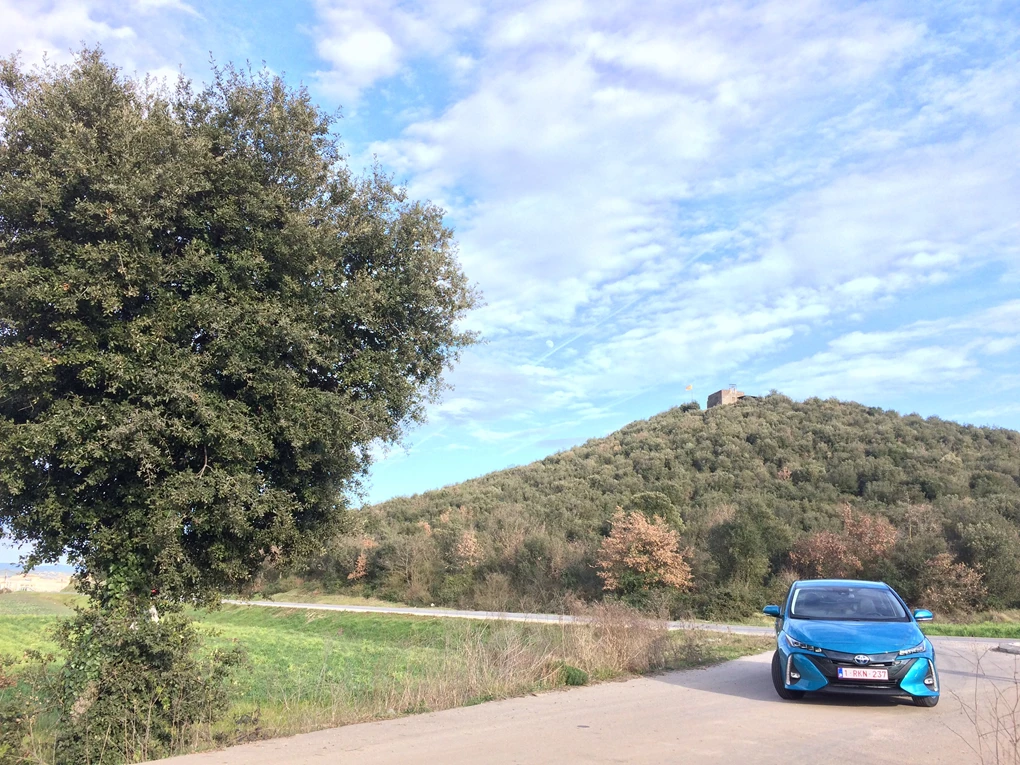 Performance
Plug-in hybrids have always been something of a two-in-one driving experience. For short, urban trips they behave essentially as pure electric vehicles, but for a bit more speed or long-distance driving the combustion engine kicks in and it acts as a regular hybrid.
But Toyota says that its buyers demanded more of a pure electric vehicle experience from their plug-in Priuses and, as a result, the manufacturer saw fit to vastly increase the electric capabilities of the new car.
Courtesy of a more efficient electric motor and a battery that's two thirds larger and 50 per cent heavier than that in the previous model, it's at least doubled the 15-mile electric-only range that the previous Prius Plug-In achieved. It should be noted as well that Toyota says its 30-mile estimate is only a bare minimum figure; in optimum conditions, it claims a pure electric range of 50 miles or more.
There's more: Toyota's boffins have also fitted an innovative clutch system which allows the electric generator to act as a secondary electric motor, allowing the maximum speed you can achieve in pure electric mode to over 80mph.
Of course, the other half of the Prius' innovative powertrain shouldn't be forgotten either. With the electric motor and the 1.8-litre petrol engine working in tandem, the Prius Plug-In can hit 0-62mph in 11.1 seconds, a respectable time for a car weighed down by such heavy battery packs.
Acceleration is instant and effortlessly smooth, if unexciting. The CVT gearbox that the petrol engine is attached to unfortunately suffers from the dreary droning sound common to so many of its contemporaries when the throttle's planted, but then the Prius Plug-In has always been a car that's at its happiest in slower speed, urban environments.
Ride and Handling
Thanks to extra sound deadening refinement is great too, with barely any noise while cruising gently
Around the streets of downtown Barcelona where we tested the car, the new Prius Plug-In behaved itself really rather well with steering that's light and easy to use. It also has comfortable and soft suspension that remains unflappable over all sorts of broken surfaces and potholes. Thanks to extra sound deadening, refinement is great too. There's barely any noise while cruising gently, though the gurn of the petrol engine will worm its way into the cabin under harder acceleration or if the battery system is recharging. Where it starts to fall apart is on faster routes, where the extra weight of the Prius Plug-In - some 150kg over the previous model – becomes much more apparent than when just moseying about the streets. Of course, the Prius has never been a drivers' car and has never been intended to be, but despite the fact that Toyota has made some efforts into tightening up the car's handling courtesy of a stiffer underpinning the Plug-In still leans and lollops around in tighter corners, while the tall tyres and steering which is tuned for ease of use rather than engagement lets in down in terms of driving appeal. Strictly one for the urbanite crowd then, and eco-warriors who like to moonlight as road warriors will be much better served by something like the BMW i3. But overall the Prius Plug-In makes for an impressively relaxed and hushed cruiser, something which will no doubt secure its status as the go-to car for many inner-city taxi companies.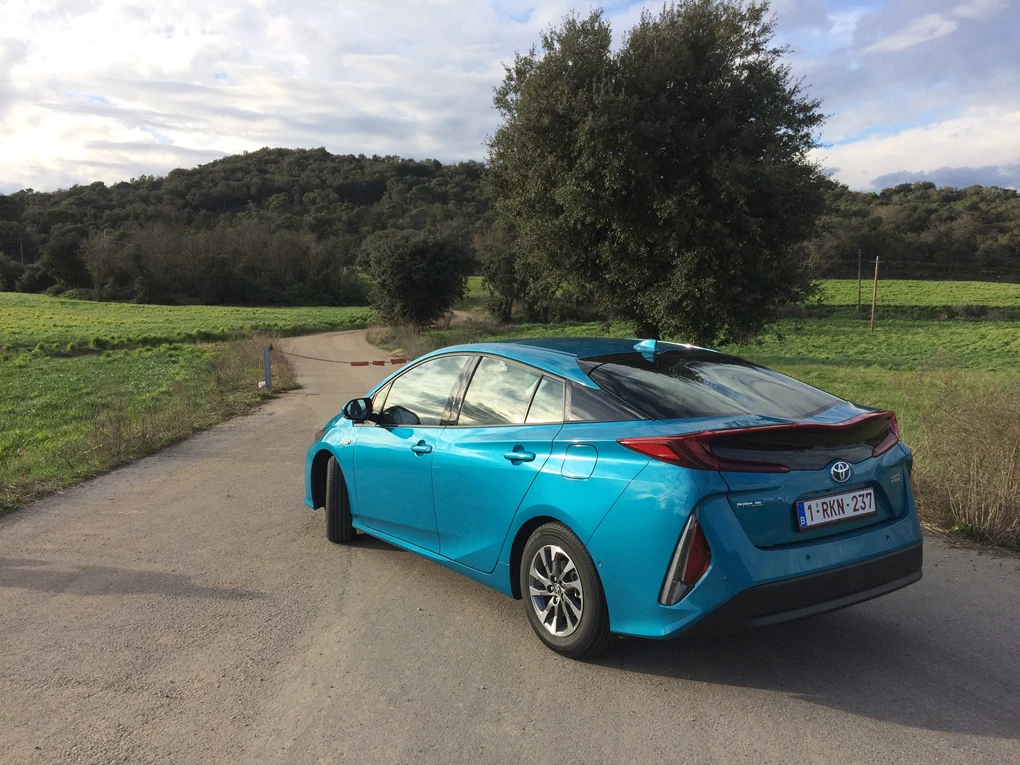 Interior and Equipment
The name Prius is a Latin word, which can translate variously as 'first', 'original', 'superior' or 'to go before'
Inside, the new Plug-In gets a dashboard setup that's similar to the regular Prius. Certainly, there's more emphasis on these modern cars on a clean appearance than the button-heavy, spaceship-style dashes of previous generations, but each still comes with a fair amount of equipment. Differences between the regular hybrid and the Plug-In include a few additional buttons to switch between driving modes, and more notably a larger eight-inch touchscreen which is mounted in the centre console and which is larger than the standard Prius' seven-inch screen. There are some scratchy-looking plastics lower down in the cabin but above the beltline material quality is decent, while the Excel trim we tested also featured leather seats. It's not quite as plush or as upmarket as some of its other rivals, but there's a decent amount of space up front and decent-sized storage spaces. Standard equipment across the range includes a heads-up display and a reversing camera, along with sat-nav, DAB radio and a wireless charging mat for your smartphone. Unique to the lower Business Edition Plus trim is the £1,500 option of a nifty solar panel roof, which Toyota says can add approximately three miles to the car's range every day. Unfortunately, the extra technology packed into the Plug-In means that practicality suffers. There's only four seats instead of five, which will hamper its attractiveness to families and business customers alike, while the boot is smaller than the regular Prius' thanks to the larger battery packs. The unique double-bubble rear window and spoiler certainly look cool and aid aerodynamic efficiency, but unfortunately it also cuts into headroom for passengers in the back. Although there's a decent amount of legroom and the seats are comfortable, it's things like this that could make the difference between customers choosing the regular Prius hybrid over the Plug-In.
Cost
The Prius Plug-In Hybrid comes with a five-year, 100,000-mile warranty as standard, which also covers the battery pack.
Accounting for the UK government's £2,500 plug-in car grant, the new Prius Plug-In is priced from £29,195 for the Business Edition Plus model, while the higher Excel trim starts from £31,395. Both come with a five-year, 100,000-mile warranty as standard, which also covers the battery pack. Officially, Toyota says that the car can do up to 282mpg with 22g/km of CO2, though as with all such claims this should be taken with a pinch of salt and much of it will depend on your behaviour as a driver. Certainly, we were able to travel for the vast majority of our test route through Spain on pure electric power even when on the motorway, though we'll have to test the car on UK roads to see how its real-world performance holds up. In terms of charging the battery packs, the Prius Plug-In can be charged from flat to full in two hours from a public charging point, while charging from a wall charger at home – which is available for free to all Prius Plug-In customers – will take three hours and ten minutes.
Our Verdict
A plug-in hybrid will always be a niche choice in the market, and while the Prius Plug-In has some considerable advantages over the regular Prius hybrid and over its competitors that's offset by its reduced practicality. For the £11,000 extra that the Plug-In costs over the regular Prius, you do gain much improved economy, better refinement and a driving experience that's much closer to a pure electric vehicle. But you lose out on an extra seat in the back and a fair amount of storage space. Whether that makes sense for your or not is ultimately a matter of personal choice, but while there are other options in the market that will be better all-rounders it's impossible to ignore the impact the Prius has had on the hybrid world and the significant advancements it continues to make.