When Volkswagen released the Mk6 Golf in 2009 it turned out to be an extensive facelift of the Mk5, rather than a new car from the ground up. The two cars were so similar that they actually shared the same bodyshell.
The Mk7 is another matter. Almost nothing has been carried over from previous Golfs, and it's built around a versatile new chassis, which also forms the basis of the Audi A3, SEAT Leon and Skoda Octavia. Volkswagen will be hoping to beat the Ford Focus and Vauxhall Astra in Europe's most competitive segment.
Performance
There are quite a few engines in the range, all turbocharged: a 1.2-litre TSI petrol (84bhp), two 1.4-litre TSI petrols (123bhp and 148bhp), a 108bhp 1.6-litre TDI diesel and a 148bhp 2.0-litre TDI. The 148bhp 1.4-litre TSI ACT is particularly interesting because it has cylinder deactivation technology in which two of the cylinders are deactivated when only a moderate amount of power is needed, improving its economy.
It's a great engine, not only because it has ample performance, but also because it's particularly smooth and quiet. The 1.6-litre diesel is a hugely popular choice, and provides just enough performance, but it's a little soulless to drive, while the popular 2.0-litre TDI is much punchier and has impressive overtaking ability. For those after the ultimate economy, there are now two BlueMotion models, a 1.6-litre diesel with 108bhp and a 1.0-litre turbocharged petrol with 113bhp.
Driver's looking for more performance have several choices, including the diesel GTD with 181bhp. It shares a bodykit with the iconic petrol Golf GTI with 217bhp, while the range-topper is the four-wheel drive and 297bhp Golf R that can launch itself to 62mph in a scarcely believable 4.9 seconds with an automatic DSG gearbox fitted. The GTD is particularly adept at motorway driving, while the GTI and R offer serious thrills.
The GTE offers an interesting alternative too, fitted with a 1.4-litre petrol and electric motor, giving a total output of 201bhp and 0-62mph acceleration of 7.6 seconds, with impressive eco credentials.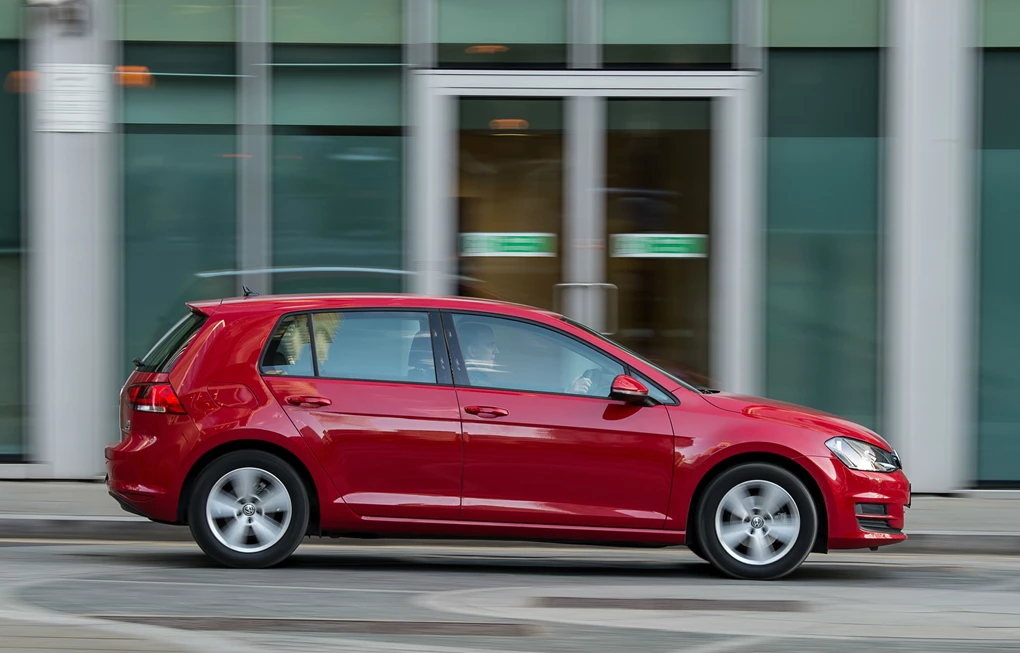 Ride and Handling
The steering is very light, and more enthusiastic drivers aren't going to like that, but it's accurate and easy to use, which is more important.
On smaller alloy wheels, as fitted to entry-level models, there's a great sense of refinement, but as you go further up the price list, larger alloys with lower-profile tyres are fitted and the amount of road noise rises considerably. Ride comfort also deteriorates slightly from its original very high level. This is somewhat offset if Dynamic Chassis Control (DCC) adaptive suspension is fitted, as it softens in Comfort mode, but can be sharpened up by selecting Sport. Unusually, the Golf is available with two rear suspension systems. There's a multilink set-up for more powerful cars, while the slower ones get a simpler torsion bar which isn't as accurate but is lighter and therefore helps fuel economy and CO2 emissions. Having tried both, we'd say that multilink makes the car feel more secure on the open road, but we couldn't absolutely swear that we'd have spotted this if we hadn't been told in advance which arrangement each car had. Either way, the Golf handles well in each of the forms we've experienced. The steering is very light, and more enthusiastic drivers aren't going to like that, but it's accurate and easy to use, which is more important. The GTI can cover ground at a rapid pace (especially with the Performance Pack fitted), while the Golf R boasts four-wheel drive, giving it immense traction in almost all conditions.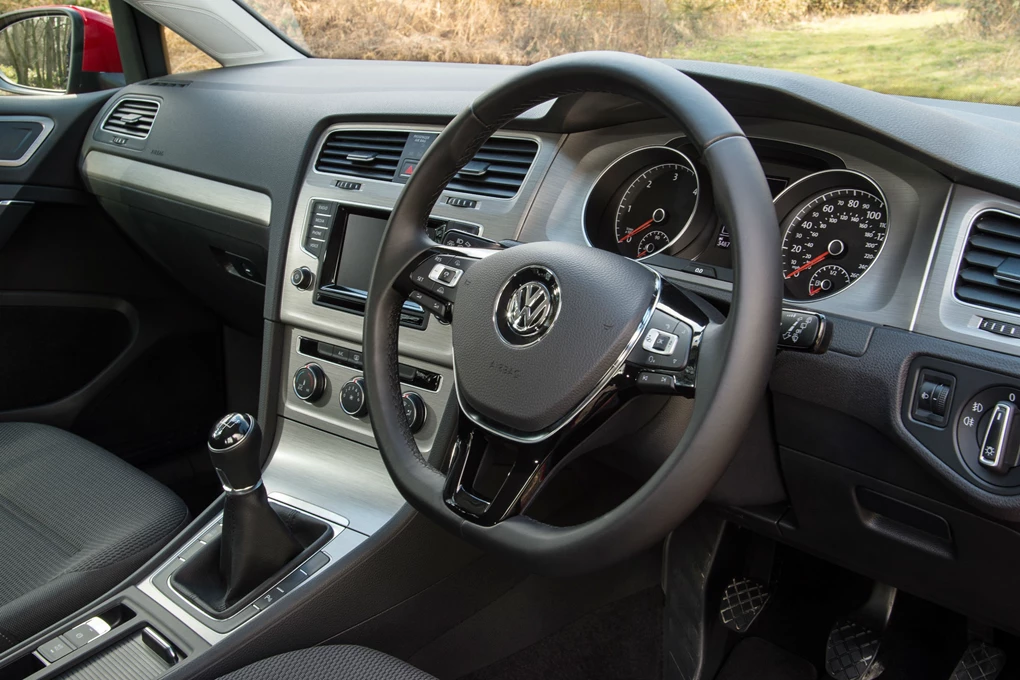 Interior and Equipment
The range-topping Golf R has a 296bhp 2.0-litre turbocharged engine and four-wheel drive, propelling it from 0-62mph in as little as 4.9 seconds, making it the fastest Golf ever.
With stunning build quality and attractive materials, the Golf's cabin is a joy to sit in. Yes, it might be conservative, but this also lends it a timeless quality unlikely to date quickly. For the latest generation the centre console is angled more towards the driver, making the touch-screen easier to reach. The most basic of the three trim levels is called S, and includes 15-inch steel wheels, DAB digital radio, semi-automatic air-conditioning, ESP, XDS (Volkswagen's electronic equivalent of a limited slip differential), a 60/40 split folding rear seat, Bluetooth connectivity and a plentiful supply of airbags and other safety devices. The mid-range SE was replaced by the Match trim level in 2014 and includes features like front and rear parking sensorselectric folding door mirrors has 16-inch alloy wheels, City Emergency Braking, cruise control, automatic headlights and wipers, an auto-dimming interior mirror, a 12v socket in the luggage compartment and extra safety items and storage space. The luxurious GT, available only with the most powerful petrol and diesel engines, gets 17-inch alloys, lowered suspension, satellite navigation, front foglights with cornering function, rear privacy glass, ambient interior lighting, electrically folding door mirrors and sports front seats. New for 2015 is an R-Line trim level as an upgrade to the GT trim, which gives the golf a more aggressive Golf R-style bodykit, along with sports front seats and some interior trim changes.
Cost
The GTE is a plug-in hybrid, so can travel for up to 31 miles on a full charge of its battery pack
Prices range from around £17k for the Golf S 1.2-litre with 84bhp, to over £30k for the Golf R, so it's neither cheap nor outlandishly expensive. The Golf BlueMotion promises the lowest running costs, thanks to its 88mpg economy and sub 100g/km CO2 road tax exemption. The Match 1.6-litre TDI is likely to be a popular model, returning up to 74mpg. Go for the GTI hot hatch and a respectable 47.1mpg is on the cards. The new 1.0-litre petrol BlueMotion model can return 65.7mpg and emits only 99g/km of CO2, making it free to tax. The GTE is a plug-in hybrid, so can travel for up to 31 miles on a full charge of its battery pack before its petrol engine needs to chime in. Its official economy figures are an incredible 188mpg and 35g/km of CO2. One of the Golf's strong points is its reputation, built on the fact it has built up customer loyalty over seven generations. Come trade-in time this recognition translates into some of the strongest residual values of any hatchback.
Our Verdict
It's almost impossible to go wrong when choosing a Volkswagen Golf, so it is certainly easy to recommend it. Over the 40 years it has been on sale, it has become one of the most polished products of any type, with a great reputation for build quality, safety and having a classless image. If you're a private buyer looking for a run-around we'd recommend the ultra-refined 1.4-litre petrol, while the diesels will start to pay for themselves if you spend most of your time on the motorway. If you're after a performance car, the GTD offers impressive bang for your buck, but can't quite match the raw driving thrills offered by the GTI and R.