Introduction
We often think of the Polo and the Golf as Volkswagen's staple offerings, but the Passat should also be considered. That's because Volkswagen has now produced over 30,000,000 examples since the first models rolled off the production line in the '70s.
Sales have slowed on UK shores in recent years as the rising number of SUVs has been a shock to the system, but the Passat remains a popular model and that's largely driven by company fleets, with the estate selling in twice the numbers of the four-door saloon.
Half-way through the latest eighth-generation Passat's lifespan, here we have the facelift.
Styling revisions are few and far between, but tech is key here. The Passat is the first Volkswagen to feature Travel Assist – a semi-autonomous driver aid that combines adaptive cruise control with lane-keep assist, and equates to minimal driver input being needed from the driver.
Performance
Powertrain changes are key here, with an updated plug-in hybrid (GTE) joining the line-up with a longer 35-mile electric range, while new particulate filters and cylinder deactivation tech help to improve efficiency and cut emissions.
Buyers have no shortage of powertrain options, with three petrols, four diesels and the aforementioned PHEV available.
Our test car was the range-topping 2.0-litre diesel engine producing 237bhp and 500Nm of torque. It's a great engine and matches the Passat well, although it's a bit unrefined at times. But it never leaves you short of pace, with plenty of power available throughout the rev range.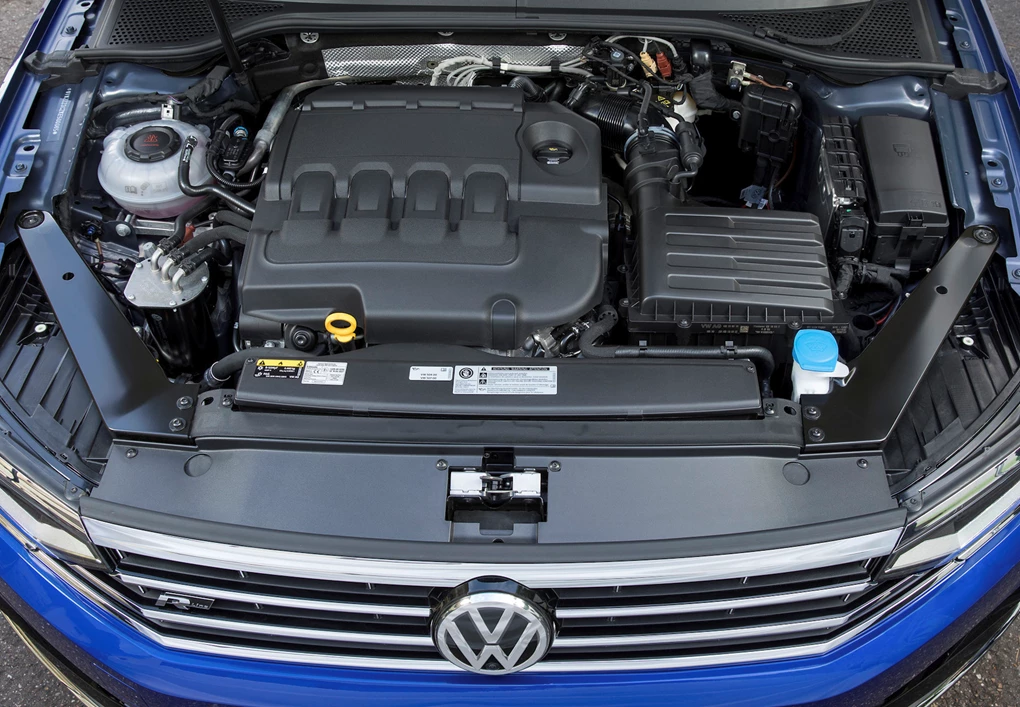 Ride and handling
The Passat is a model that's tailored towards comfortable and practical travel and is unsurprisingly a superb motorway cruiser. So, it's little wonder that it's such a hit with high-mileage drivers who spend most of their time sat at 70mph.
The ride is also particularly comfortable, but putting it in Sport mode gives the car a jagged edge over potholes and bumps in the road, without giving it any dynamic advantage.
The Passat is good around town, too, with the comfortable ride, relaxing cabin and improved sound deadening making it a serene way to shy away from the hustle and bustle of the city.
See Available Passat deals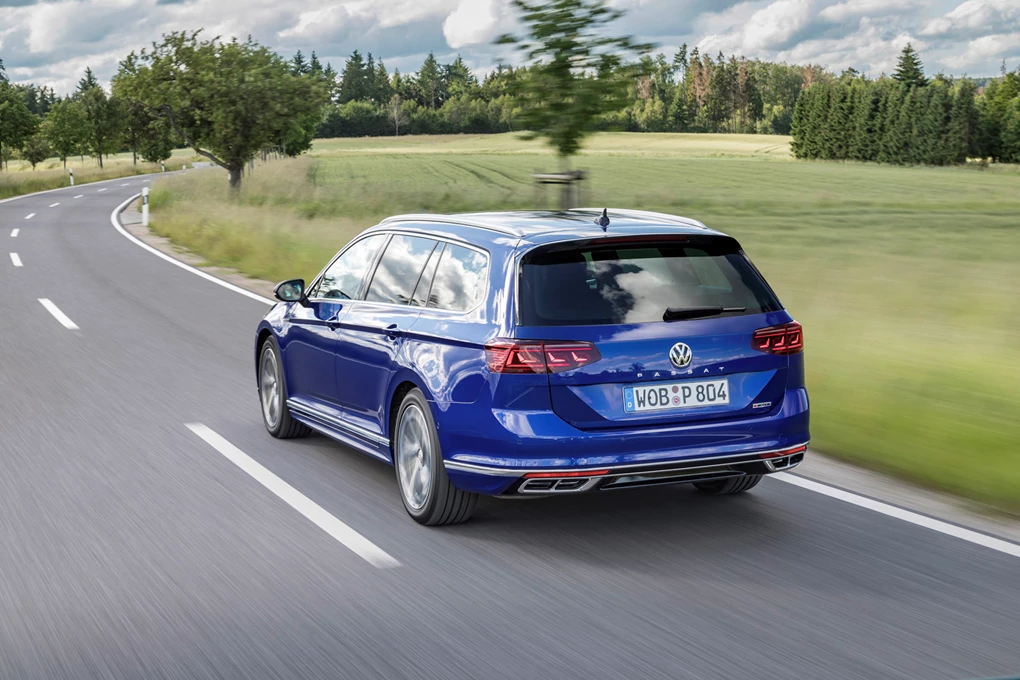 Interior and equipment
The Passat occupies a somewhat muddled spot in the market – sitting above more mainstream rivals like the Ford Mondeo, but underneath more premium offerings from the likes of Audi.
It's the interior where this logic seems to apply the most, with the Volkswagen Passat's being covered in plenty of soft-touch plastics and a simple-to-use touchscreen. However, it doesn't feel much more special than that of the Golf, though it remains classy and has one of the best touchscreens in the business. With plenty of space and superb build quality featuring, though, there are very few things to grumble about when it comes to the cabin.
Full prices and specs are still to be confirmed, but Volkswagen has said that buyers will have the option of SE, SEL, R-Line and a launch special R-Line Edition.
Standard equipment includes LED front and rear lights, adaptive cruise control, and autonomous emergency braking.
Higher spec models will add matrix LED headlights, Alcantara sports seats and dynamic chassis control (essentially the option of drive modes), while R-Line models add sportier styling, leather upholstery, tinted windows and lower suspension.
The range-topping R-Line Edition is limited to just 2,000 units worldwide, and comes with a unique Moonstone Grey colour, gloss black styling, Nappa leather sports seats, a 9.2-inch touchscreen and the new Travel Assist function.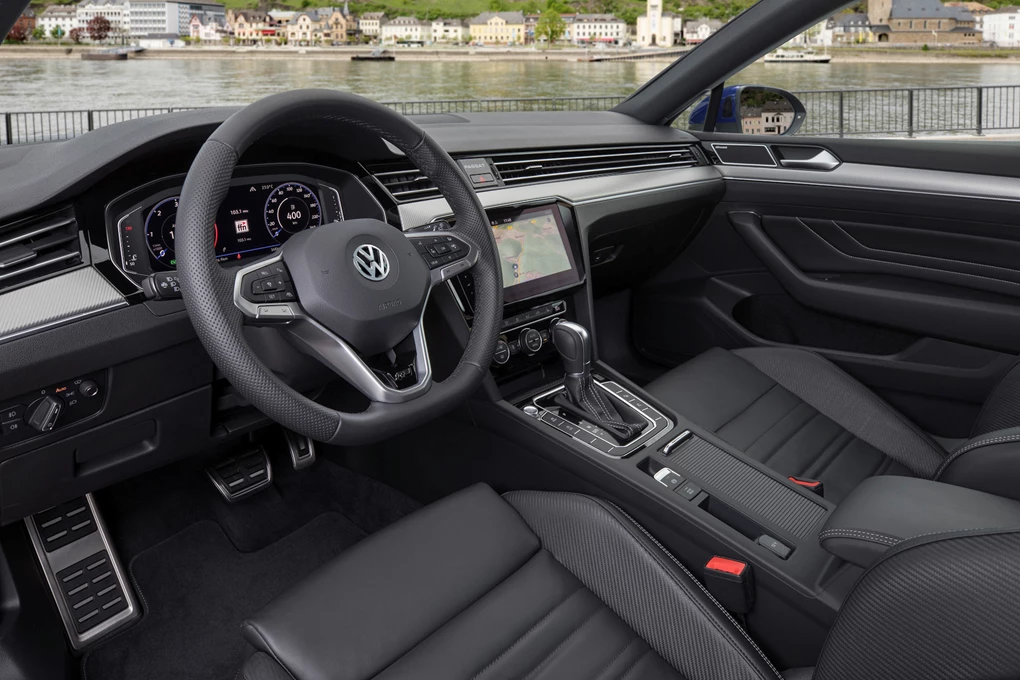 Cost
Full prices and specs are yet to be announced for the facelifted Passat and will be released nearer to when the updated version goes on sale in September. But for now we can expect a slight price increase over the current car's £23,920 starting price.
Fuel economy will be best with the diesel engines or the updated Passat GTE, although full figures are still to be revealed.  
As for running costs on our 237bhp test car, VW claims the Passat as tested here can return 40mpg on the combined WLTP cycle while emitting 156g/km in CO2 emissions — making it an affordable prospect for long-distance drivers.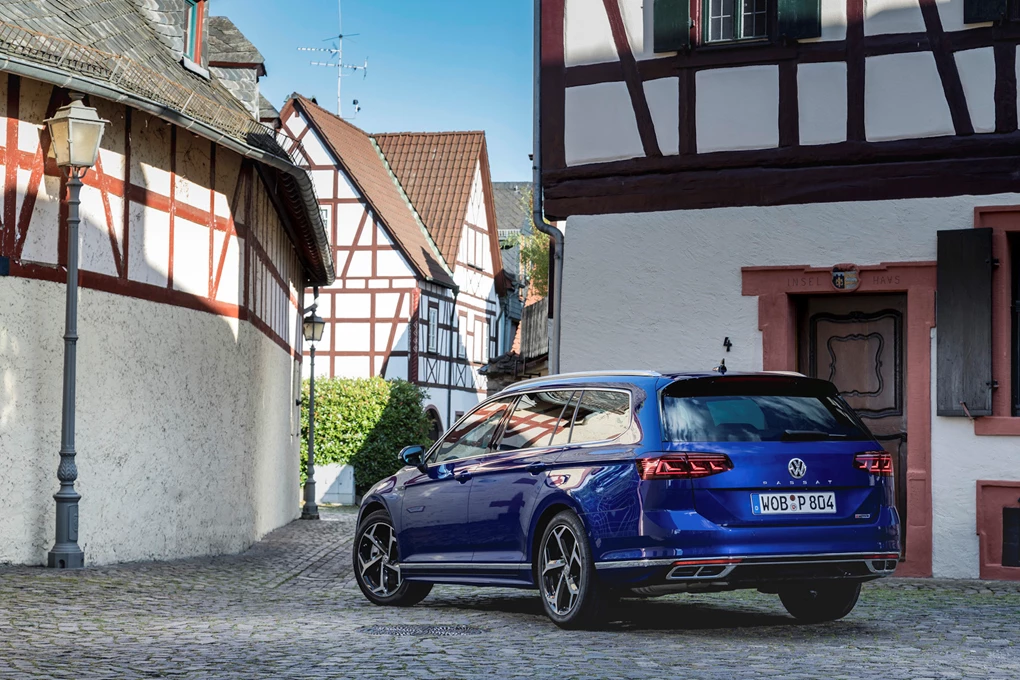 Verdict
With the Passat being such a huge sales success, it's clear that Volkswagen is doing something right with the model in this market.
Sadly, SUVs are eating into this saloon and estate's territory, but if the latest Passat's comfortable ride, spacious interior and range of great powertrains are anything to go by, it's a very compelling option next to an SUV.
Interested in a new Volkswagen Passat? Find local prices, today!