Introduction
A convertible SUV is not a new thing, and the most recent came from Land Rover with a cabrio version of its cool Range Rover Evoque. Unfortunately it proved to be a bit of a sales flop, and perhaps not surprisingly there hasn't been a second-generation model. 
So it was quite a shock when Volkswagen – a brand known for its safe and sensible approach – announced it was going to produce a drop-top version of its T-Roc crossover. With no real direct rivals, the T-Roc Cabriolet essentially has a class to itself. 
You won't be seeing this new VW heading off-road any time soon, but with a fabric roof that can be lowered in just nine seconds at speeds up to 19mph, this T-Roc could be an ideal urban convertible, but how does it fare?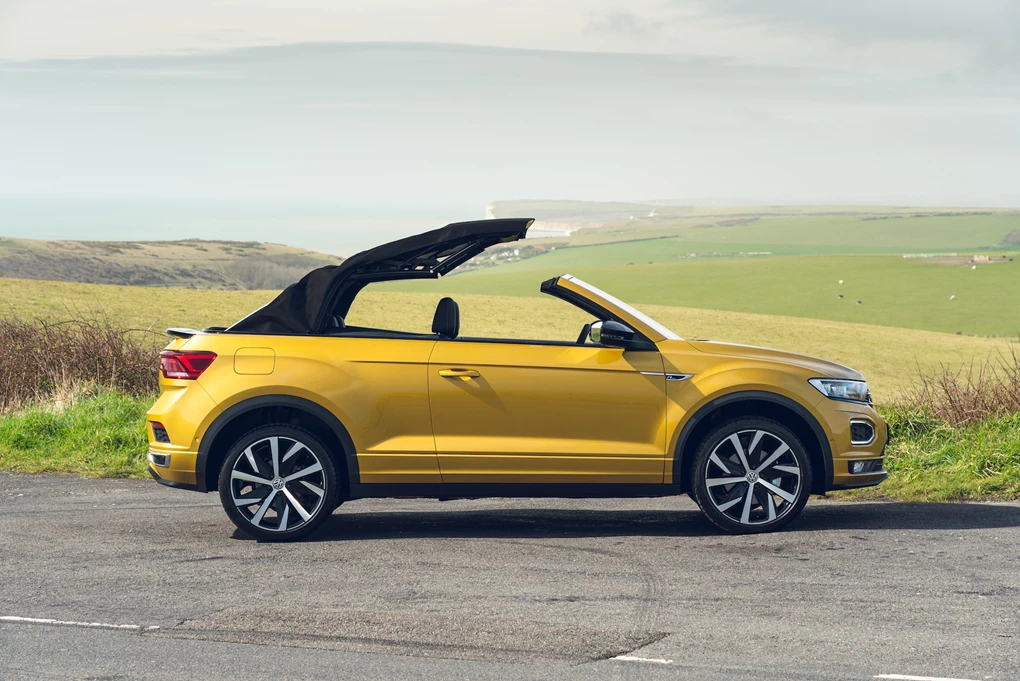 Performance
You only need to look at the engine line-up to see that the T-Roc Cabriolet is not a model that's all about performance. 
The choice is simple, with a 113bhp 1.0-litre petrol available alongside a 148bhp 1.5-litre petrol unit. With the latter, you can choose it with the six-speed manual gearbox fitted to our test car or a seven-speed DSG automatic transmission.
It's not what you'd call rapid – 0-60mph takes a modest 9.4 seconds – though it should prove to be cheap to run, with Volkswagen claiming it'll return 44.8mpg, with CO2 emissions of 142g/km. 
What stands out with this engine, though, is its refinement as you can barely hear it while on the move unless you're accelerating harshly. It fits in well with the T-Roc's relaxed character.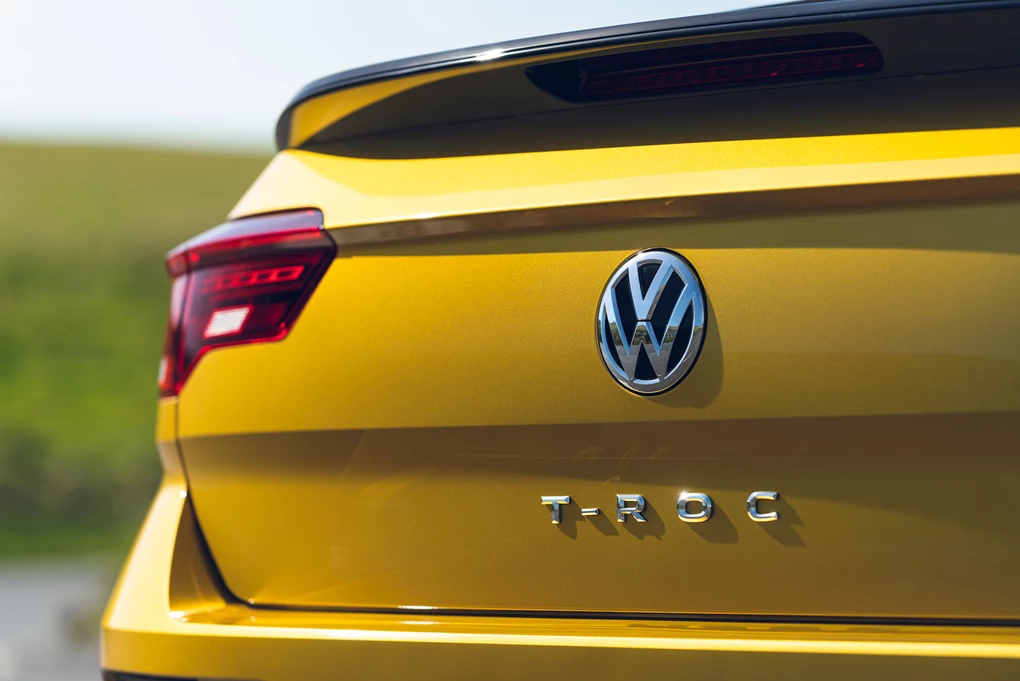 Ride and handling
Convertibles are never quite as good to drive as their hard-top-roofed siblings, and the same is true with the T-Roc. There's quite a lot of body roll, even on our stiffer-springed R-Line test car, which is a touch firm, but not overly so. 
As is to be expected from a car with a fabric roof, there's more wind noise than you find in the standard T-Roc, but it's not overly intrusive as the raked windscreen goes well over your head as the driver. An optional wind deflector is available for £330, too, if you want to remove a bit more noise. 
So the T-Roc Cabriolet isn't a car that responds well to being pushed, but driven in a calm and relaxed manner, it's a very pleasant place to be.
Interior and equipment
Where you're sitting in the driver's seat, the layout of this T-Roc's interior is just about identical to the regular model, with a well-laid out design and an easy-to-use eight-inch touchscreen. The material quality also feels sturdy and robust, but perhaps not quite as upmarket as you might expect from a Volkswagen. 
In terms of practicality, the Cabriolet is at an immediate disadvantage next to the standard T-Roc, but if you're looking at a drop-top, it's actually pleasantly roomy. While a strict four-seater, the rear seats are actually roomier than you might expect, with adults even being able to sit back there – a rarity on drop-top models. The boot isn't the largest, and loses out on a significant 161 litres to the regular car. But with 284 litres still left to play with, it's decently practical for a convertible, and easily big enough for luggage for a few nights away or a shopping trip. 
There are just two trims on the T-Roc Cabriolet – Design and R-Line. 
Standard equipment includes 17-inch alloy wheels, climate control, adaptive cruise control and an eight-inch touchscreen with satellite navigation and smartphone mirroring. 
Upgrading to the R-Line brings LED headlights, 19-inch alloy wheels and a 10.25-inch digital instrument cluster, along with a sportier styling kit.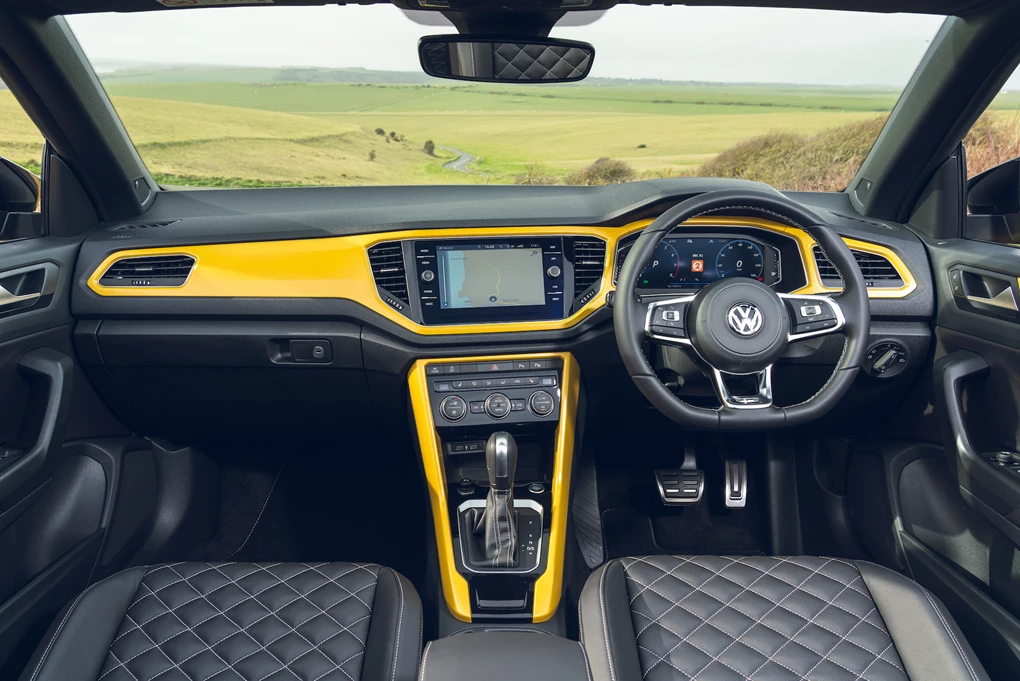 Cost
Prices for the T-Roc Cabriolet start from £27,140, which makes it nearly £3,000 more than the regular T-Roc. It's certainly not great value for money, but with such little to compare it with, this drop-top SUV has the market to itself. 
If you'd prefer the R-Line, prices for that jump to £32,905, but it's worth noting it's only available with the more powerful 1.5-litre petrol engine.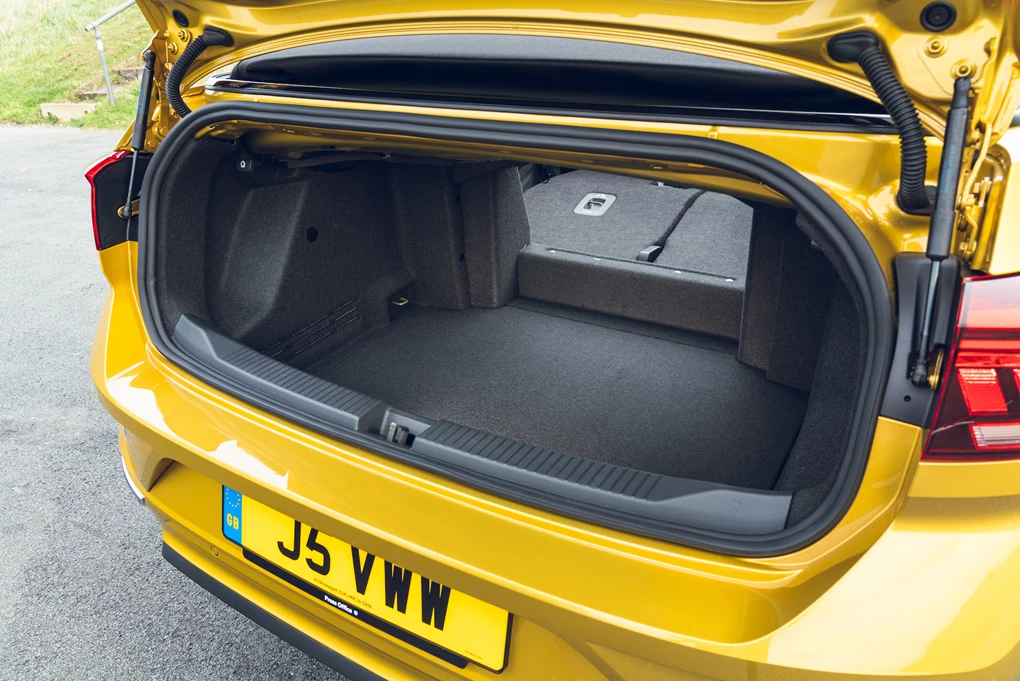 Verdict
Put your sensible hat on and the T-Roc Cabriolet is a model that's hard to justify. It's much more expensive than the regular T-Roc, isn't as good to drive and is less practical, and doesn't seem like a wise choice. 
But this Cabriolet is a model that's much more than that. If you love the SUV styling and want a drop-top with a raised ride height, it's this or a four-year-old Range Rover Evoque Convertible, which is worth noting is just about the same price. With decent-sized rear seats and a usable boot, you could happily use the T-Roc every day, and enjoy just how easy and relaxed it is to drive. That's why it's worth considering if you're looking for something a bit different. 
Enquire on a new T-Roc