Introduction
When it comes to vans, there are few names quite as prominent as Volkswagen, which has a three-strong line-up. And the best-selling of them is the Transporter, which is also the UK's fourth most popular new van.
We're now six generations into the Transporter, with the most recent iteration going on sale in 2015 — so it's about time Volkswagen gave it a subtle refresh to keep it up to date.
This facelift – known as 6.1. Volkswagen is trying to replicate Apple-style iPhone updates – brings revised styling, with highlights being new headlights, a revised grille and new LED rear lights.
But the key differences are on the inside, with the Transporter now coming with more standard equipment than before – including the We Connect range of online services now being offered at no extra cost. Safety has also taken a drastic leap forward, with automatic emergency braking and crosswind assist being included as standard.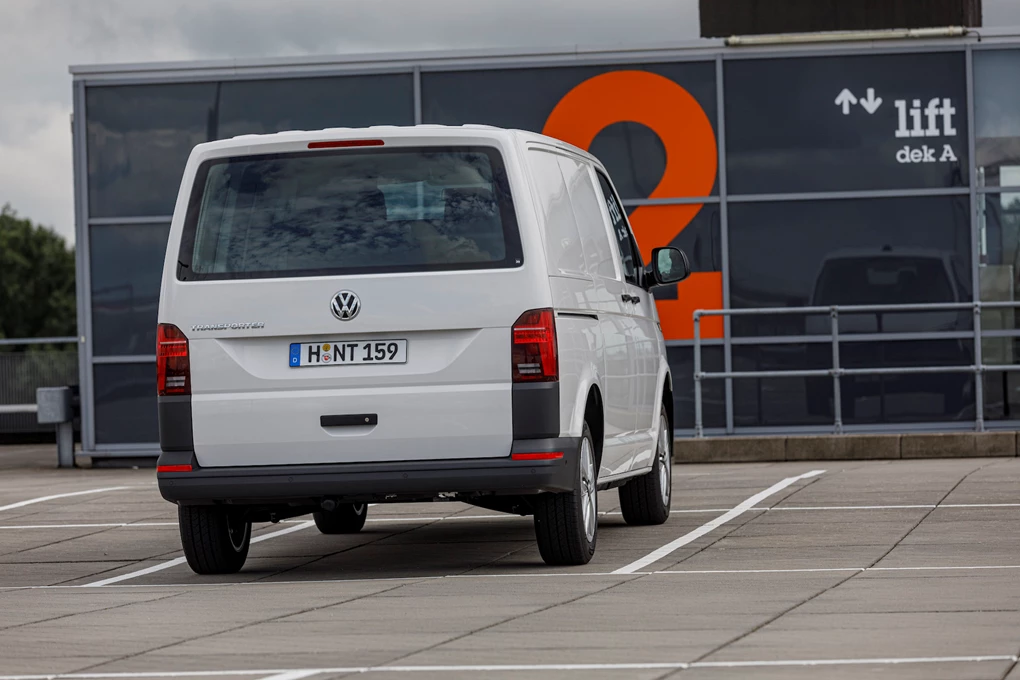 Performance
A further change to the refreshed Transporter relates to the engine, which has been changes slightly in order to meet tight emissions regulations. Essentially some have been detuned to produce less power, and others more.
The line-up is now completely diesel centric, with petrol models being discontinued in the last couple of years due to poor uptake. All the new engines are powered by 2.0-litre units, with outputs of 89, 108, 148 and 199bhp offered, with a host of transmissions. That said, it's only the two most powerful that come with a DSG automatic gearbox.
Our test van is what's expected to be the best-seller – the 108bhp version. It might not sound impressive on paper, particularly when you consider the Transporter's size, but thanks to a decent 250Nm of torque, it's surprisingly eager and willing to get up to speed. Paired to a five-speed manual gearbox, it's a rather good combination.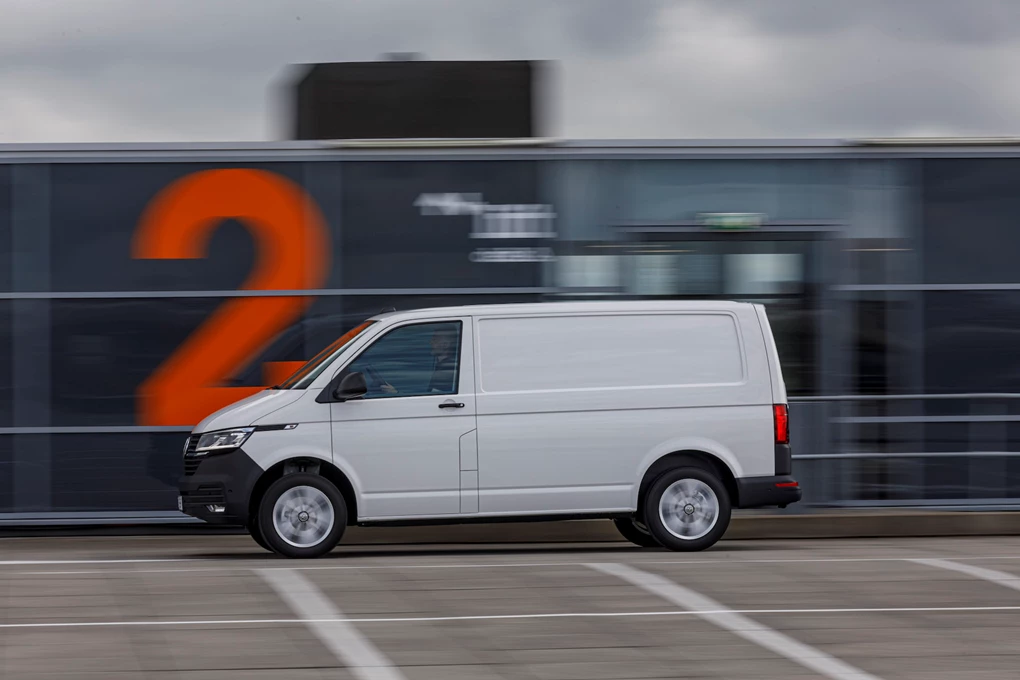 Ride and handling
The Transporter is undoubtedly one of the most car-like commercial vehicles on sale to drive – offering refinement and comfort that can match a decent number of road cars. Sure, when it's unloaded, it can be quite noisy with the lack of sound insulation, but how often does a van drive around unloaded?
A new electro-mechanical power steering setup also aids a number of things behind the wheel – firstly, improving the response as you turn the wheel, and secondly allowing for a host of new driver assistance features. Highlights of these include the standard automatic emergency braking and crosswind assist, both of which are fantastic additions, and will likely be a huge advantage to the fleet market in helping to prevent incidents.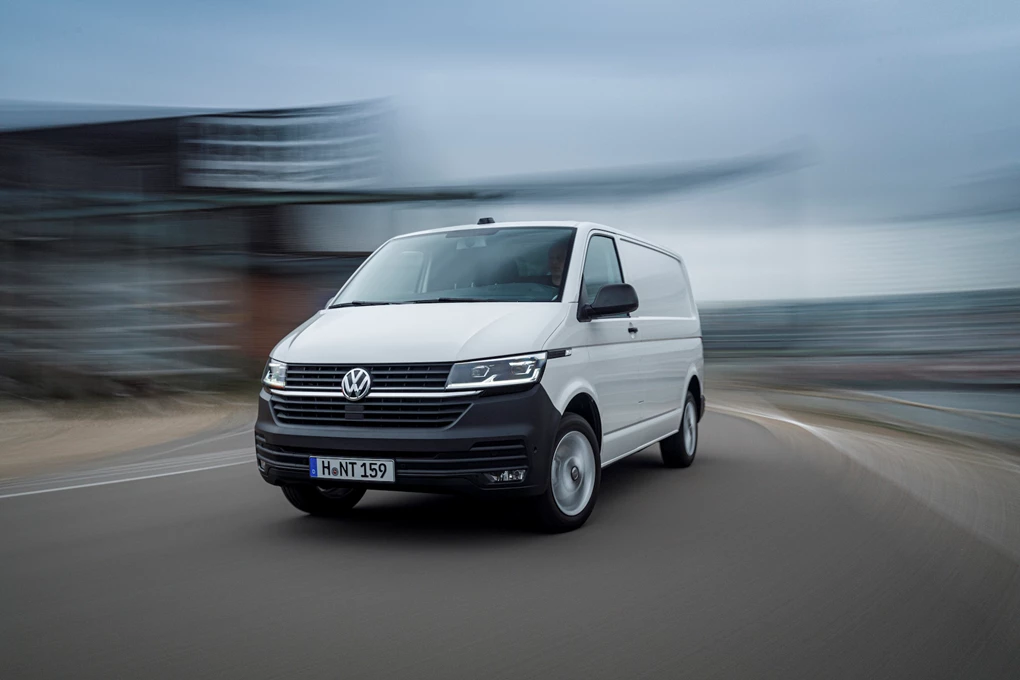 Interior and equipment
Hop into the Transporter and what immediately grabs you is just how accomplished this latest iteration's cabin is. Purely looking at the dash and interfaces, it's incredibly similar to many of Volkswagen's passenger cars. That's definitely a good thing, with Volkswagen interiors being renowned for the high-quality switchgear and durability.
It also benefits from a now standard 6.5-inch touchscreen, which misses out on satellite navigation, but benefits from a host of online services that come from an integrated 'eSim'. These help to power Volkswagen's We Connect system – allowing for stored information on the vehicle and up-to-date parking information and emergency call assistance.
At the time of writing, Volkswagen had not released any data on the Transporter's payload.
As we've mentioned earlier, standard equipment levels have drastically improved with this facelift. Highlights on the entry-level Startline include the aforementioned touchscreen, Bluetooth, electric mirrors and electric windows – each helping to make the Transporter even more appealing.
At launch, there is just one other trim – Highline. This features alloy wheels, cruise control, painted bumpers and rear parking sensors, and is the most popular grade in the range.
Enquire now on your next van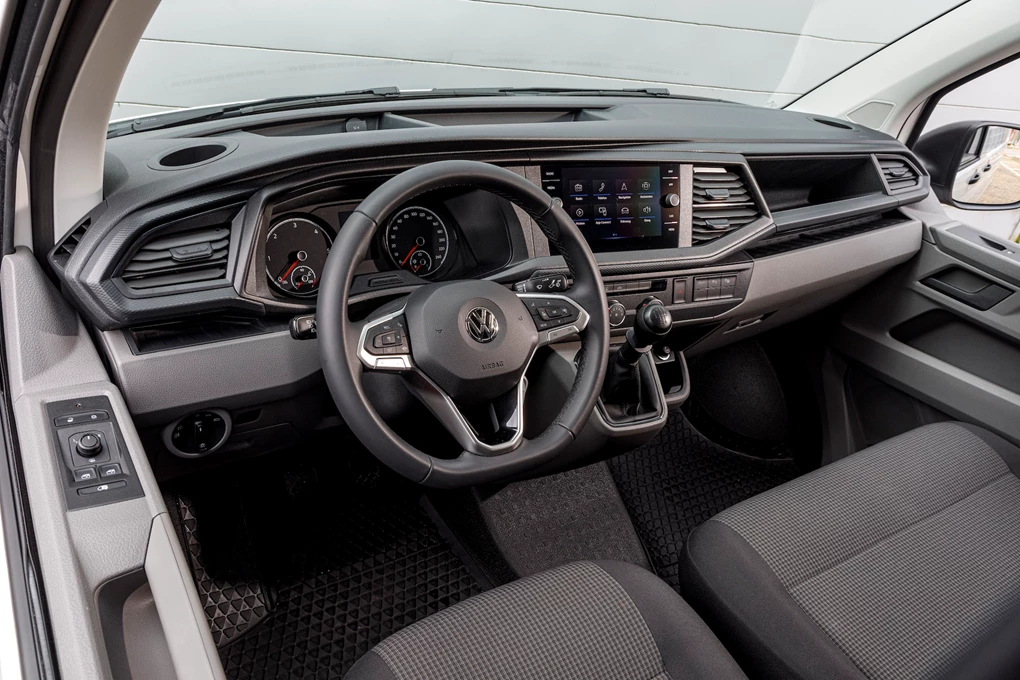 Cost
Only provisional data has been revealed so far for the facelift Transporter, though the range is expected to start from £21,635 for a Startline with the 89bhp engine. That's good value for what it is but is more expensive than rivals.
Prices rise to £36,915 for a Highline with the flagship 196bhp 2.0-litre diesel engine, and it's at prices like that when it begins to look rather expensive.
Full pricing will be revealed when order books open in November, and please note that the above prices do not include VAT.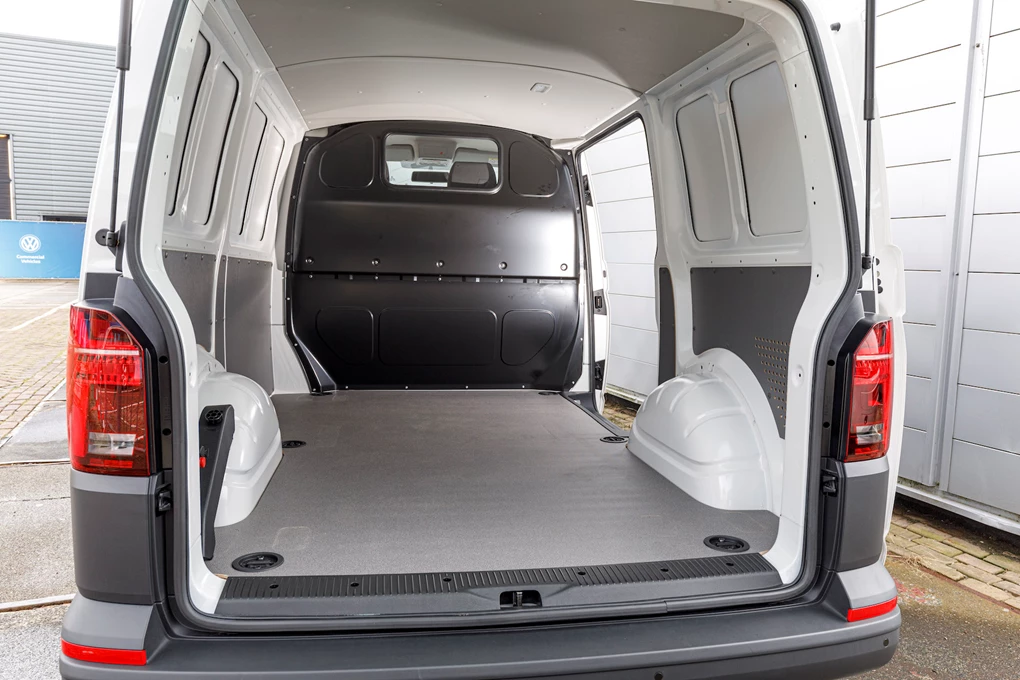 Verdict
The Transporter has always been one of the best vans in its class, and enhancements to its standard equipment, safety kit and connectivity have only elevated it to a new level.
You might pay more for it in the first place next to rival commercial vehicles, but it's a premium worth paying for having one of the best vans on sale today.