Volvo is now in full comeback mode with a raft of truly fantastic new models, from the facelifted V40 hatchback to the XC90 SUV, and the latest model to join the Swedish manufacturers revamped range is the S90 executive saloon and its sister V90 estate.
It's been quite a while since Volvo made an S90, with the last model to wear that badge released nearly two decades ago, and this new version is quite different. Gone is the squared off three-box shape, instead replaced by a sleek and elegant appearance sculpted by Volvo design boss Thomas Ingenlath.
Aiming to rival the likes of the BMW 5 Series, the Mercedes E-Class and the Jaguar XF, the Volvo certainly has them beaten in terms of looks, with that wide basking shark-style front grille, unmistakeable side profile and signature 'Thor's hammer' headlights.
But premium cars aren't just defined by their proportions and looks, but by their ride quality, interior design, performance and equipment. Can the S90 convince buyers to go Scandinavian rather than German?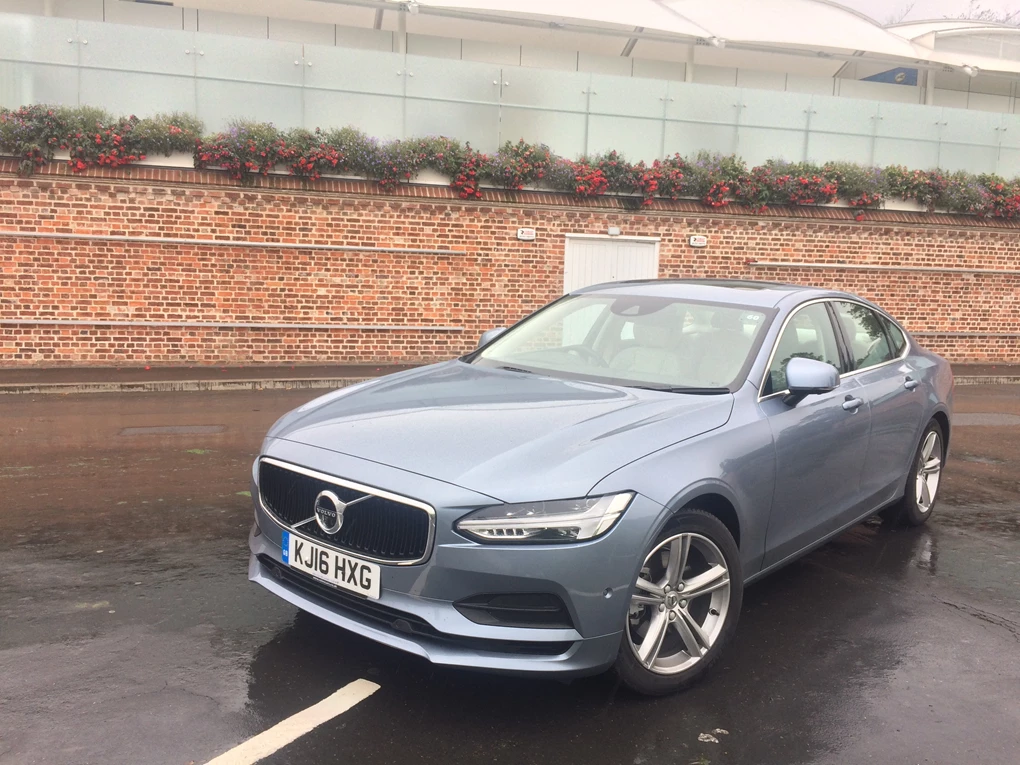 Performance
Although Volvo makes versions of the S90 with T5 and T6 petrol engines, in the UK the manufacturer has wisely stuck to a choice of D4 or D5 diesels for the S90, to better appeal to the sorts of high-mileage executive driver who's likely to buy one.
The 2.0-litre D4 engine offers 187bhp and also comes with an eight-speed automatic gearbox as standard. It picks up speed smoothly and predictably, taking 8.2 seconds to hit 62mph from a standstill, and its accessible performance makes for an excellent option when cruising on the motorway.
If there's one major criticism of the D4 it's that it doesn't feel quite as refined as its rivals, with a slightly coarse noise under brisk acceleration. However, it does settle down once you're up to speed and remains as hushed as the best executive saloons in its class.
The automatic gearbox shifts seamlessly and the brake pedal is effective but soft, scrubbing off speed effortlessly and adding to the S90's unhurried, relaxed demeanour. For anybody who wants a bit more power, the 232bhp D5 is a better option but all-wheel drive as standard will see efficiency take a hit.
Ride and Handling
The car exudes a composure that's probably the best impression of a full limousine that any vehicle in its segment pulls off.
It's no mean feat making a car which is as large as the S90 easy to drive, but happily the stress-free manner of the car's performance carries over to its handling. Previous Volvo executive cars have ended up feeling slightly confused by trying to be relaxed yet agile all at once, but the S90 is entirely at ease with its identity as a comfortable cruiser. Cushiony suspension glides over all but the sharpest bumps and potholes, and the car exudes a composure that's probably the best impression of a full limousine that any vehicle in its segment pulls off. The trade-off is that it's nowhere near as incisive or dynamic as an equivalent car from BMW or Jaguar, with steering that's just a bit too elastic to feel exciting and a ride that gets wallowy the harder you push it. There is a Dynamic mode you can switch to if you so wish, but it adds little to the car's character and the weighted-up steering becomes tiring to use. Still, the S90's lack of sporting prowess won't come as much of a surprise to buyers, and it's unlikely to come as a disappointment either.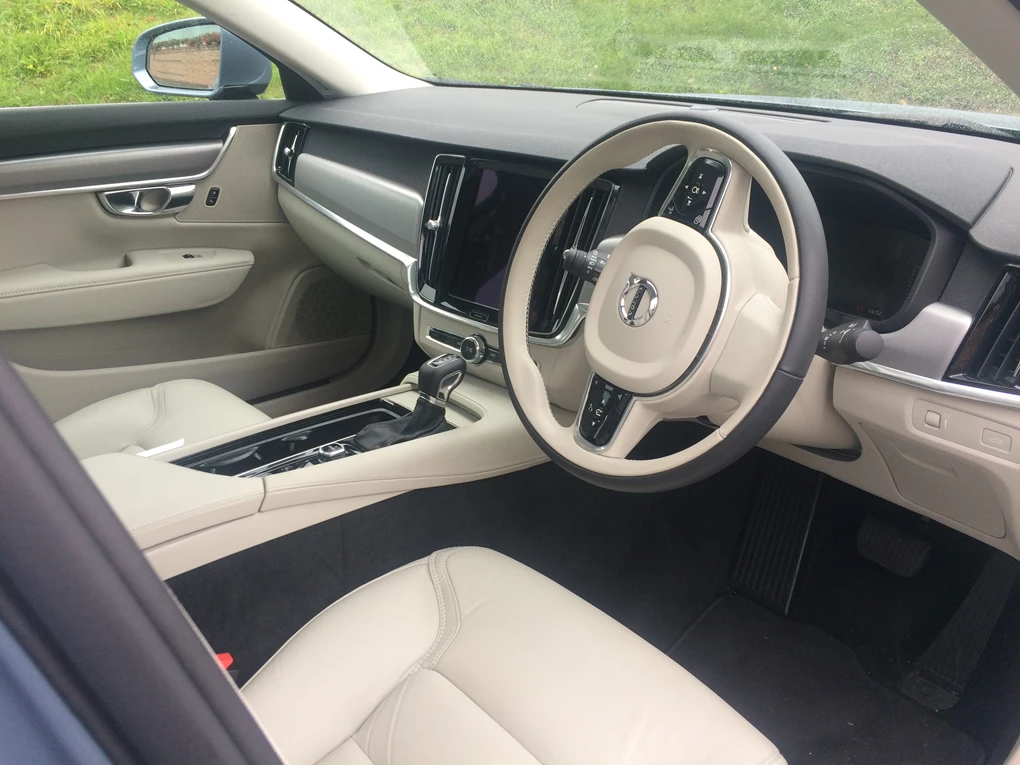 Interior and Equipment
The Volvo logo is an ancient chemical symbol for iron, which dates back to Roman times and symbolises the cars' durability and strength.
To design the S90, Volvo poached none other than Bentley's head of interiors, which should go some way towards letting you know what to expect. It's spacious and airy, with plenty of light let in thanks to large windows and optional sunroofs, and bedecked with attractive cream leathers and real wood inserts. Despite serving as the entry point to the S90 range, the Momentum trim nonetheless features a wide range of features and equipment, including a nine-inch touchscreen infotainment system with integrated internet connectivity and sat-nav, plus dual-zone climate control and an eight-inch TFT digital instrument display. The S90 also comes with a huge range of Volvo's famous safety kit, which includes the likes of collision warning and lane departure systems, plus the much-discussed Pilot Assist semi-autonomous driving technology. Similar in effect to Tesla's Autopilot, Pilot Assist allows the car to guide itself along dual carriageways and motorways at speeds of up to 80mph. The system works reasonably well, but given that the driver has to keep their hands on the wheel at all times it can still feel like a slightly underdeveloped system, if a remarkable piece of technology all the same. Interior space is also at a premium, with rear head and leg room among the best in the S90's class, while boot capacity clocks in at a usable 500 litres, though the V90 will be better suited to those in need of more cargo space.
Cost
The D4 version can return a claimed 64.2mpg with just 116g/km of CO2.
Volvo expects that the majority of S90 and V90 customers will be business and fleet drivers, so it'll come as good news then that the D4 version can return a claimed 64.2mpg with just 116g/km of CO2. In terms of outright cost, the S90 range is priced from £32,555 for the entry-level Momentum trim, while the mid-range R-Design starts from £35,055 and the Inscription model, which sits at the top of the range, is priced from £35,555. That does make the Momentum slightly more expensive than the basic 5 Series or A6, but the handsome interior of the S90 and the sheer amount of standard kit makes it much better value.
Our Verdict
Sedate and serene, the Volvo S90 is sure to appeal to a great many drivers with its mix of comfort, predictability and efficiency, and while it can't match some rivals in terms of driving dynamics that's unlikely to faze anyone interested in it. It looks fantastic, it's got possibly the best cabin in its segment and more high-end equipment as standard than any of its rivals. It still might be a bit more of a niche option in its segment, but the S90 is more than worth a look.