As we head towards an electrified future, you might expect the number of sports and performance cars on the market to be lessening but that couldn't be further from the truth. 
There's an ever-increasing choice of hybrid and electric to choose from, though combustion models remain just as in demand, too. 
So if you're looking for a new performance car, here are our top choices to suit all budgets. 
BMW M2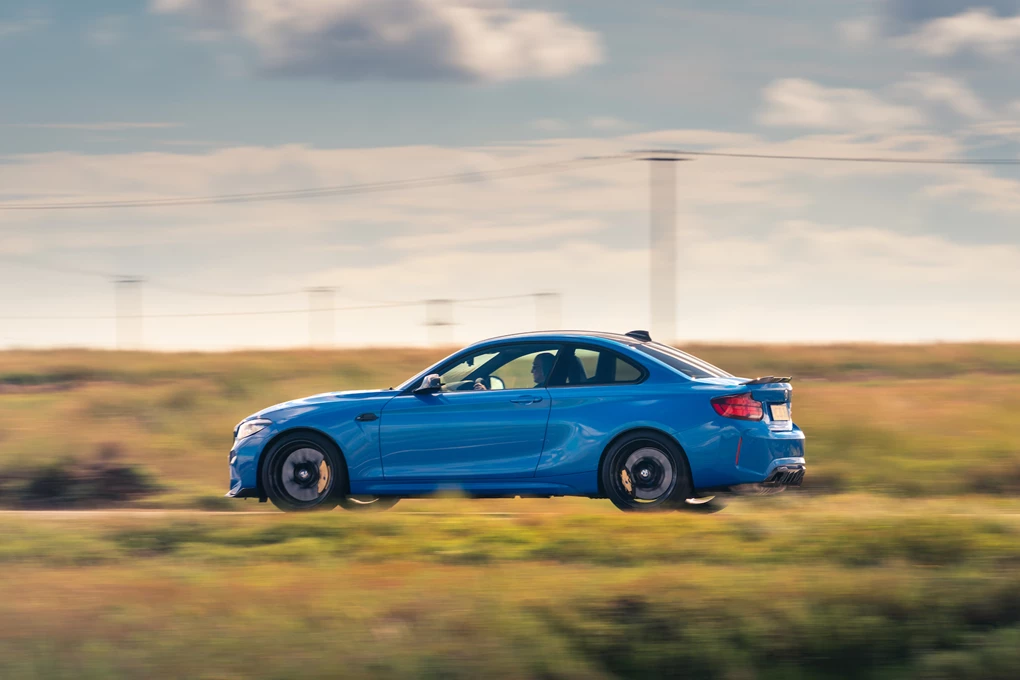 Though the M2 might be BMW's 'entry-level' M model, we'd argue it's the best of a very strong bunch. Now just available in 'Competition' guise, it's a perfect execution in how an everyday performance car should act and heave. 
It's seriously entertaining, while brilliantly quick thanks to its punchy 404bhp 3.0-litre six-cylinder engine that enables a 0-60mph time of just 4.2 seconds. Add in a surprisingly roomy and high-quality cabin and it's a wonderful performance car. 
Enquire on a new BMW M2
Audi TT RS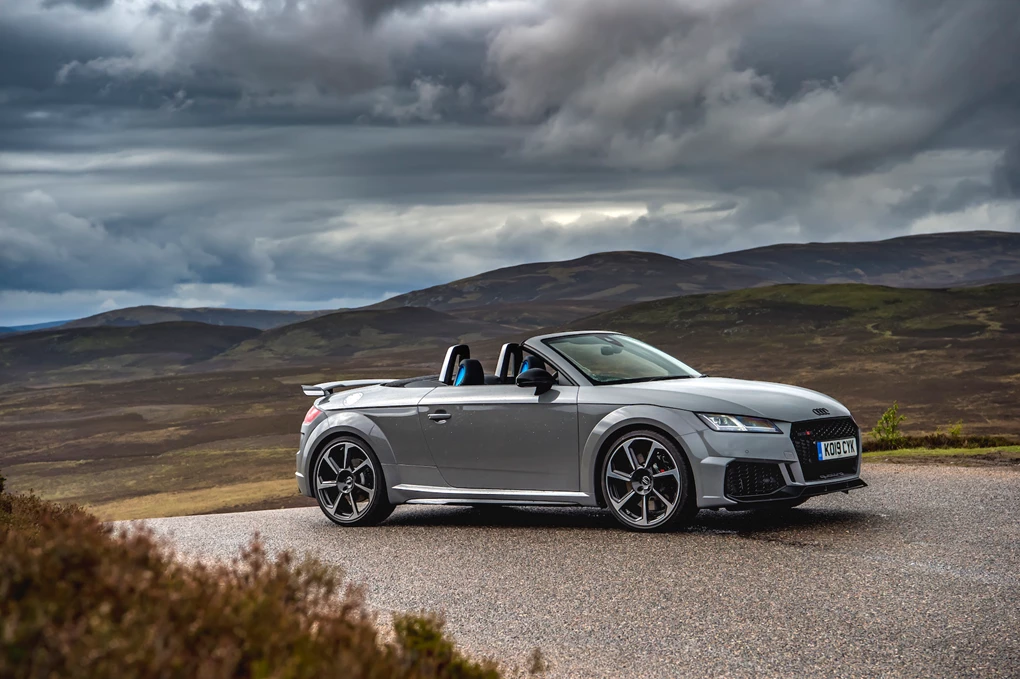 Though it might be models like the R8 and RS6 that come to find first when it comes to Audi's performance cars, we'd argue the most entertaining of the lot is the TT RS. 
Underpinned by an especially characterful 2.5-litre five-cylinder engine that produces 395bhp, this TT can sprint away at a remarkable rate that sees it dashing to 60mph in just 3.7 seconds. Thanks to Quattro all-wheel-drive, it's especially capable in all weathers, while also has a superb interior that combines quality with technology perfectly.
Enquire on a new Audi TT RS
Honda NSX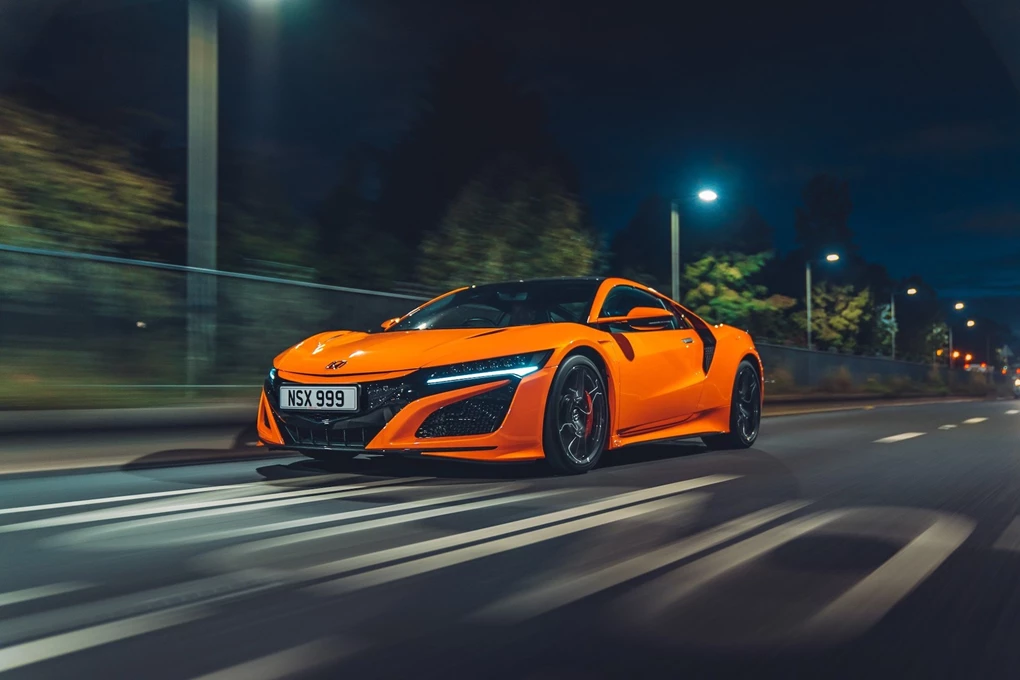 Honda's NSX is the first of the 'new-age' performance cars, as rather than a straight combustion engine, it utilises a hybrid system that combines a twin-turbocharged V6 engine with three electric motors. Together, it kicks out an astonishing 500bhp, which allows for a crazy sub-three second 0-60mph time. 
As a taste of what future performance cars could look like, the NSX certainly points towards positive things ahead.
Enquire on a new Honda NSX
Ford Mustang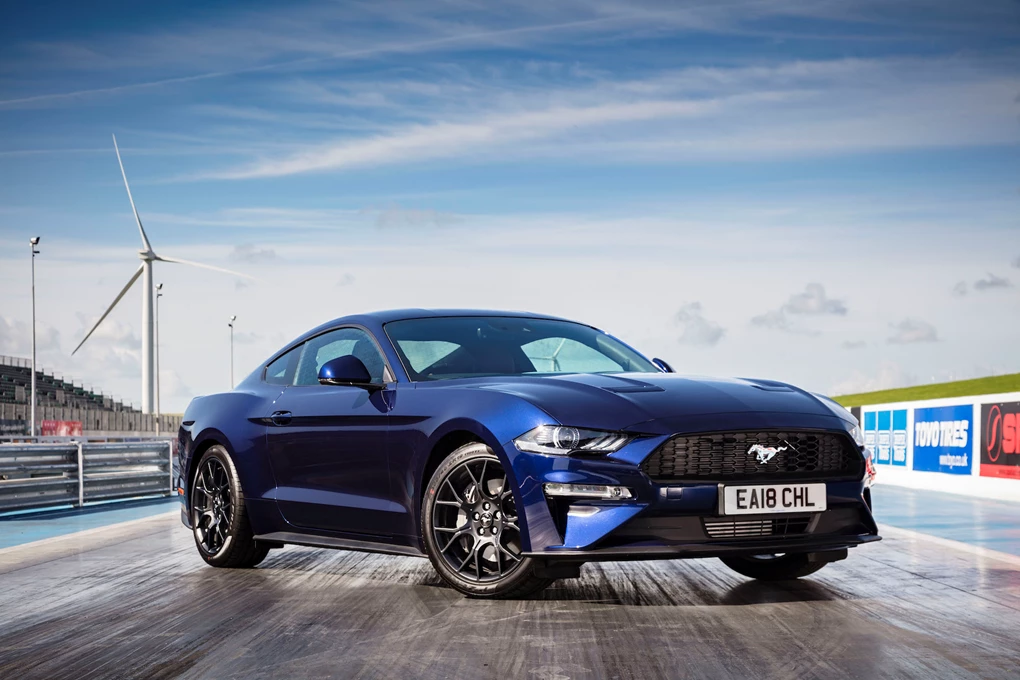 And from hybrids to arguably one of the more traditional performance cars – the iconic Ford Mustang. Now just available with a monstrous 5.0-litre V8 engine, this muscle car is packed with character, and is officially available from Ford dealers now too – previously it was only imported American cars that came here. 
It might be quite old-school in its character, but is still hugely entertaining to drive and decent value for money as well.
Enquire on a new Ford Mustang
Mercedes-AMG GT 4-door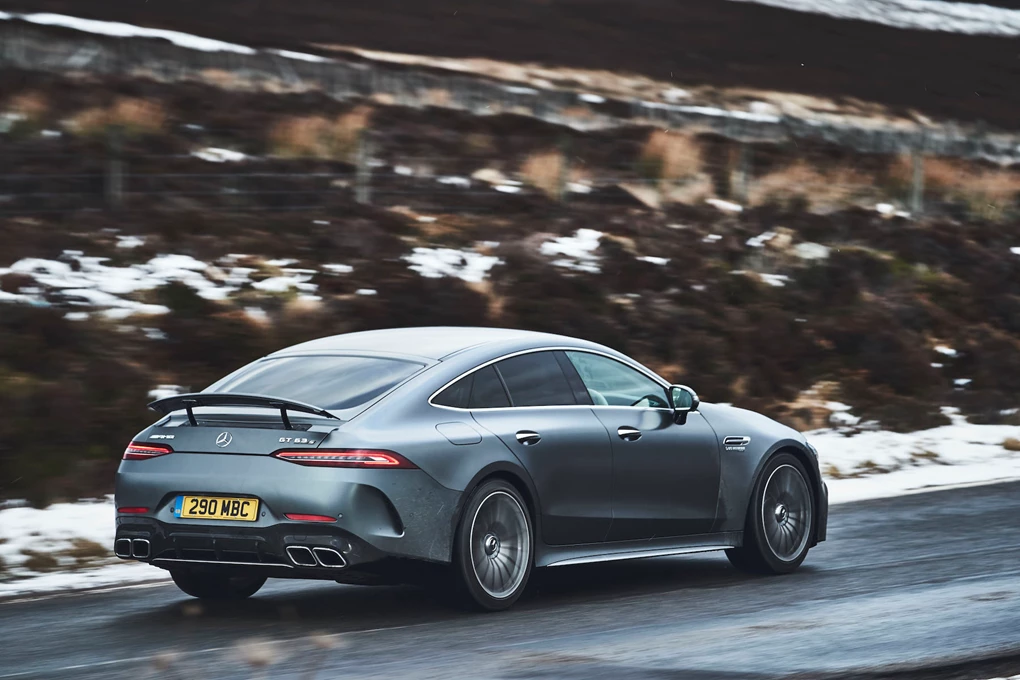 Just because you want a performance car, it doesn't necessarily mean you want something impractical. So if you want something fast but fun, yet still with space for your family, you should consider Mercedes' tremendous AMG GT 4-door. 
As its name suggests, it adds a rear set of doors to this fantastic performance car, which delivers truly monstrous performance – its 4.0-litre V8 kicking out 631bhp in S form. As well as a big boot and generous rear seat space, occupants are also treated to a fantastic high-tech cabin that feels as if it's from a luxury car than a performance model.
Enquire on a new Mercedes-AMG GT 4-door
Peugeot 508 PSE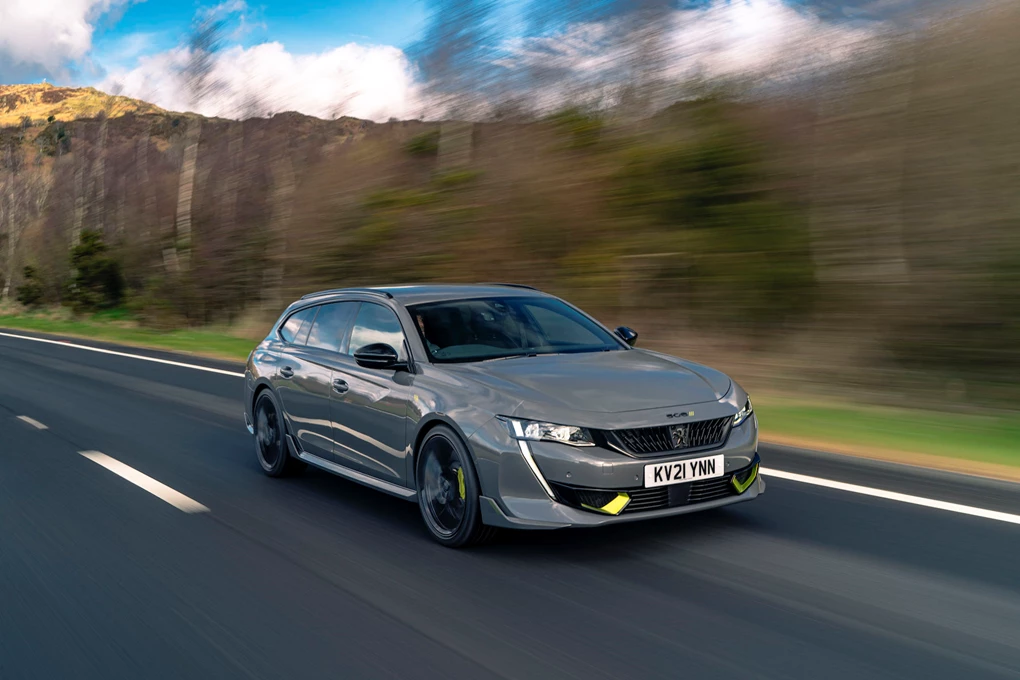 Peugeot's sporty arm might have always been known as being GTI, but the firm is now reinventing itself for modern times with its new 'Peugeot Sport Engineered' division, which will be purely electrified options. 
The first PSE badged model is the 508, which combines a punchy petrol engine with twin electric motors that produce an impressive 355bhp in all – comfortably making it Peugeot's most powerful road car to date. You can also choose it as both a Fastback and an Estate, too, with both proving practical choices. 
Enquire on a new Peugeot 508 PSE
Mazda MX-5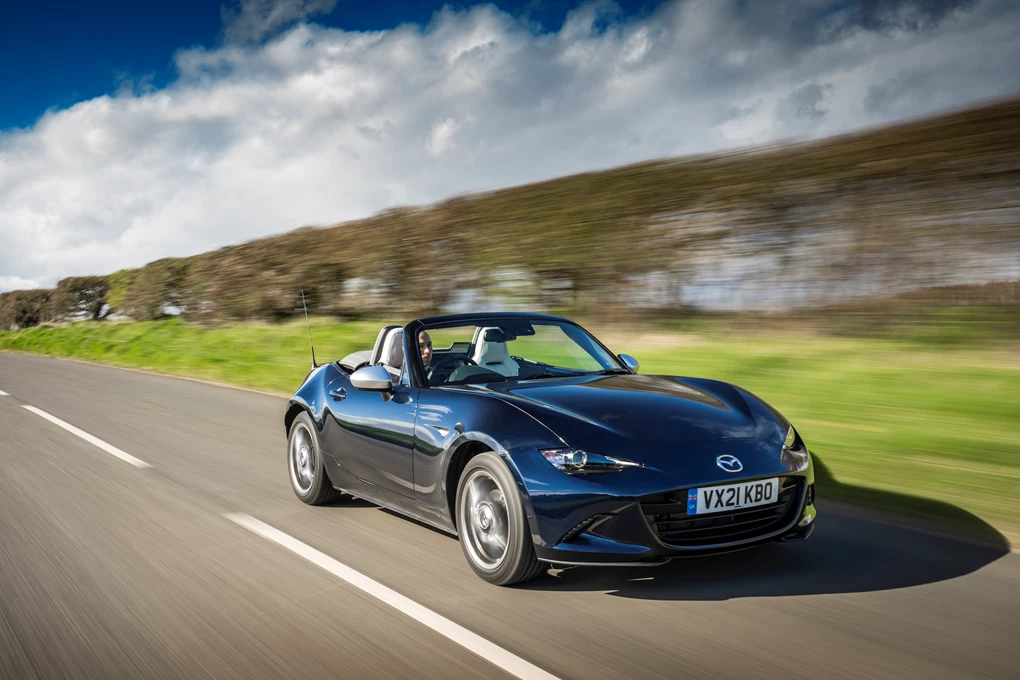 The Mazda MX-5 has always delivered affordable and accessible performance, and that remains true today, with this model still being one of the most appealing sports cars on the market today – feeling light and nimble and proving that power isn't everything in performance car circles. 
New versions even come with plenty of creature comforts, while the option of the standard soft-top or hard-roofed RF version means there's a good range of models to choose from as well.
Enquire on a new Mazda MX-5
Porsche Taycan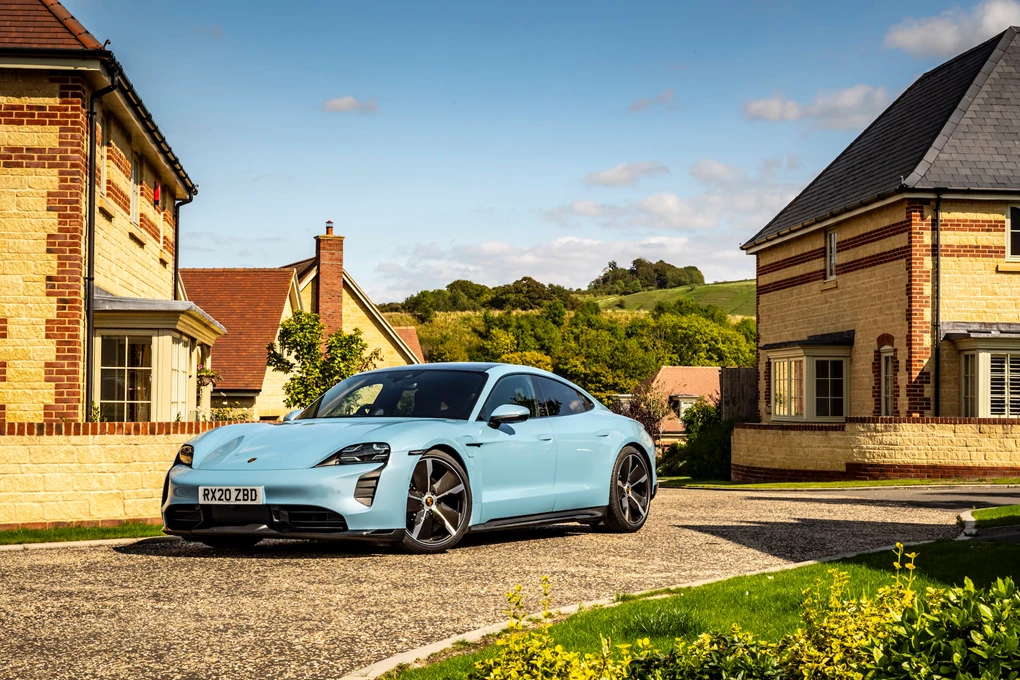 We could have picked any of Porsche's performance models – from its 718 Boxster to the 911 – to feature here, but we've actually chosen the brand's new electric Taycan. That might seem an odd move, but this model deserves special mention for proving that EVs can still feel like sports cars. 
With a huge choice of versions – from slightly more attainable 4S cars through to the monstrous Turbo S version that produces 750bhp – there is something to suit plenty. A surprisingly spacious interior and range of up to 301 miles make it a brilliant electric car, as well as a performance car.
Enquire on a new Porsche Taycan
Alpine A110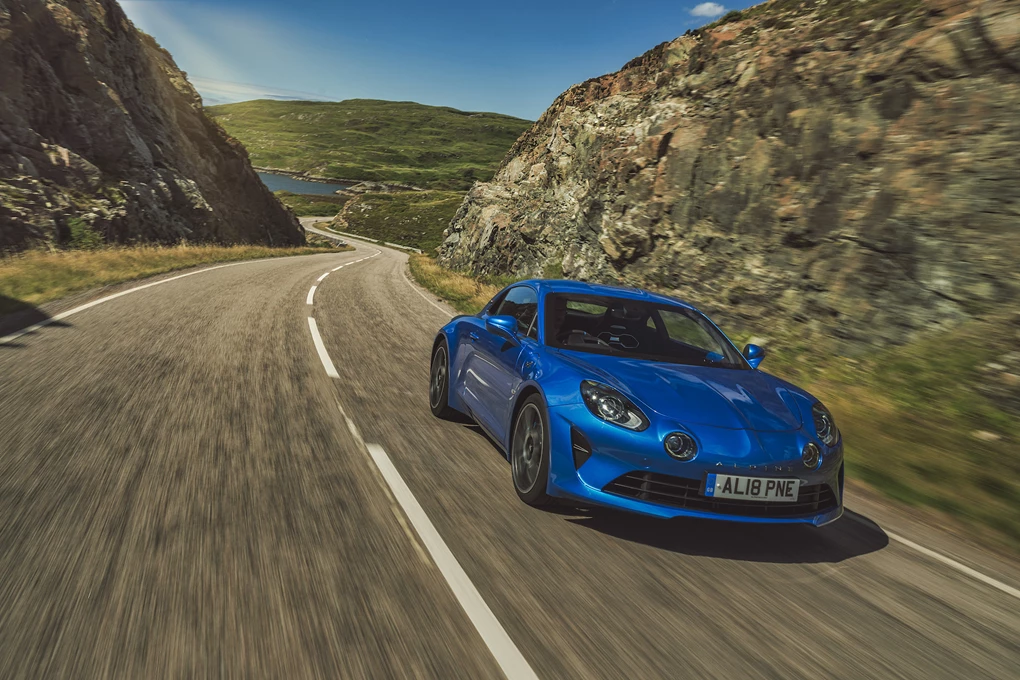 Renault revived its Alpine nameplate a few years ago for its A110 sports car, and it has proven to be one of the best performance cars in recent years and another example of how sometimes simple, lightweight engineering and a sensible amount of power is best. 
Though not as upmarket as others on this list, where driving enjoyment is concerned, it's just about unmatched at this price point. That said, Alpine does offer a hotter 'S' version should you want something with a bit of extra poke. 
Enquire on a new Alpine A110
Alfa Romeo Giulia Quadrifoglio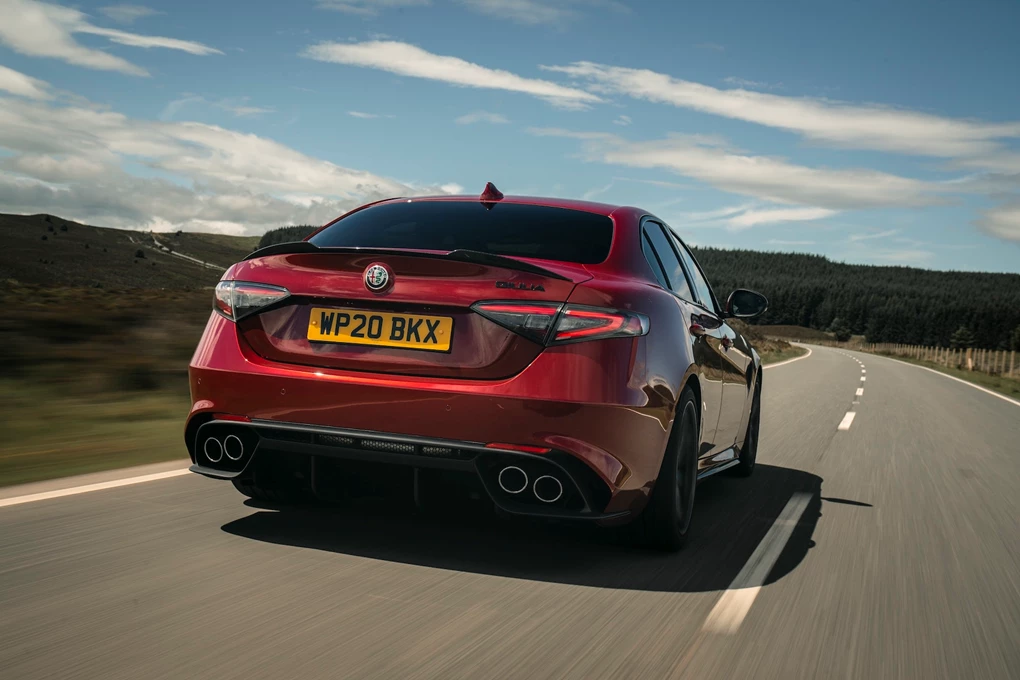 Alfa Romeo returned to form with its Giulia saloon, and the pick of the lot is the incredible Quadrifoglio performance model. Rivalling the likes of the BMW M3 and Mercedes-AMG C63, this Giulia is underpinned by a stunning 2.9-litre V6 engine, while is sharp and brilliantly entertaining to drive. 
That said, Alfa Romeo managed to get the balance just right between performance and everyday usability, as the Quadrifolgio still has a remarkably comfortable ride, as well as a practical interior.
Enquire on a new Alfa Romeo Giulia Quadrifoglio