Something that can be used as both a sports car and a family car is a rarity these days, but thankfully performance estates exist to fulfill that purpose. 
It makes a sporty estate a tempting prospect for buyers and the sector has never been more competitive. 
Here is our guide to the best performance estates for 2020...
Audi RS6 Avant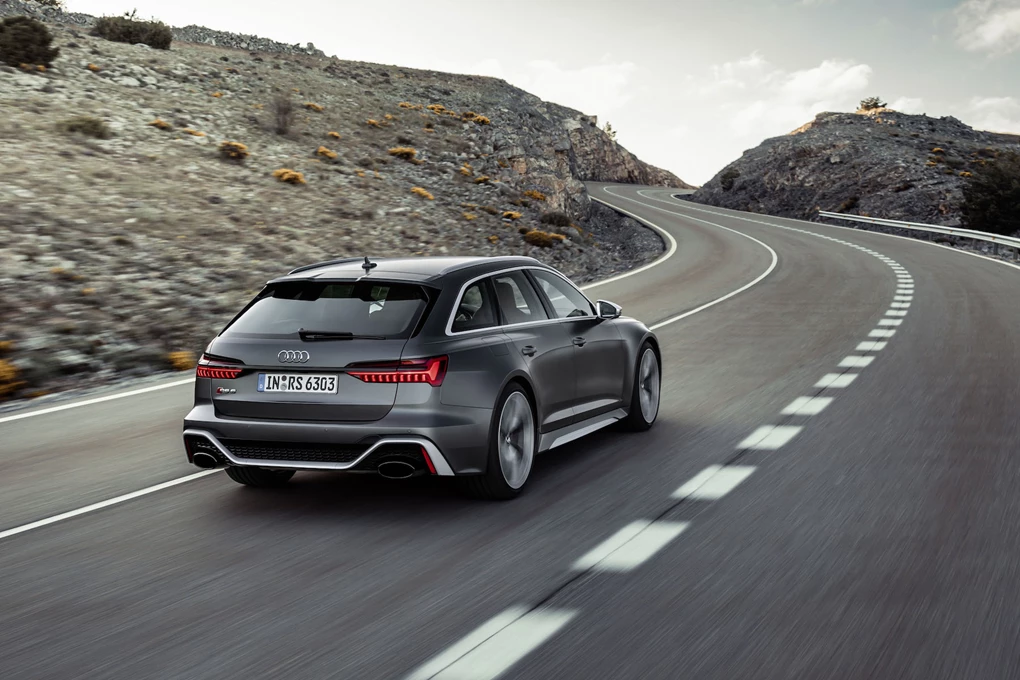 See available RS 6 deals
With a 4.0-litre twin-turbo V8, the Audi RS6 is more of a supercar than an estate, with a 0-60mph time of 3.6 seconds and a power output of 592bhp, it's no wonder why the RS6 Avant is one of the most capable and likeable performance estate cars around.
It has an electronically limited top speed of 155mph, but you can specify an optional package which can increase that top speed to either 174mph or 190mph.
Ford Focus ST Estate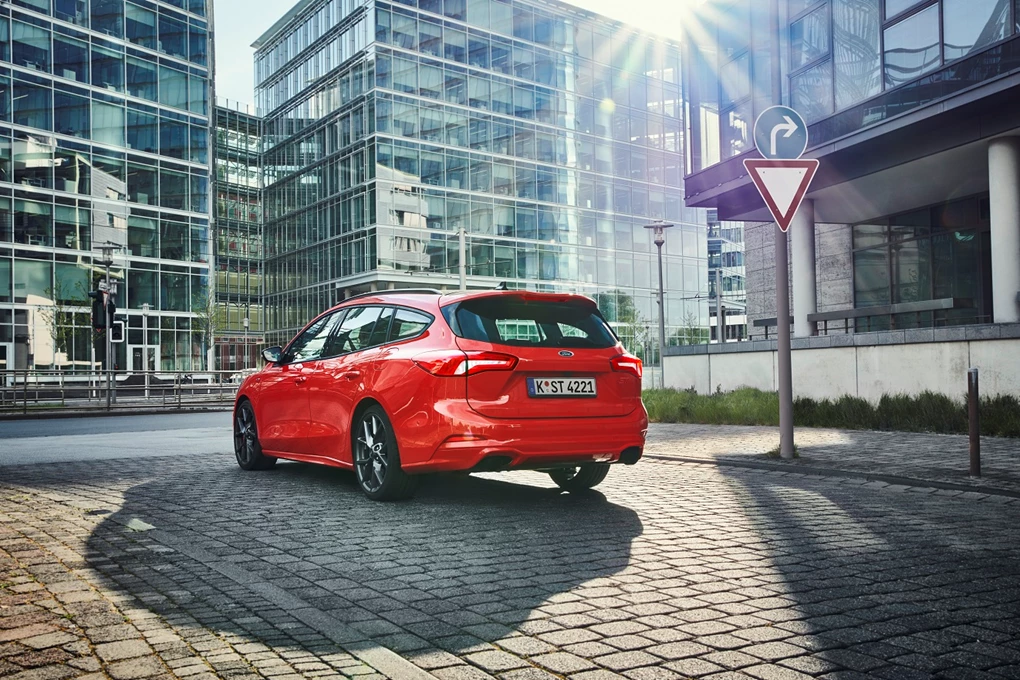 See Available Focus ST estate deals
One of the UK's best selling cars, the Ford Focus hatchback, and now in its fourth generation the Focus is at the top of its class when it comes to driver enjoyment and value for money. However, the performance inspired ST version, which is available in a practical estate body comes with a 276bhp 2.3-litre turbocharged engine, meaning it delivers hot hatch performance in an estate car package.
Mercedes-AMG E63 Estate
See available E63 estate deals
A direct rival for the Audi RS6 Avant, the E63 estate has a twin-turbo V8 offered with either 571bhp or 612bhp, depending on whether you go for the standard model or the S. The E63 also comes with four-wheel-drive to make sure it has the best traction everywhere it goes.
Seat Leon Cupra ST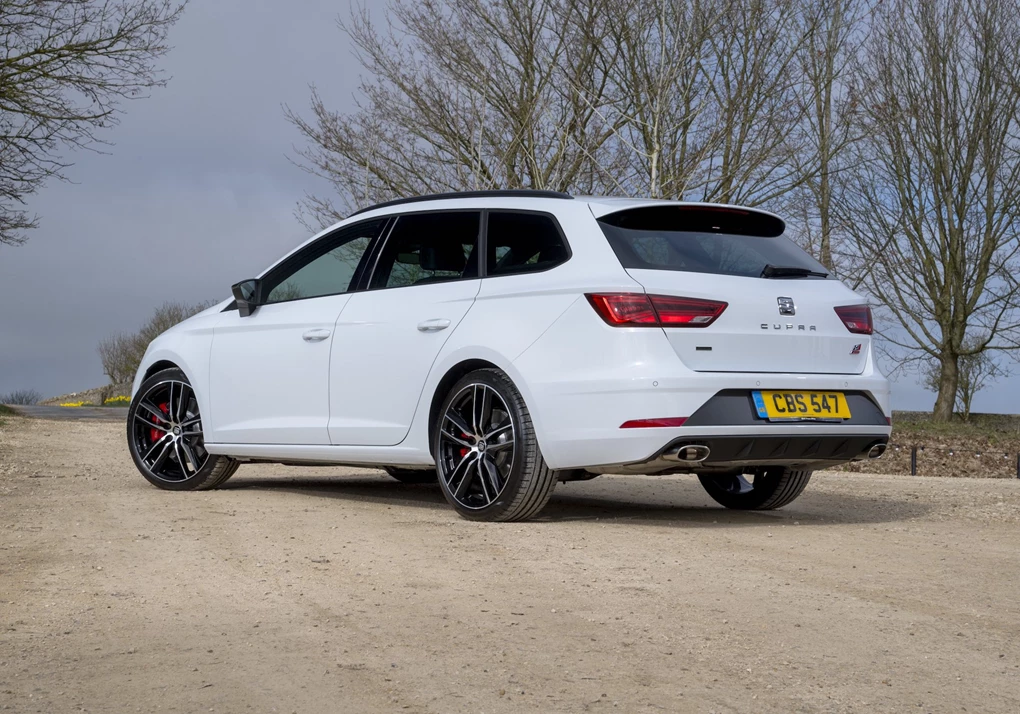 Unlike the regular Leon Cupra, the ST estate version comes with four-wheel-drive. The ST estate version costs around £1000 more than the five-door hatchback, but adds an extra 207 litres of boot space, making this car have a split personality. It's a superb hot hatchback wrapped in a practical estate car body.
Volkswagen Golf R Estate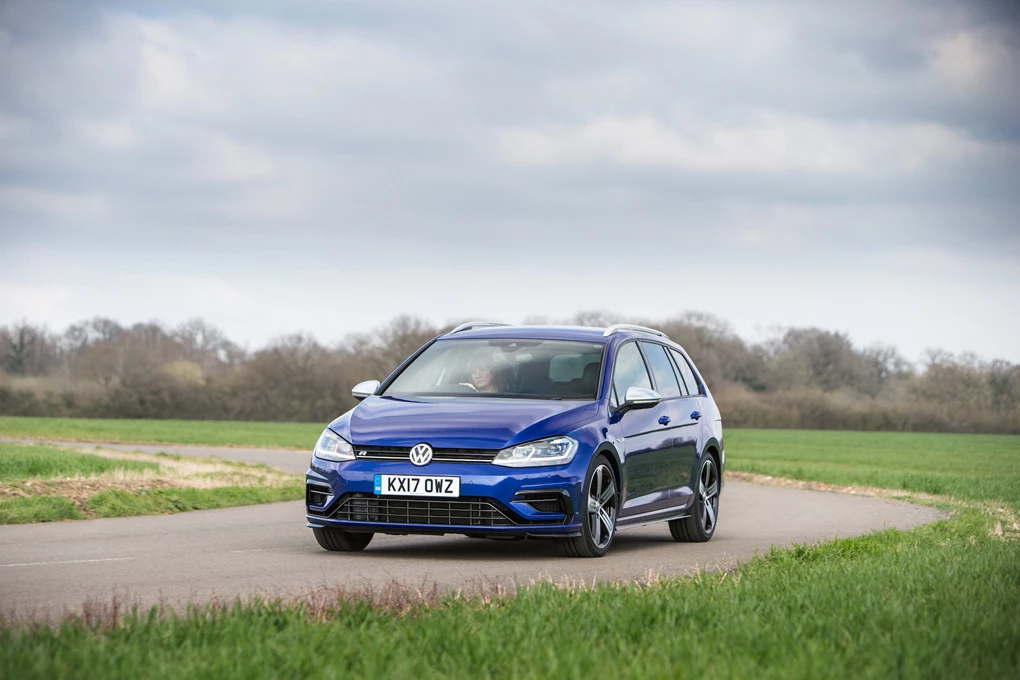 See available golf r estate deals
The new eighth-generation Volkswagen Golf is just around the corner, but the current seventh-generation car in estate form is still in production. And the hottest version, the R, is by far the most hardcore. 
Under the skin, you'll find the same underpinnings from the Leon Cupra ST, which is no bad thing as the cars share the same four-wheel-drive system, engine and gearbox, but the Golf remains the benchmark when it comes to performance hatchbacks converted to estates.
Mini Clubman JCW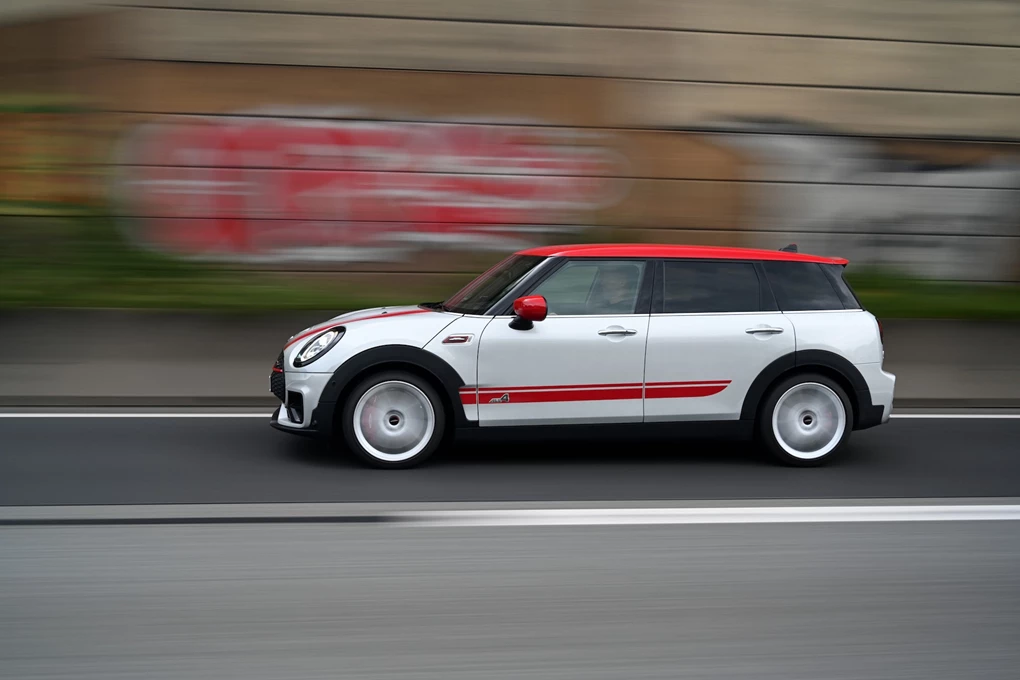 The Mini Clubman is basically a regular Mini hatchback, which has been stretched and given two extra doors. Also the Clubman JCW is the most powerful Mini ever produced. With a top speed of 155mph and traditional Mini go-kart handling, the Clubman JCW is certain to put a smile on any petrolheads' face. Added with a funky interior and excellent build quality, the Clubman JCW has also got a premium feeling cabin.
BMW M340i xDrive Touring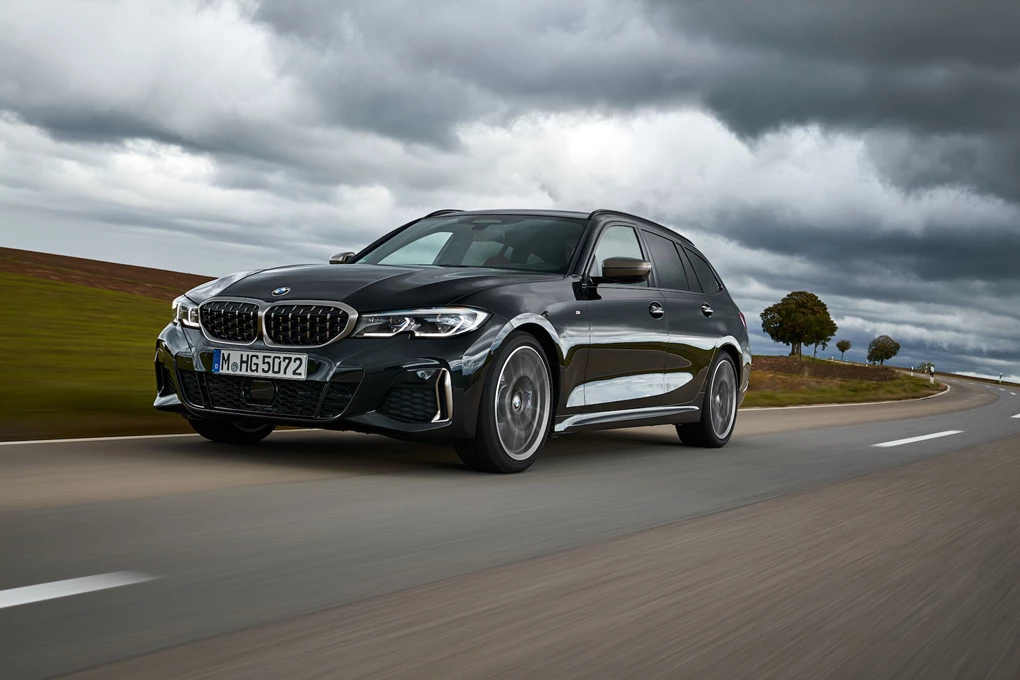 See available Clubman deals
The only car you will ever need? A strong yet true statement for anyone wanting to buy a 3 Series Touring. Good to drive, over 33mpg, a spacious boot and stylish design, it's easy to see why the M340i XDrive is on our performance estate list. It also delivers 0-60mph in 4.5 seconds, a top speed of 155mph with the added bonus of four-wheel-drive, the M340i is one of the best all rounders in its class.
Skoda Superb 280 Estate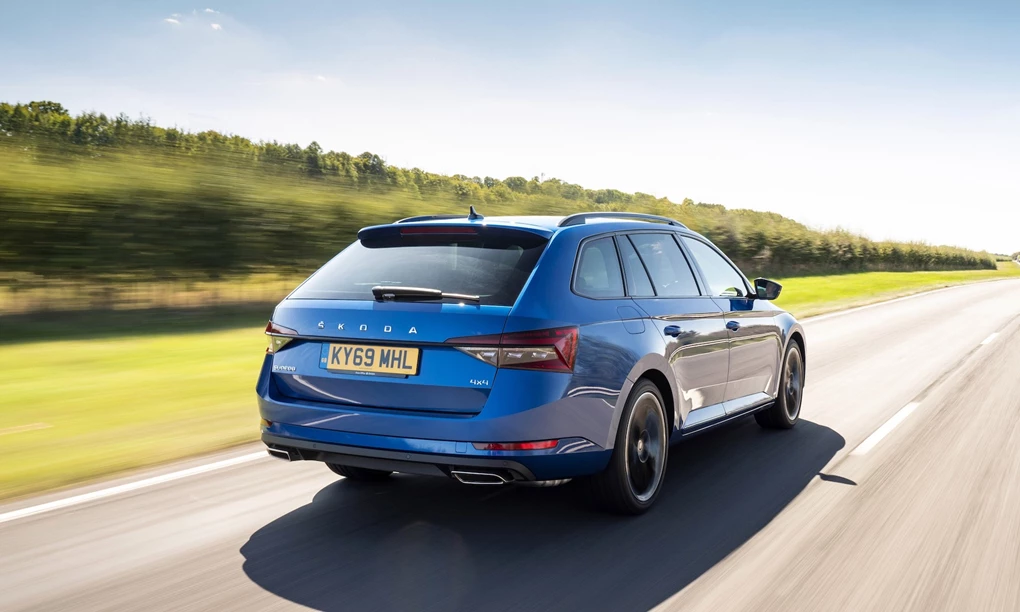 See available Superb deals
An unusual and rare proposition in the performance estate class, but a very good one no less. The Superb 280 gives decent performance whilst retaining its cavernous interior space. Under the bonnet is a 2.0-litre 276bhp engine mated to a DSG automatic gearbox, making it capable of reaching 0-60mph in just 5.8 seconds. The Superb has always been a very good all-rounder, but adding a performance version to the range makes it even more appealing to buyers.
Volvo V60 T8 Polestar Engineered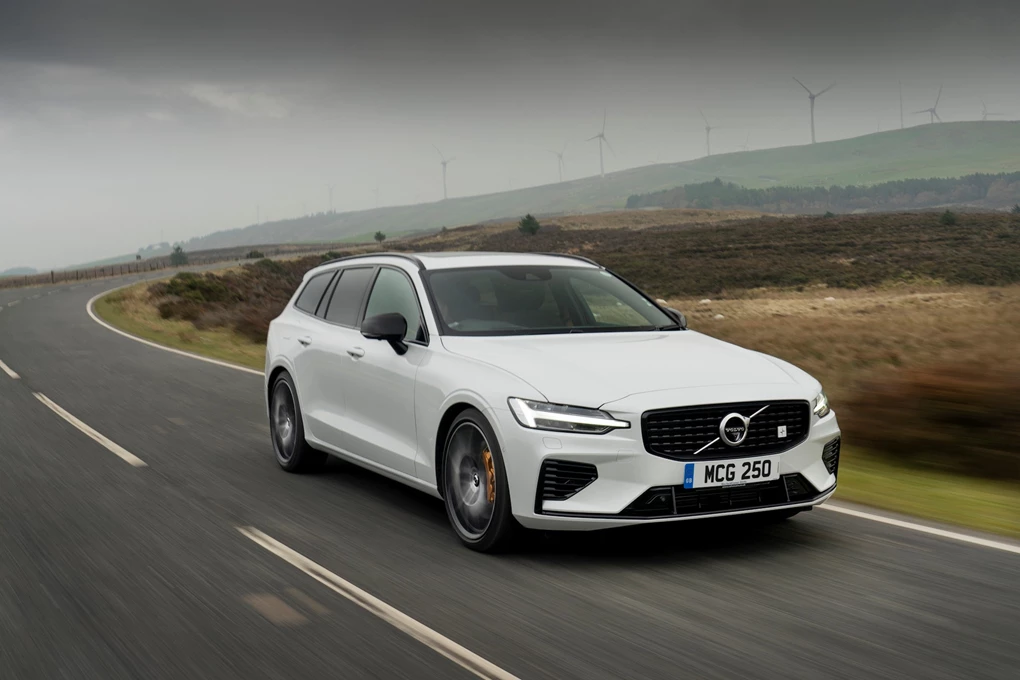 See available V60 deals
This is a plug-in hybrid performance estate that delivers ultra-low running costs whilst retaining its stylish Swedish interior and design. The Polestar Engineered can travel up to 25 miles on electric power alone when you're being careful and has a combined power output of 405bhp. It promises 0-60mph in 4.4 seconds and a top speed of 155mph, whilst having an emission figure of 48g/km of CO2 and can achieve anything between 113-166mpg. it certainly offers a brilliant blend of performance and economy.
Porsche Panamera Sport Turismo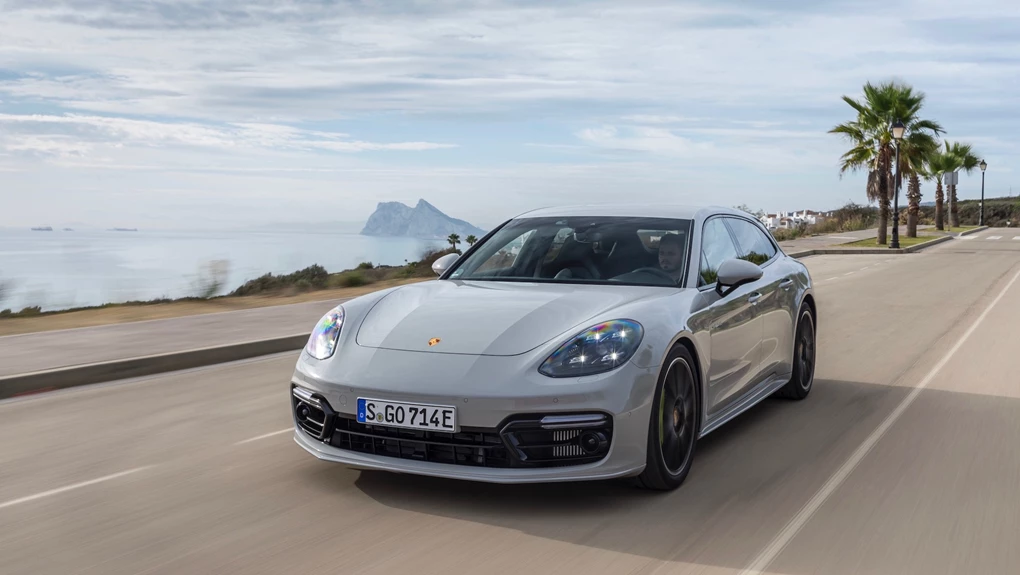 The Panamera Sport Turismo is essentially a 911 with two extra doors and a big boot. Also available with a hybrid, emission figures are as low as 60g/km of CO2. The rest of the range is available with V6 and V8 petrol engines. Performance has always been one of the Panamera's key selling points and the Sport Turismo is no exception, with the Turbo model producing 550bhp.
By Cameron Richards