While the rise of SUVs might have taken a chunk of sales from the traditional estate car market, these tourers continue to prove popular. 
And they're an increasingly popular choice for manufacturers to electrify, with plenty being available with hybrid powertrains to maximise efficiency without compromising too much on space. 
They're especially appealing to fleet buyers – thanks to their low benefit-in-kind – but low running costs also makes them a great option for private buyers, too. 
Here are five of the best hybrid estate cars on sale. 
BMW 330e Touring – from £35,685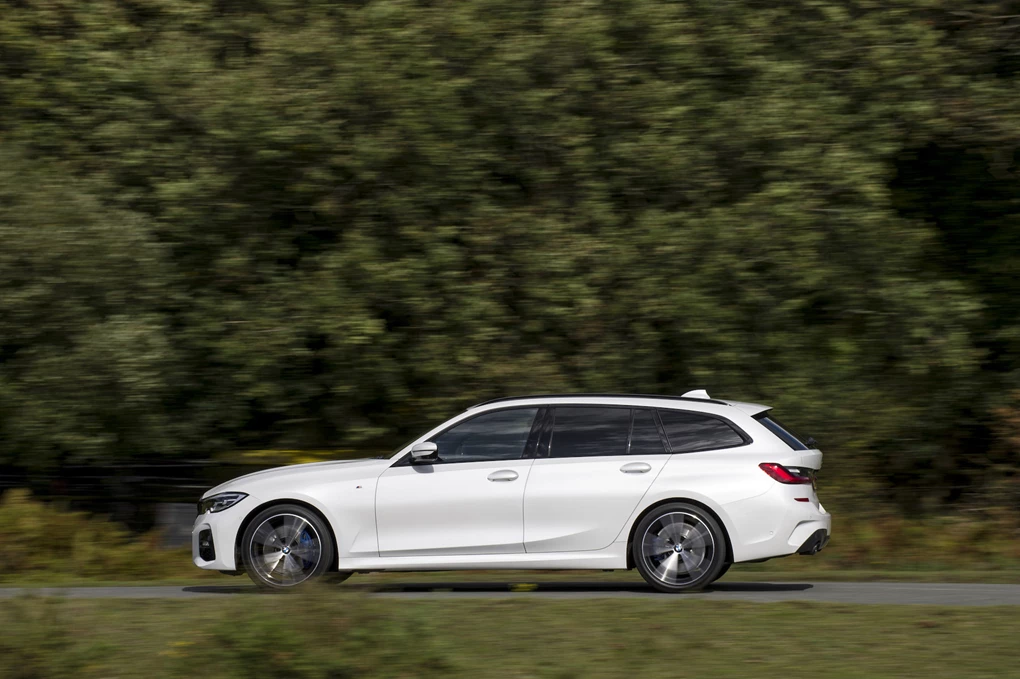 BMW is one of the leaders when it comes to plug-in hybrids – offering more than just about any other manufacturer. Its 3 Series is one of the most popular fleet cars around, and has been available with a petrol-electric powertrain for some time, but until now there was no estate variant available. 
But in 2020, BMW buyers can finally get their hands on an electrified BMW estate car with the 330e Touring. Offering an electric range of up to 37 miles, this premium model claims to be able to achieve a fuel economy figure of more than 200mpg. That's providing you keep the batteries topped up, though. Low CO2 emissions of 32g/km also give it a benefit-in-kind (BIK) of just 10 per cent – making it a superb company car. 
Skoda Superb Estate iV – from £37,370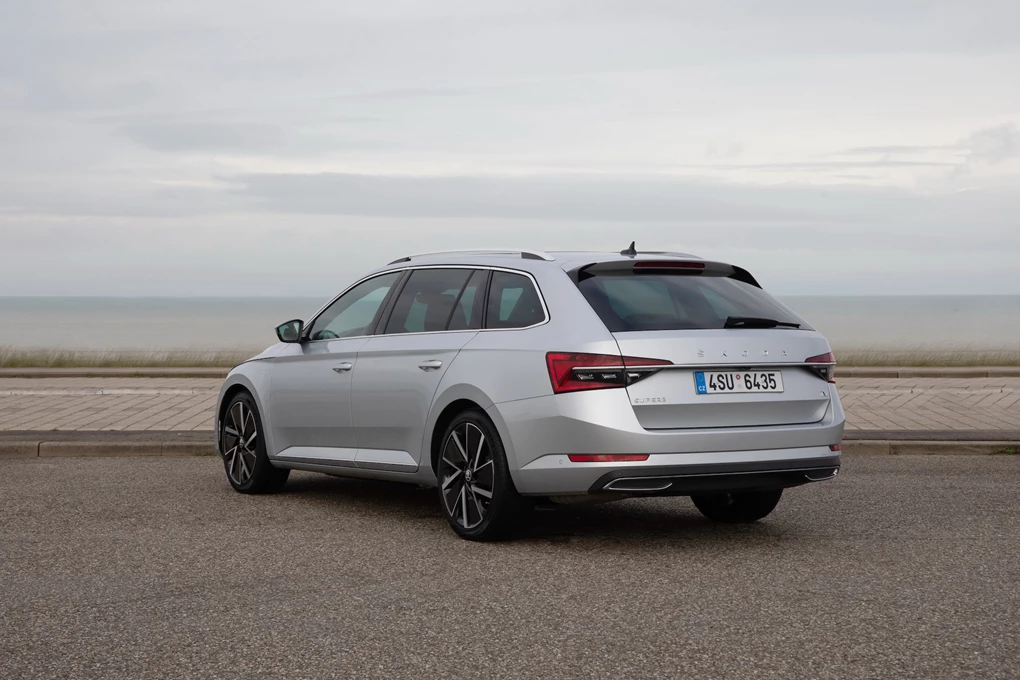 Few cars offer better value for money than the Skoda Superb, which is a worthy flagship to the Czech manufacturer's line-up – offering impressive practicality, a high-quality interior and handsome styling. 
As part of a recent update, Skoda has also introduced a new plug-in hybrid version, which is known as the iV. Combining a 1.4-litre petrol engine with an electric motor and 13kWh battery, this Skoda can travel for up to 34 miles on electricity, which Skoda claims contributes to a 217.3mpg economy figure. CO2 emissions of just 30g/km also give it a BIK of just 10 per cent – making it an incredibly attractive company car. As with most hybrids, the boot space is reduced, but with 510 litres of room to spare, it's still an incredibly useful estate car. 
Volvo V90 Recharge T6 – from £55,180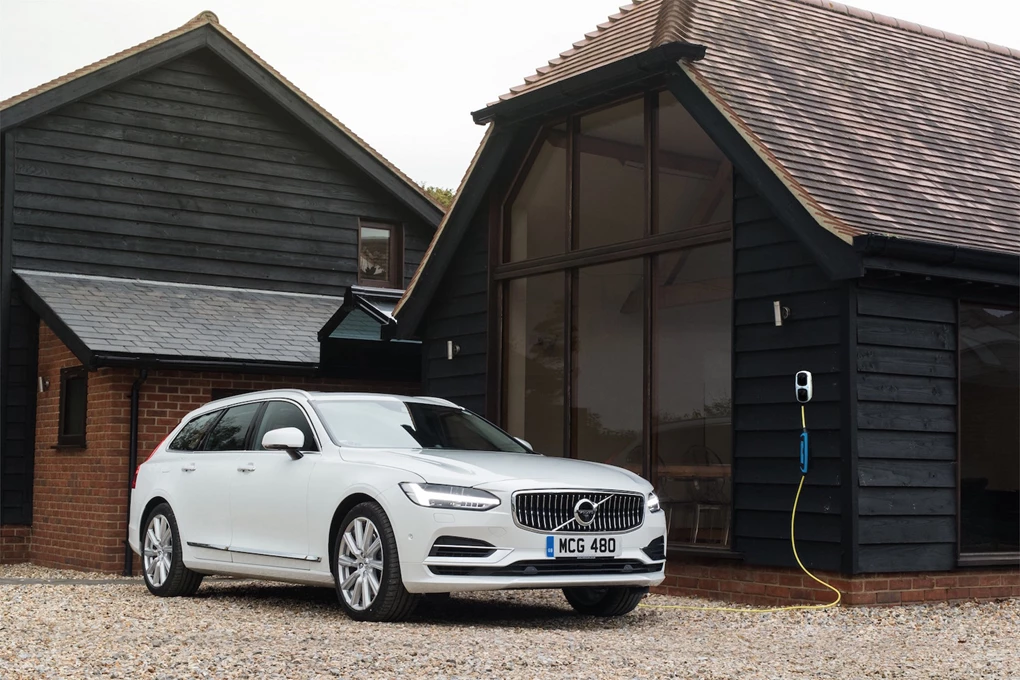 Volvo is one of the firms leading the way with petrol-electric models – even launching a new 'Recharge' sub-brand last year dedicated to both hybrid and electric models. With every Volvo model available with a plug-in option, you can choose either the V60 or V90 as electrified estate cars. 
Both are great choices, but our preferred model is the larger V90, which is one of the classiest and high-quality tourers around – especially when you choose the T6 petrol-electric powertrain. A 36-mile electric range makes it especially efficient, with CO2 emissions of 48g/km giving it a BIK of just 10 per cent. Impressively, this V90's 560-litre boot space is identical to that of petrol and diesel versions – making it a brilliant electrified estate car. 
Ford Mondeo Hybrid – from £28,110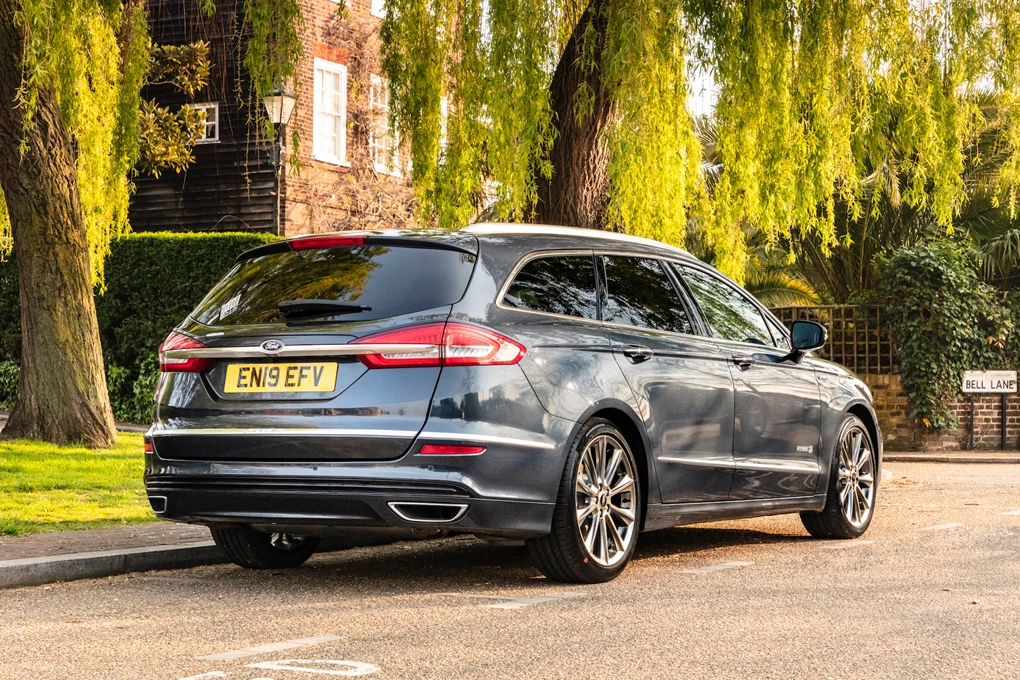 Unlike other models on this list, Ford adopts a more conventional 'self-charging' hybrid powertrain with its Ford Mondeo Estate. While not having an electric range like the plug-in models on this list – and therefore not being as efficient – you don't have to plug in the Mondeo to charge. Instead, the engine helps to charge the batteries, while regenerative braking can help things further. 
For that reason, you can't expect such high fuel economy figures, though a claimed 50.4mpg is still reasonable for a model like this. Low CO2 emissions of 99g/km also give it a BIK of 29 per cent, which is lower than the 35 per cent from a similarly-powerful diesel version. A starting price of £28,110 also makes the Mondeo Estate Hybrid good value, especially given the generous levels of standard kit. 
Mercedes E300de Estate – from £47,780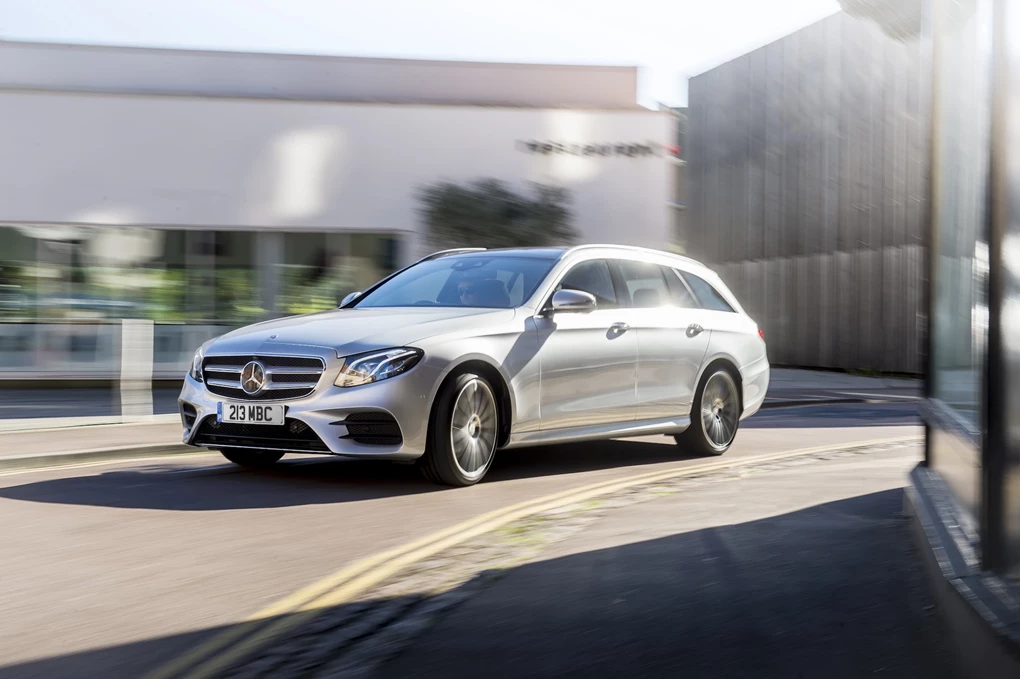 Just about every hybrid model on sale today features a petrol-electric powertrain, but Mercedes is one of very few that offers a diesel plug-in hybrid – something available on its large E-Class Estate. It makes a lot of sense given diesel engines are far more efficient, especially when the batteries aren't charged. 
And it means that with the E300de's 30-mile electric range, this estate car can achieve a claimed 260mpg, while CO2 emissions of 39g/km also give it the low BIK of 10 per cent, which makes it a brilliant company car. The E-Class Estate is also impressively spacious, while its high-quality and modern interior is one of the best around. 
Enquire on a new car