Have you decided to buy a BMW i8? If the answer's yes then first of all, nice choice, but second of all, just how clued up are you on the car itself?
There are some fascinating and important things worth learning about the design, optional kit and how the engine runs before you invest your cash in this futuristic-looking, hybrid sports car. Here's our guide to buying a BMW i8.
Design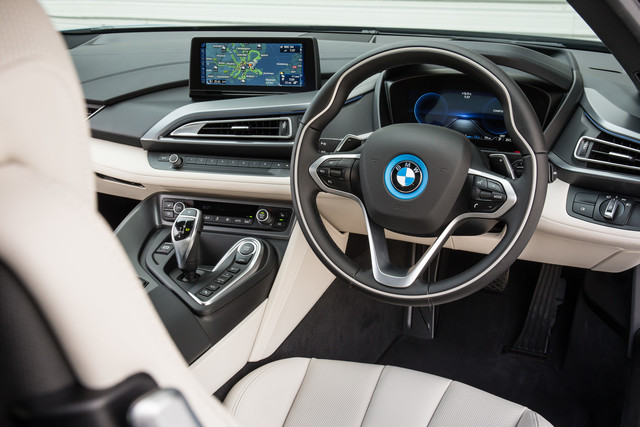 One of the biggest talking points about the BMW i8, unsurprisingly, is the stunning design of the car's exterior and interior. The sleek body shell combined with the vibrant colour options wouldn't look out of place at a future concept car show, but the i8 is very much a production model.
It's very cleverly constructed as well, featuring a passenger cell and doors made of carbon fibre-reinforced plastic and aluminium crash structures. The result of this is a very lightweight body, for a sports car.
The i8 also has gullwing doors, another feature that's bound to turn some heads. They could, however, also prove troublesome if you want to put your car in a tight parking space, so you'll have to take them into account.
Inside, meanwhile, the i8's interior pulls off a similar futuristic vibe but at the same time has numerous features that'll feel very familiar if you've bought a modern BMW before.
Like with most sports cars, however, the i8 is not great in terms of practicality. Mind you, that's unlikely to bother you. The car actually has as many as four seats but, while there's plentiful leg and headroom up front, there's little of either offered at the back. Only children can realistically fit in the back seats. If anyone sitting at the front is particularly tall then that pretty much cancels out the room directly behind anyway.
Boot space is 154 litres, which is smaller than modern city cars but slightly more than you get in a Porsche 911.
Price and specification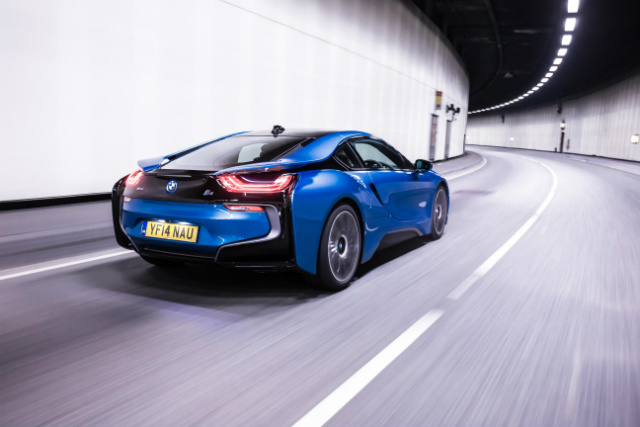 It'll be unsurprising to learn that a high-tech sports car like the i8 doesn't come cheap, but its price isn't as scary compared to some of the latest supercars/hypercars out there. There's only one specification for the BMW i8 and it comes in at just over £104,500. That price includes the Government's £5,000 plug-in car grant.
You get plenty of standard kit for the money. The list includes 20-inch alloy wheels, dual-zone climate control and the BMW Professional Multimedia Navigation system. The latter supports DAB radio, Bluetooth and USB connectivity. The i8 also contains a 20GB hard drive that is used to store a wide range of service including online apps and an emergency call function.
There are some options you can add to your i8, although the list isn't very long. The ones you're most likely to be interested in, however, are the colour options. Sophisto Grey is the standard paint job, but if you want Ionic Silver or Protonic Blue then that'll cost an extra £450. The Crystal White paint finish meanwhile is a £1,350 option. There's also two alternative designs for your alloy wheels available, with each costing just over £1,000.
Laser lights for the front are another intriguing option, priced at about £8,000. Swapped for the standard LED headlights, the laser lights have comparatively double the high-beam range yet consume one-third less of the energy.
There are a few interior trim packs available as well, priced between approximately £1,000 and £2,000. 
If you are willing to spend just over £10,000 more on your i8, then you can get the car with the Pure Impulse Design Pack. This adds some blue accents and metallic trim, plus other trim details finished in Pearl Gloss and Chrome. Buying this pack also grants you a BMW's 'I Pure Impulse Card', which gives you preferential access to special VIP events made exclusive for i8 owners.
Plug-in hybrid engine
The biggest party piece of the i8 is of course the plug-in hybrid powertrain, which allows drivers to switch between smooth, quiet cruising or a rapid, enthusiastic approach, seamlessly.
There's a 1.5-litre three-cylinder petrol unit, which might not sound that impressive for a sports car, but when working in combo with the electric motor the total output is 357bhp. You also get up to 570Nm of torque, with 250Nm offered by the electric motor alone.
The power, combined with the lightweight body, is enough for a 0-62mph sprint time of just 4.4 seconds. The top speed is electronically limited to 155mph.
That sort of performance is on par with many of the best supercars around, yet it will only emit 49g/km in CO2. That means exemption from both paid Vehicle Excise Duty and the London Congestion Charge.
Switch the i8 to the 'eDrive' setting and it'll run on electric power, although only for up to around 23 miles and at speeds of up to 75mph. The 'EcoPro' setting can maximise electric travel further by reducing consumption from things such as the air conditioning and lights.
The i8's electric motor can be charged either with a standard three-pin domestic socket or with a dedicated BMW Wallbox installed at your home (for just over £300). With the former it should take less than three hours to go from zero to 80 per cent charge. With the Wallbox this can be achieved in two hours.
When we test drove the i8, the best figure the BMW averaged was 38mpg. That's still an impressive figure for a sports car that does the benchmark sprint in less than four and a half seconds. But be wary that if you do invest in this car, don't be surprised if you struggle to get anywhere near the official mpg figure.
Overall though, the i8 is not only quick but very good at adapting to different styles of driving to suit the current circumstances.