Interested in buying a Ford Fiesta? Well you're certainly not alone in having that interest. In Britain, the Ford Fiesta has consistently been the leader when it comes to monthly and annual new car sales for more than the last five years.
Here at Car Keys, we can help you save money on the particular new Ford Fiesta model that you prefer.
As we said in our review, the Ford Fiesta is a superb entry in the supermini class, offering great driving dynamics and a diverse selection of engines. But you do need still some more information about this car before deciding which particular Fiesta to go for? In our buyer's guide to the Ford Fiesta we take a close look at key areas including the design, the current engine and trim choices and what sort of price you could be paying.
Styling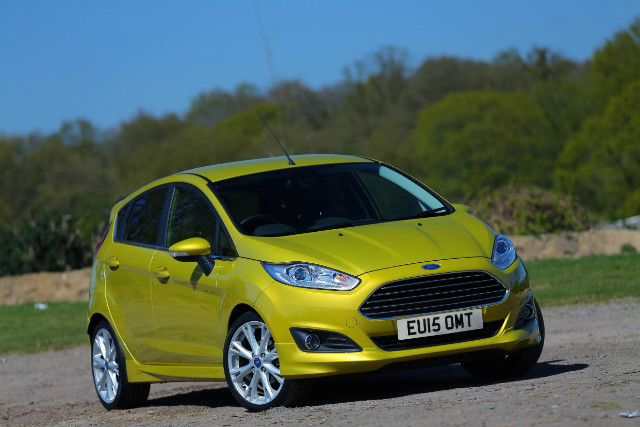 The last major styling update for the current generation Ford Fiesta occurred back in early 2013. Nowadays all Fiestas feature a posh-looking chrome grille at the front, as well as a body colour rear spoiler. The Zetec S (plus certain special editions) stand out more by having a black-painted grille. All trims except the two most affordable also sport 15 or 16-inch alloy wheels.
For the colour selection, the Fiesta offers a wide choice of metallic body colours plus a few solid body colours. Bear in mind, however, that all of the metallic paint jobs (plus one of the solid colours) are extra cost options. The standard colour options are Race Red and Blazer Blue. Frozen White is the extra-cost solid paint option.
Trims and equipment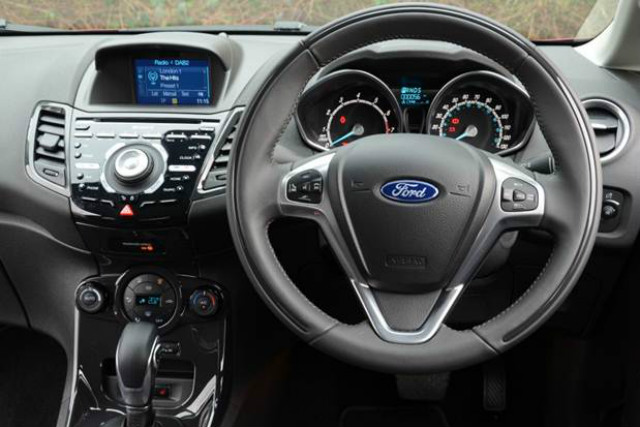 There are six trim levels for the Ford Fiesta range (not counting special editions or the ST versions), starting with Studio and then Style. They're followed by Zetec, Zetec S, Titanium and Titanium X. While most trims are available for both three and five-door Fiestas, the Studio and Zetec S (as well as the ST) come in three-door only.
As standard in a new Fiesta you don't exactly get a long list of kit but there's still daytime running lights, electric front windows and a radio/CD player with auxiliary inputs. You'll have to go up to at least the Style version if you want air conditioning installed.
The Style trim also has various standard safety features such as Hill Start Assist and MyKey. The latter feature allows you to program your key to include restrictive settings that encourage more responsible driving. The technology, aimed at parents that may share their car with a young driver, allows the owner to see restrictions on the car's top speed, radio volume and set up seat belt reminders. MyKey can even mute the radio if the driver doesn't buckle up first.
Another major technology available in new Fiestas is Ford SYNC, available from Zetec trim and upwards. This gadget lets you make calls, control your music on your iPod/MP3 player and have texts read out via voice commands.
If you want to upgrade the radio to a DAB digital version, then you'll have to go for the Titanium or Titanium X trims. These also add cruise control and an auto-dimming rear-view mirror which helps prevent being dazzled by cars behind with their headlights on.
Engines
There's a 59bhp 1.2-litre petrol unit used for the standard Studio trim Fiesta. The Style version gets that plus an 81bhp version as well as 1.5 and 1.6-litre diesels with outputs of 74bhp and 94bhp respectively. Looking beyond Style, there's plenty of other engines to pick such as a 79bhp 1.0-litre petrol and 94bhp 1.6-litre Duratorq diesel. A five or six-speed manual gearbox is used as standard for the Fiesta, and this is preferable to the optional six-speed Powershift automatic alternative.
Also available and strongly recommended is the 1.0-litre EcoBoost petrol, available with either 98bhp or 123bhp. This a very impressive engine that's won numerous prestigious awards in the motoring scene because it does very well in combining performance and efficiency. Whichever power output you pick from, the 1.0-litre engines (combined with the manual gearbox) officially record 65.7mpg and emit just 99g/km. That low CO2 figure means these Fiestas deliver free Vehicle Excise Duty.
If you're really keen for something even more efficient, however, than consider the 1.6-litre TDCi ECOnetic diesel. This emits just 85g/km and records an official combined fuel economy of up to 85.6mpg.
Pricing and options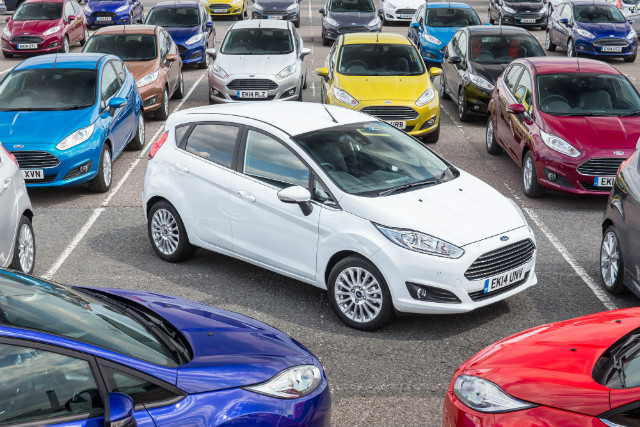 Pricing for the Fiesta starts at around £10,150 for the Studio (which is three-door only), rising from just under £12,000 for the Style and from about £13,200 for the Zetec.
Titanium Fiestas start at just under £15,000, while the Titanium X versions start at nearly £16,500. The cheapest Ecoboost-driven model starts at just over £14,000, while the ECOnetic versions start from a little above £15,000. Also, for those curious, you'll have to spend around £17,500 to £19,500 for a Fiesta ST hot hatch, depending on how much kit you'd want.
Remember that in terms of optional kit, features like cruise control, rear privacy glass and parking sensors are standard for the Titanium or Titanium X trims. Below them though, you could end up paying significantly more than the original retail price if you can and choose to add this luxury kit. There are also various protection and styling packs which can cost between about a hundred to a few hundred quid extra.