The Volkswagen Golf is a very popular choice of new car here in Britain, and little wonder. It offers practicality, efficiency, a classy interior and an excellent, diverse range of engines. Speaking of diversity, there's a huge range of bodystyles to choose from when it comes to the Golf.
Here at Car Keys you can save money on a new Golf deal, whether it's in hatchback, estate or cabriolet. The Golf Alltrack 4x4 estate and Golf SV (a larger MPV version) are both also available to order.
In this guide we are going to focus on details you'll want to know more about when buying a new Golf in hatchback form, which is the most popular selling bodystyle.
Styling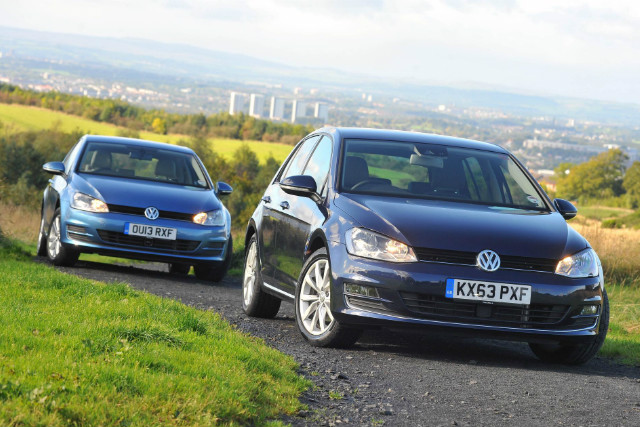 Currently in its seventh generation, the styling of the Golf has not changed that much for many years. Crucially though, each new Golf model comes with smart exterior and interior features which give an upper class feel.
All Golf models sport a black radiator grille as standard, with certain trim levels adding a chrome finish, relevant badge or, in the case of the Bluemotion models, a distinctive blue stripe. Other standard styling features include halogen clear headlights with daytime running lights.
Bear in mind that for most versions of the Golf hatchback, only one paint job is available as standard while others are extra cost options. Either Urano Grey or Black, both solid paint finishes, are standard for most specifications, while other solid paints cost just under £300 and metallic and pearl paint finishes are just over £500.
There are numerous distinct upholstery finishes to choose from inside, but what's actually available depends on the paint job chosen. If you have a particular paint and upholstery combo in mind, it's worth checking online or on a brochure to confirm if it's available.
Trims and equipment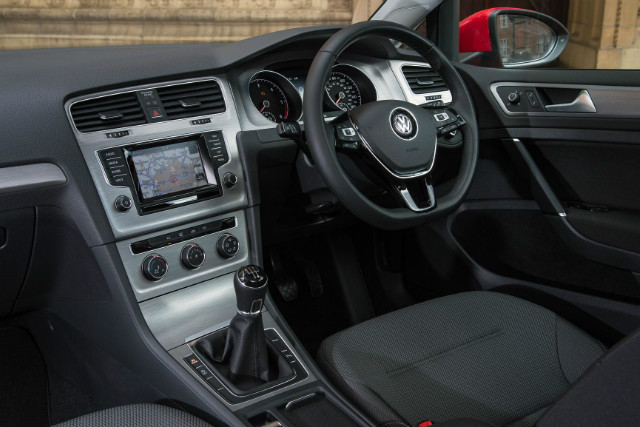 The trim line-up for the Golf hatchback starts with S and is followed by Match and Match BlueMotion, BlueMotion, GT and R-Line. Then there's the all-electric e-Golf, as well as performance models such as the GTD, GTI, R and hybrid GTE, all of which are lavished with luxury kit.
Even Golfs lower down the trim grade are well equipped as standard though, especially compared to a lot of other family hatchbacks.
As standard a new Golf comes with the Composition Media system with a 6.5-inch colour touchscreen that supports DAB radio, a CD player, USB connectivity and an SD card reader. With compatible phones, this gadget can also read, compose and send text messages with the aid of the touchscreen control. Other standard features include manual air-conditioning, heated and electric mirrors and eight speakers.
All Golfs above the S trim add alloy wheels and cruise control as standard. If you want sat-nav as standard, however, then you'll have to step up to at least the GT trim. The same thing applies if you fancy sports seats and/or parking sensors in your Golf. Front and rear parking sensors can be added to S or BlueMotion trim Golfs at an extra cost option.
Engines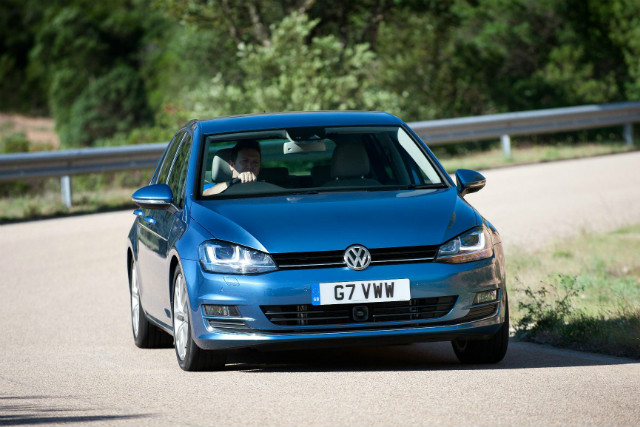 There are quite a lot of engines in the Golf hatchback line-up so take a deep breath. The list includes two 1.2-litre TSI petrol units producing 84bhp and 104bhp, two 1.4-litre TSIs (123bhp and 148bhp), a 108bhp 1.6-litre TDI diesel and a 148bhp 2.0-litre TDI.
GTDs, meanwhile, exclusively use an 181bhp 2.0-litre TDI, the GTI has a 217bhp 2.0-litre petrol and the Golf R a 297bhp 2.0-litre petrol. The e-Golf uses an 114bhp electric motor and the GTE combines a 1.4-litre petrol engine and electric motor for a total output of 201bhp.
The standard S trim is available with the 84bhp TSI, 123bhp TSI and 108bhp TDI diesel. Outside of the performance and electric Golfs, the engines that are certainly worth a closer look are the 148bhp TDI diesel and the 148bhp 1.4 TSI. The latter, available for the GT and R-Line trims, is particularly interesting because it makes use of cylinder deactivation technology. This shuts down two-cylinders when only a moderate amount of power is required, boosting the engine's efficiency.
While the 108bhp 1.6-litre diesel, available for cheaper trims including BlueMotion, is a very popular choice for Golf buyers, the 148bhp diesel feels feistier and a lot more interesting. This 2.0-litre unit can be chosen when going for the Match, GT or R-Line trims.
Pricing and options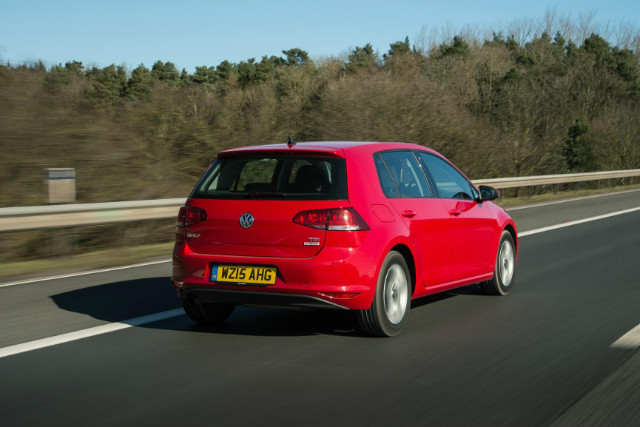 Pricing for the Volkswagen Golf hatchback starts at around £17,500 for the S trim. A few grand more than the Ford Focus, but that has less standard kit. Prices rise to roughly £20,000 for the Match and about £21,500 for the Golf BlueMotion.
The GT trim Golf starts at nearly £23,000 and the R-Line is almost £25,000. The cheapest performance Golf, the GTD, is about £27,000, with the petrol-run GTI roughly starting half a grand more. You'll need to spend at least £31,000 meanwhile to purchase a Golf R outright.
The e-Golf and GTE hybrid can both be acquired for just under £30k, thanks to them being eligible for the Government's Plug-in car grant worth up to £5,000.