The choice of electric cars on the market has never been greater, and the range of models on offer will continue to grow. 
But EVs are no longer restricted to the likes of Teslas or small battery-powered models anymore. There are plenty of perfect electric family cars available, including SUVs, estate cars and hatchbacks. 
So if you're wanting a new family car and looking to go electric, here are the models that you should consider.
Audi Q4 e-tron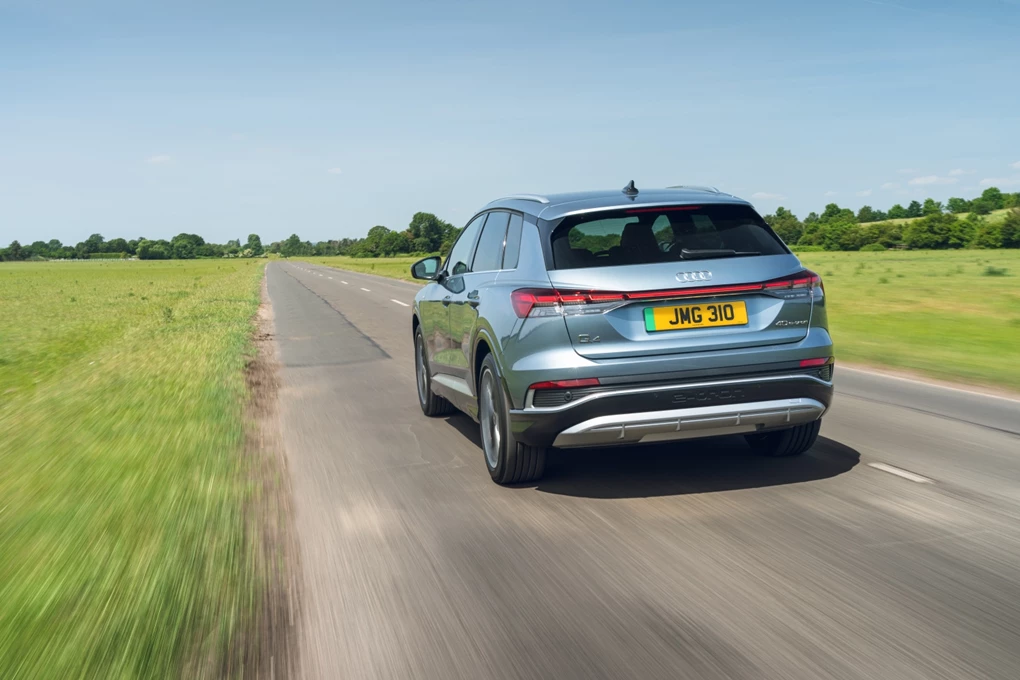 Audi has expanded its line-up of EVs further in 2021, with its latest addition being the Q4 e-tron Sportback. It's a brand new model for the German firm, and one that's underpinned by a platform designed solely with electrification in mind. 
That enables the Q4 e-tron to be impressively spacious, with loads of rear-seat room and a big boot. Elsewhere, the Q4 gets a stylish tech-laden interior, while a wide choice of battery and electric motors are available, which delivers a range of up to 316 miles between charges.
Enquire on a new Audi Q4 e-tron
BMW iX3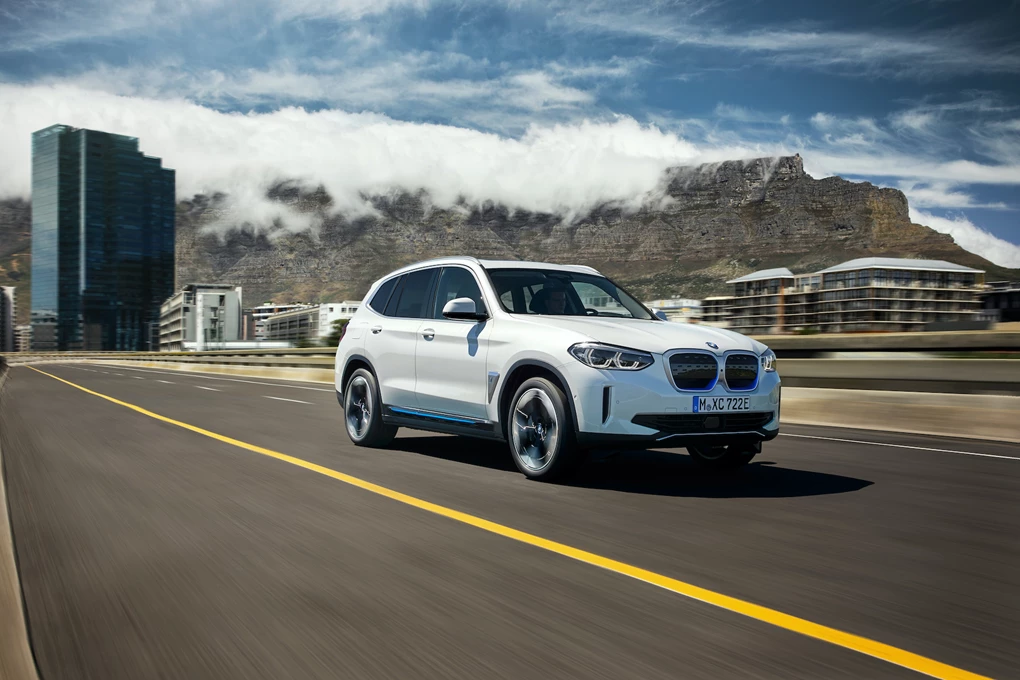 BMW is rapidly growing its range of EVs, and one of its best options is the iX3 – a battery-powered version of the popular mid-size X3 SUV. Offering a generous-sized interior, it's actually just as spacious as the standard model, which is rare given the space taken up by the batteries. 
Offering the same well-built interior that all BMWs are known for, the iX3 is also able to travel for 285 miles on a single charge, which is more than plenty of its rivals. 
Enquire on a new BMW iX3
MG5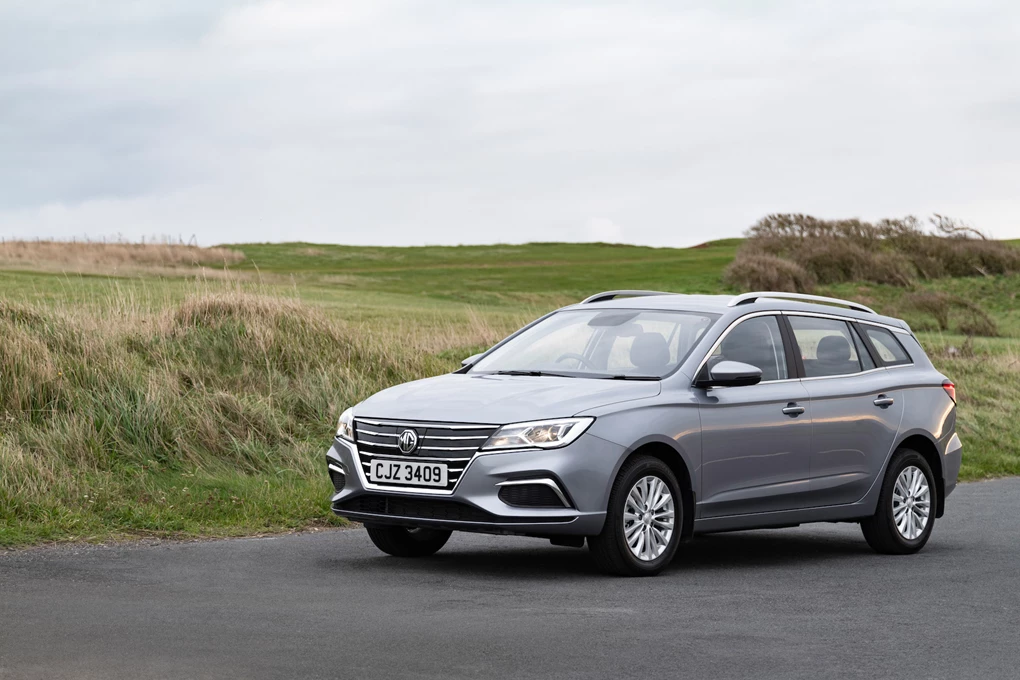 If you want a family car, though, you're not just limited to SUVs. That's right you can also get an electric estate car – the MG5, which is the first battery-powered model of this type to be sold in the UK. 
Though not having the same quality or premium image as the models mentioned so far, the MG5 is significantly cheaper, while is still pleasant to drive and gets plenty of standard equipment. With prices starting from £25,095 (after the plug-in car grant), it offers superb value for money.
Enquire on a new MG5
Skoda Enyaq iV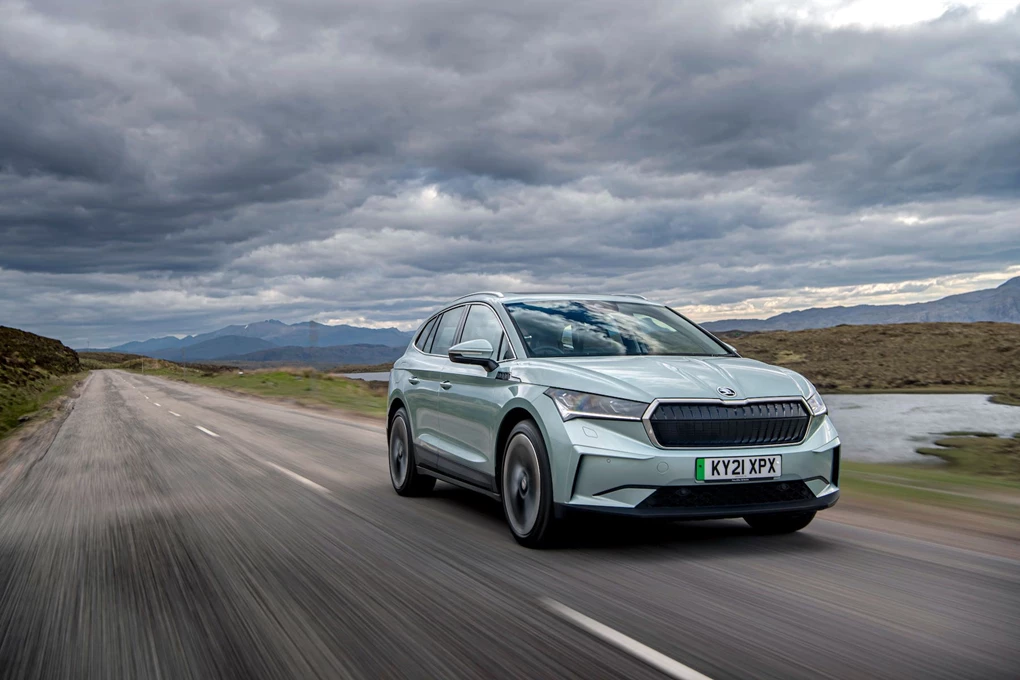 Skoda's cars are renowned for their practicality and affordability, and those two traits have still been successfully carried over to the brand's first standalone EV – the Enyaq iV. Offering vast amounts of interior space and a starting price of £31,995 (after the grant), it's really not much more expensive than a petrol or diesel SUV of the same size. 
A series of trims and battery configurations are available, too, with Skoda even readying a sporty vRS model for the future. With a range of 333 miles, it's an ideal option for longer trips, too.
Enquire on a new Skoda Enyaq iV
Nissan Leaf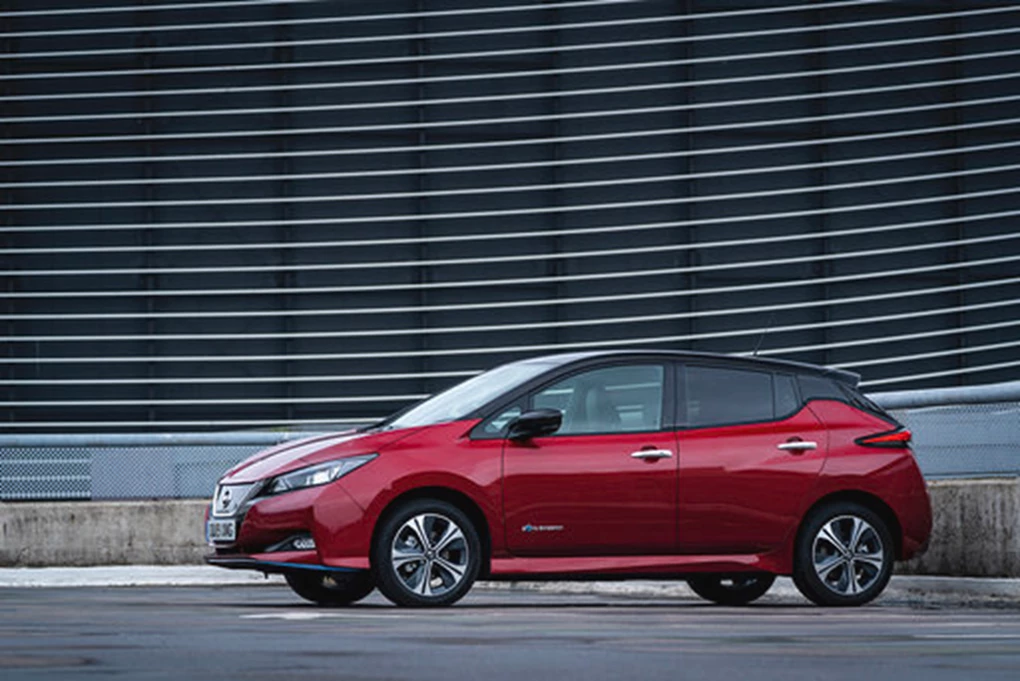 The Nissan Leaf was the original affordable EV and it continues to be a leader in the segment. Unlike the models on this list so far, the Leaf is a conventional five-door hatchback, but with a large 435-litre boot (bigger than plenty of petrol-powered rivals) and loads of rear-seat room, it's an ideal option. 
All versions come generously equipped as standard, while prices starting from £25,995 (after the grant) makes this Sunderland-built Leaf a rather attractive proposition. Two battery options are available – the standard car delivering 168 miles between charges, while a top-spec E+ model can increase this to 239 miles.
Enquire on a new Nissan Leaf
Citroen e-C4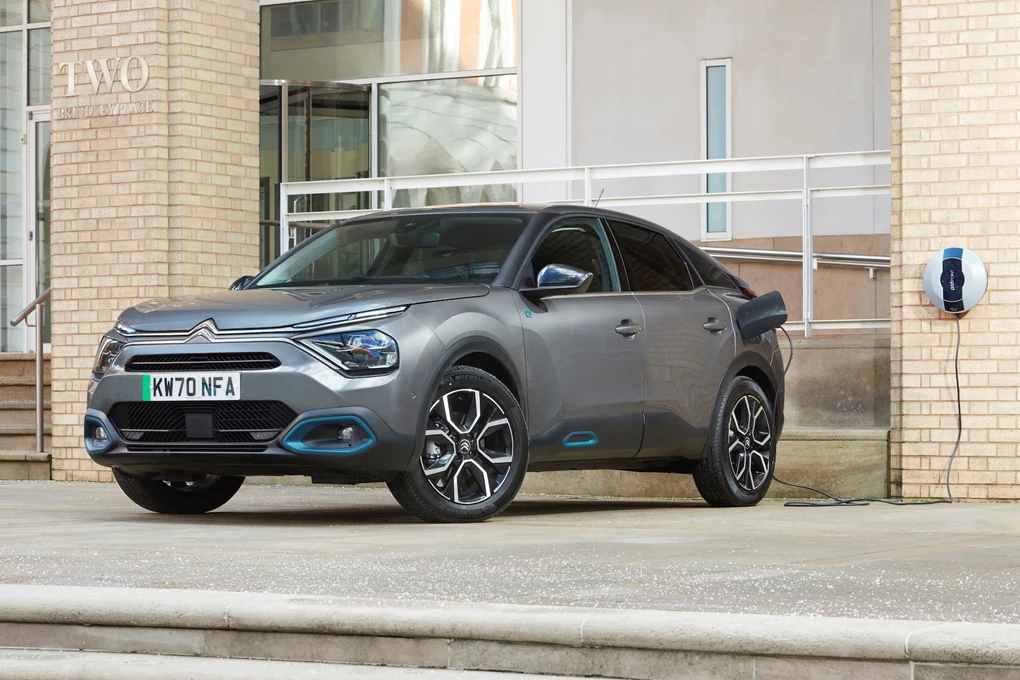 Citroen has quickly gone from a firm having no electrified options on the market to a wide range of options, including hybrids and EVs. Its latest offering is the e-C4 – a funky electric hatchback that offers generous standard equipment levels and a claimed electric range of up to 217 miles. 
Unlike rivals, the e-C4 also puts a special emphasis on comfort, with this model having one of the best rides of any new car on sale today. 
Enquire on a new Citroen e-C4
Volkswagen ID.4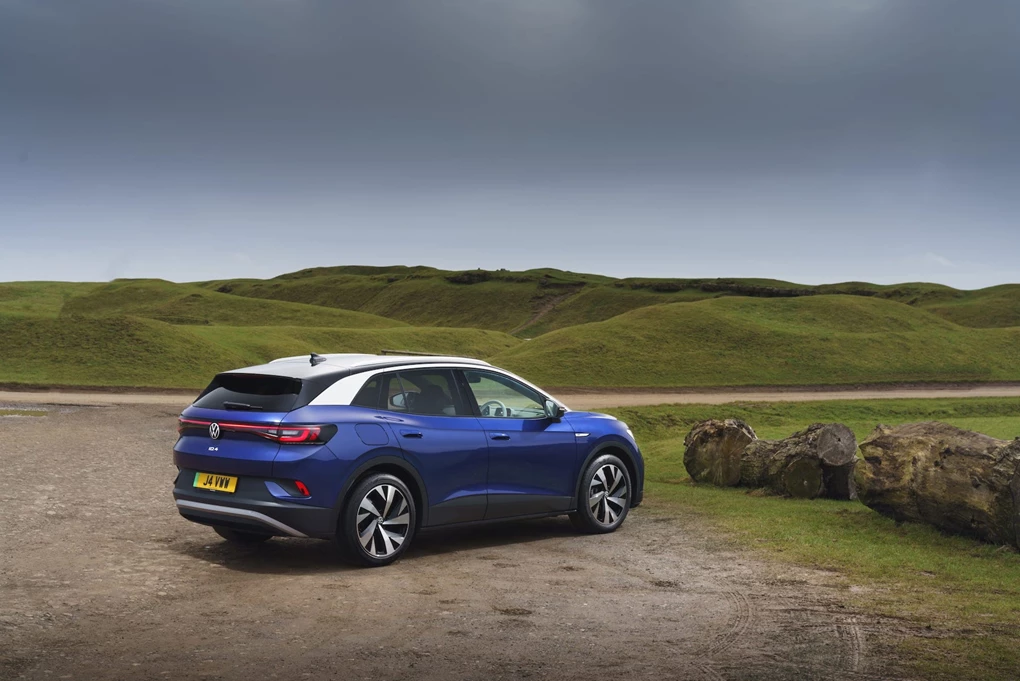 Volkswagen is rapidly expanding its line-up of 'ID' electric models, and though the ID.3 hatchback would still be an appealing EV, our vote goes to the larger ID.4 SUV. It's essentially a sibling model to the Audi and Skoda on this list, but delivers with its huge interior and generous equipment levels. 
Like its stablemates, a wide choice of battery options are available, with the top 'Pro Performance' model serving up 322 miles of range. With sub-£35,000 pricing, it's also eligible for the government's electric car grant. 
Enquire on a new Volkswagen ID.4
Ford Mustang Mach-E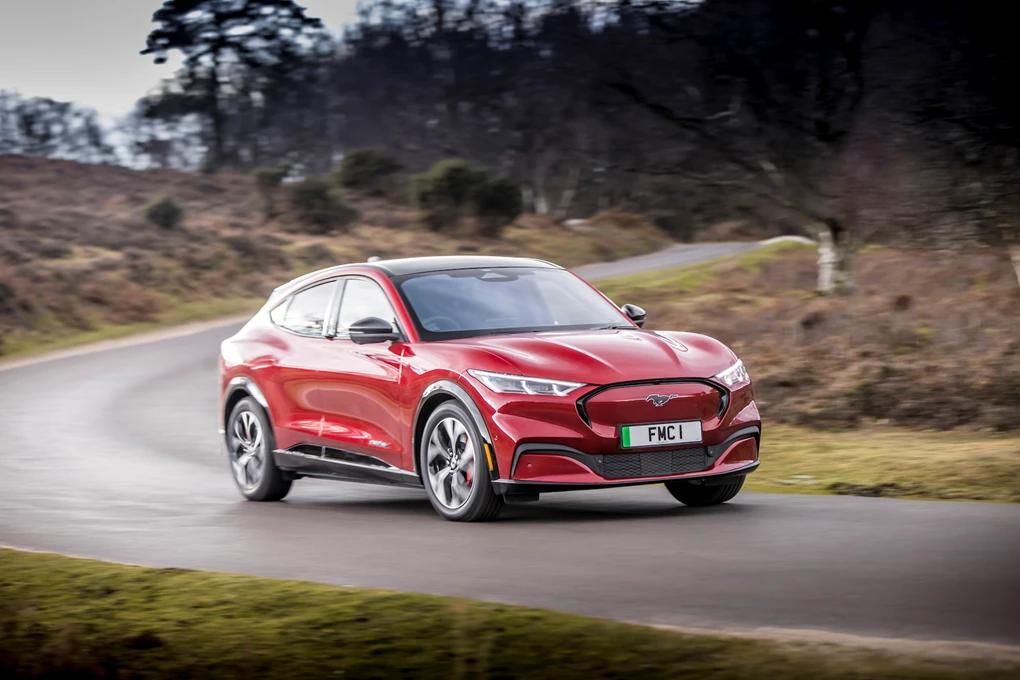 It was a brave move by Ford to use the Mustang name for its first bespoke EV, but the decision appears to have paid off. The Mach-E is undoubtedly one of the boldest-looking electric cars on the market, while also being brimmed with Tesla-rivalling technology and an engaging driving experience. 
With an electric range of up to 379 miles, it's also the most of any electric car on this list – really helping to alleviate any potential range anxiety.
Enquire on a new Ford Mustang Mach-E
Kia e-Niro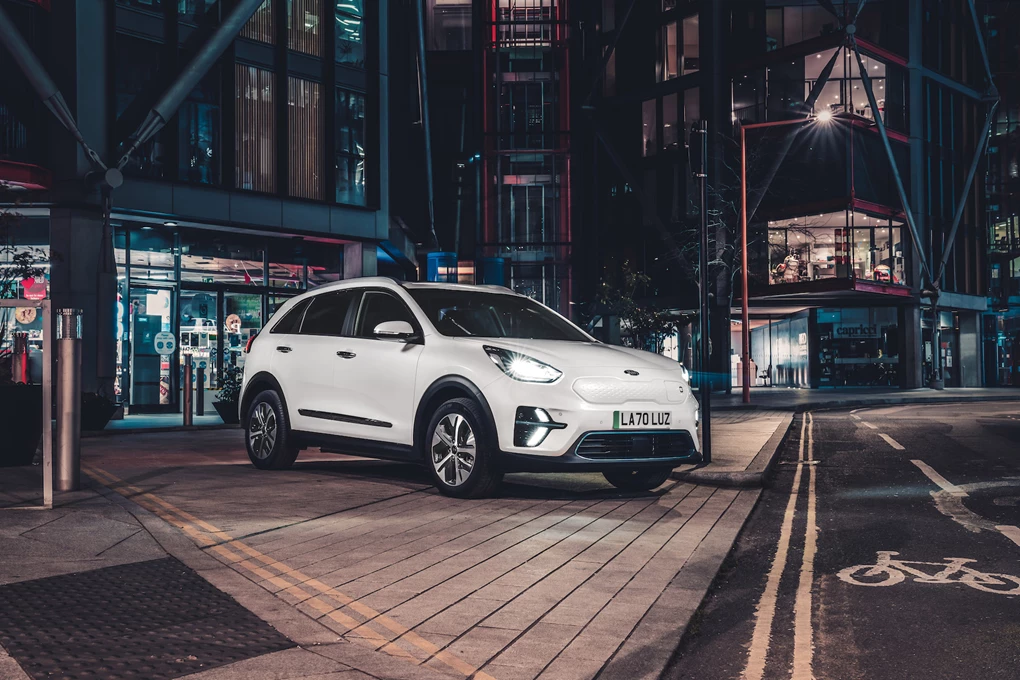 The Kia e-Niro proved to be a game-changing EV, not just for Kia but also the segment as a whole. Demonstrating that a long range wasn't limited to premium and expensive electric cars, the e-Niro can manage 282 miles on a single charge when equipped with the larger 64kWh battery. 
Though not as roomy as other cars on this list, this Kia still has a decent-sized interior, as well as generous equipment levels and sprightly performance.
Enquire on a new Kia e-Niro
Volvo XC40 Recharge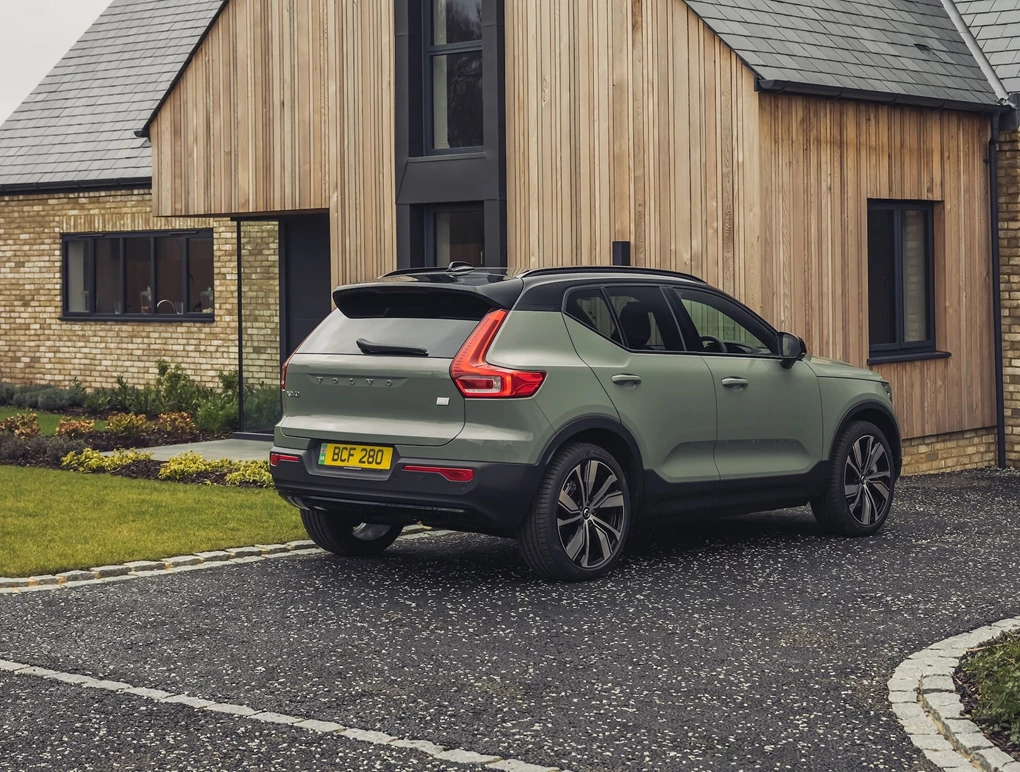 Volvo has a fantastic range of hybrids, but has also recently launched its first EV with the XC40 Recharge. Based on the popular XC40, this is a very safe and roomy compact SUV that's an ideal fit as a family car. 
Strong performance – 0-60mph taking just 4.5 seconds – and an electric range of 259 miles are further attractive features about it, as is this XC40's Android-powered infotainment system.
Enquire on a Volvo XC40 Recharge