One of the perks of driving is that on the right sort of road and in the right sort of car it can be a very entertaining thing indeed. That's why the best sports cars on sale are desirable to so many, as they focus on driving fun.
Nowadays there's a wide range of exciting sports cars on the market, which cater to a wide range of budgets. Here we reveal our top five sports cars - the ones we consider to offer the most compelling driving experiences.
Porsche 911
The Porsche 911 is one of the most recognisable sports car names in the world and has been around for more than 50 years in fact.
The latest incarnation of the 911 - available in two-door coupe and convertible bodystyles (both folding soft-top roof or Targa style) - is a car which justifies the 911's iconic status by delivering exceptional handling, exciting engines and a luxurious cabin.
One of the main appeals of the 911 is that it always offers a wide variety of specifications to suit different budgets and priorities. But even the cheaper and less powerful versions available use an engine which packs a heck of a punch.
On the road, the current Porsche 911 offers loads of grip, whether you go for the standard rear-wheel drive or a four-wheel drive version.
What's also really impressive is that unlike the majority of other sports cars out there, the 911 generally feels comfortable even when travelling on poor quality roads at low speed. This has given the Porsche 911 a reputation for being one of the more 'everyday' options when picking a top sports car.
Find prices for the Porsche 911
Audi R8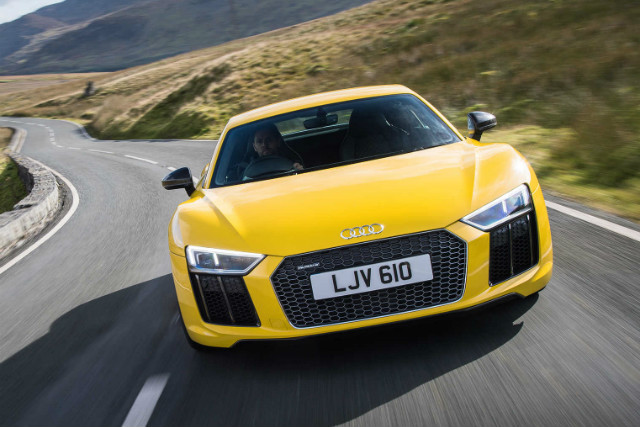 The Audi R8 is a very loud, eye-catching supercar with a phenomenal driving experience. At the centre of the four-wheel drive powertrain is a 5.2-litre V10 delivering 532bhp in standard form or 602bhp if you opt for the 'Plus' version. Unlike many supercars nowadays, the R8's mighty V10 is naturally-aspirated rather than turbocharged, making the R8 a rare breed in the modern sports car world.
The R8 feels brutally fast like a true supercar should but it's also impressively civil and easy to drive for a car of this nature. This is thanks in large part to Audi's smart Quattro powertrain which provides a huge amount of grip. The gearbox, which is a seven-speed S tronic dual-clutch as standard, feels really smooth whether you're driving in town or on a sweeping countryside road.
While the very wide, low-slung body can make parking and ramps somewhat tricky, the R8 is still a lot more user-friendly than most other supercars. Like every other supercar out there, the Audi can't escape from high running costs, but that shouldn't surprise anyone seriously considering buying one.
For those capable and willing to buy it, the R8 will feel like it's worth every penny, because the driving experience it offers is so special.
Nissan GT-R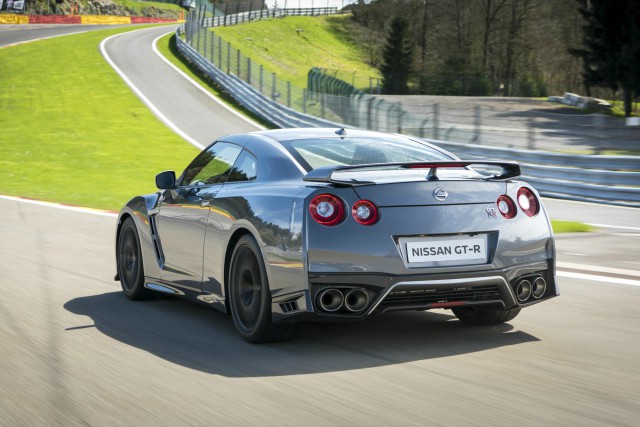 The two-door GT-R coupe represents an extraordinary technical achievement by Nissan. Its performance capabilities can surpass virtually every modern supercar around. What's really remarkable though is that the GT-R is far cheaper than pretty much any other car that can offer a similar level of speed.
Under the GT-R's bonnet is a twin-turbo V6 petrol engine that currently produces 562bhp. That contributes to a 0-62mph sprint time of just 2.7 seconds and a top speed of 196mph. The acceleration is simply incredible, as is the amount of downforce on offer and the grip from the four-wheel drive powertrain.
Compared to some rivals, the GT-R is not the most comfortable to drive, or the most luxurious or the most spectacular to look at or hear either. Overall though, it is still a very impressive sports car which on-road abilities are worth experiencing. Whether you're on a countryside road or a race track, the pace of the GT-R is mesmerising.
For those that want something even more hardcore than a regular GT-R, there's also the GT-R Track Edition which adds new kit to make the car better suited for track days. Above even that, there's the more potent GT-R Nismo model, boasting 592bhp and even more downforce via a super-agressive body kit.
Find prices for the Nissan GT-R
Jaguar F-TYPE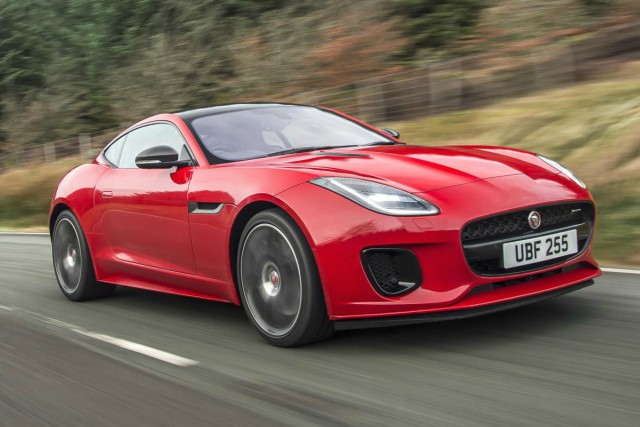 Available in two-seater convertible and coupe forms, the F-TYPE had the unenviable task of succeeding the legendary Jaguar E-Type sports car. Impressively though, Jaguar has managed to create a sports car that feels worthy of being compared to such an icon.
Complementing the F-TYPE's beautiful exterior design and luxurious interior is a very engaging driving experience.
Engines include a V6 petrol with two power outputs and a super-dramatic petrol V8 unit with close to or well over 500bhp depending on the specification. Even with the least powerful V6 onboard the F-TYPE feels fast, agile and incrediby energetic and the soundtrack from the exhaust is something to be truly admired.
There's good variety within the F-TYPE range nowadays. Depending on your budget, you can choose between rear-wheel or four-wheel drive with your F-TYPE and also pick between a manual or automatic gearbox. Driving purists may like the sound of the six-speed manual, but we actually prefer the eight-speed automatic 'box which is delightfully smooth. Nowadays, the F-TYPE is also offered with an entry-level two-litre four-cylinder petrol engine if you want to save money on the initial purchase and especially on running costs.
Regardless of bodystyle or powertrain, the F-TYPE is fun to drive and feels like a worthy challenger to the best and more experienced sports cars around. The F-TYPE line-up is pricey, particularly if you're looking at a V8 model, and the firm ride and tiny boot of the convertible version could prove deal breakers for some. If none of those points bother you however, then the F-TYPE should constantly delight with how well it drives and how easily it puts a smile on your face.
Find prices for the Jaguar F-TYPE
Honda NSX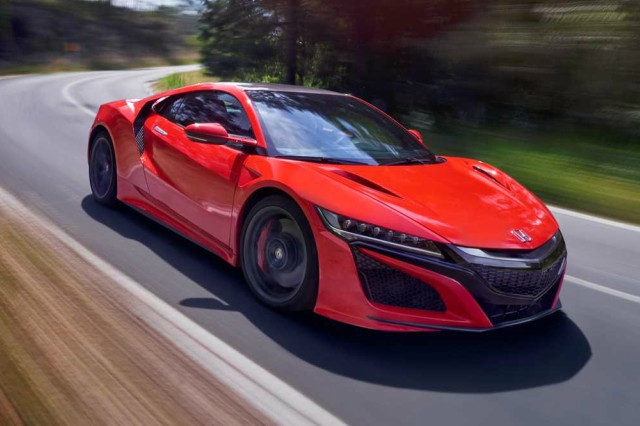 The original NSX is a much-celebrated supercar from Honda's past, featuring an excellent chassis which was developed with the help of F1 legend Ayrton Senna.
The modern NSX is in many ways a very different beast. Features like its hybrid powertrain reflect how much sports cars have changed in a couple of decades, but importantly it retains the same strong points that made the NSX one of the most compelling supercars in the world. Not only is it incredibly fun to drive, it's also relatively more user-friendly and affordable than other supercars with similar technology and performance.
Combining a twin-turbo V6 with three electric motoris, the current NSX offers 565bhp plus a massive torque output of 645Nm. The 0-62mph sprint takes just 2.9 seconds and it can go from 0-100mph in just six seconds before going on to a top speed of 191mph if there's enough tarmac in front. Each electric motor can actively juggle and adjust power and torque across the front wheels thousands of times a second under hard cornering. It's because of clever features like this that makes the NSX feel as incredible (if not more so) through corners as it does on a straight bit of road.
It's not all perfect, as the interior and practicality is nothing special, but the Honda's remarkable handling talents and hypercar-rivalling speed makes it feel very special overall and worth of consideration to anyone with the right budget interested in buying a modern sports car.