The Hyundai Santa Fe has traditionally offered big, comfortable and value-focused motoring. It's the largest SUV that Hyundai offers, bringing a whole lot of space and a level of practicality that has ensured it's been a big hit with family buyers and those who need a little more room to breathe. 
The Santa Fe received a big update in 2021, revising its exterior design and revitalising many aspects of Hyundai's flagship. One of the greatest draws, however, is the fitment of new, more efficient hybrid powertrains - including a full plug-in hybrid. 
What powertrains are available?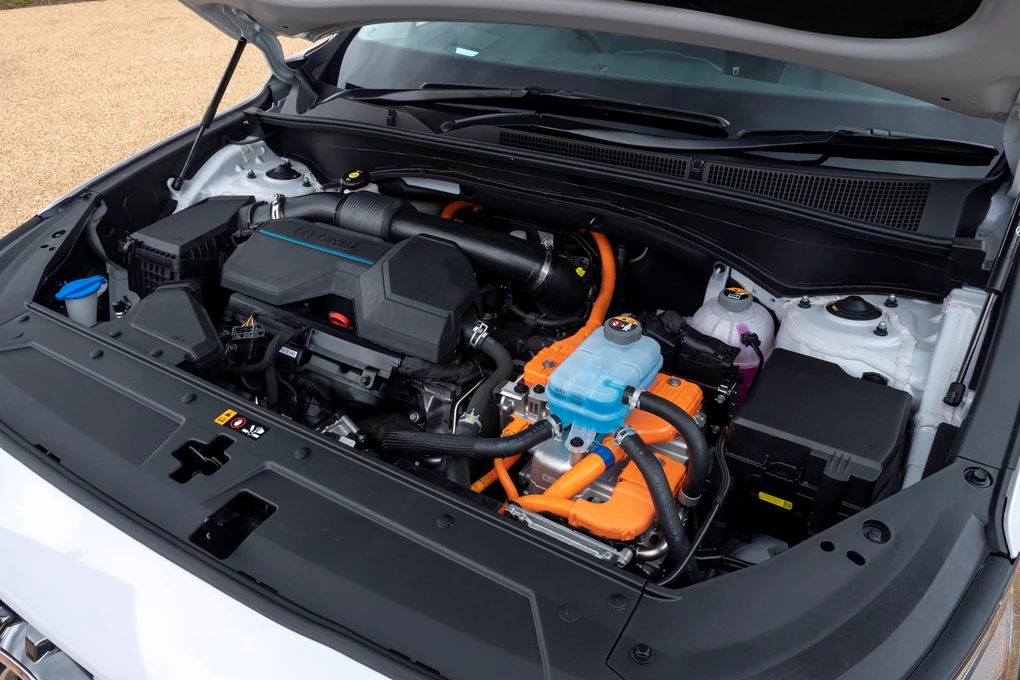 As we've already touched upon, the latest hybrid powertrains are available with the new Santa Fe. Both the regular and plug-in hybrid models, however, revolve around a 1.6-litre petrol engine. The former, however, combines with an electric motor and battery for 227bhp and 350Nm, while there's the option of either front- or all-wheel-drive versions. Both come with a six-speed automatic gearbox, mind you. The all-wheel-drive variant will be the one for those who fancy a little extra traction, plus it'll manage 0-60mph in 8.9 seconds and a top speed of 116mph. Hyundai claims up to 38.2mpg and CO2 emissions of 168g/km. The front-wheel-drive version, meanwhile, improves on this with 42.2mpg and emissions of 152g/km.
Then there's the plug-in hybrid. It's got 261bhp on tap, but its real focus is on efficiency. Hyundai says that its CO2 emissions are as low as 37g/km. With a 13.8kW battery and a 66.9kW motor, it'll happily power the Santa Fe on fully electric power in slow-moving traffic and around town, with the petrol engine being called into action when more performance is required. 
There's also a regular 2.2-litre diesel for those who do longer distances, though this is set to join the Santa Fe line-up soon. 
What trim levels are offered?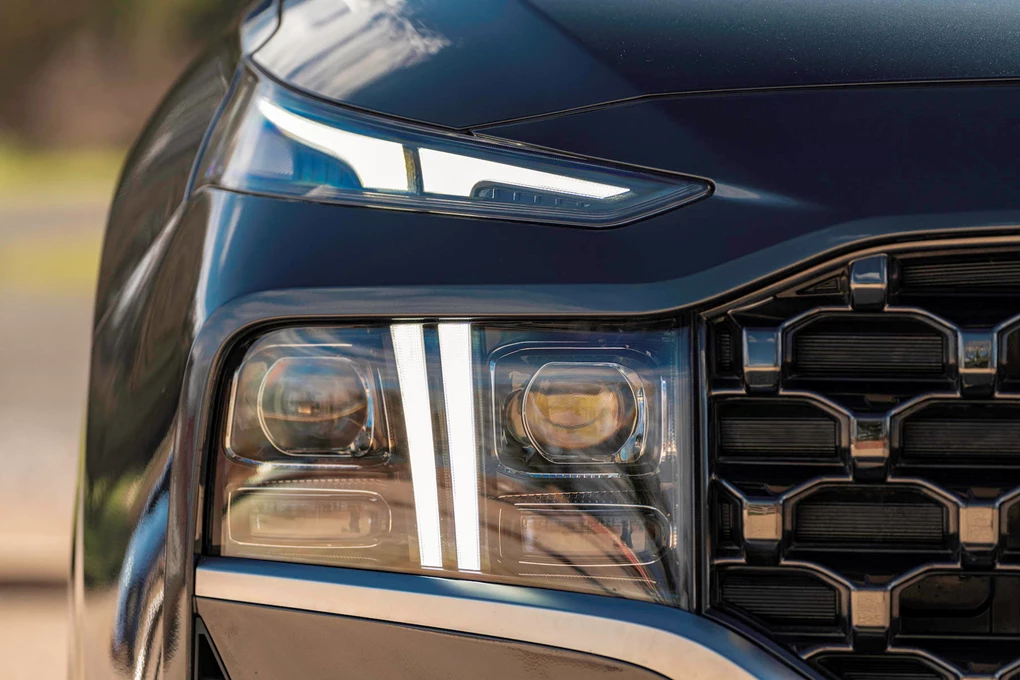 Hyundai has always offered a lot of standard equipment in its cars, meaning that regardless of which trim level you're going for in the Santa Fe, you're set to get a whole lot of features and toys to play with. In fact, things are kept as simple as possible with this car's trim levels - there are just two. Let's take a look at what's on offer.
Premium
Premium kicks off the Santa Fe range but brings a lot of equipment as standard. You get 17-inch wheels with the regular hybrid model, or 18-inch versions on the diesel. Plug-in hybrid cars, meanwhile, benefit from larger 19-inch wheels too. On top of this, all cars receive a TFT display cluster ahead of the driver alongside both Apple CarPlay and Android Auto smartphone connectivity. 
In the centre of the dashboard comes a standard-fit 10.25-inch infotainment display, which is included regardless of which powertrain you opt for. 
Premium
Premium builds on the already comprehensive specification that you get as standard on the Santa Fe. This grade adds high-end features such as a head-up display that projects key information into the driver's eyeline, as well as body-coloured door handles which give the car a sleeker look. 
A surround-view monitor will really help when parking the Santa Fe, too, while a ventilated driver's seat will definitely take some of the strain out of longer journeys. 
What about personalisation?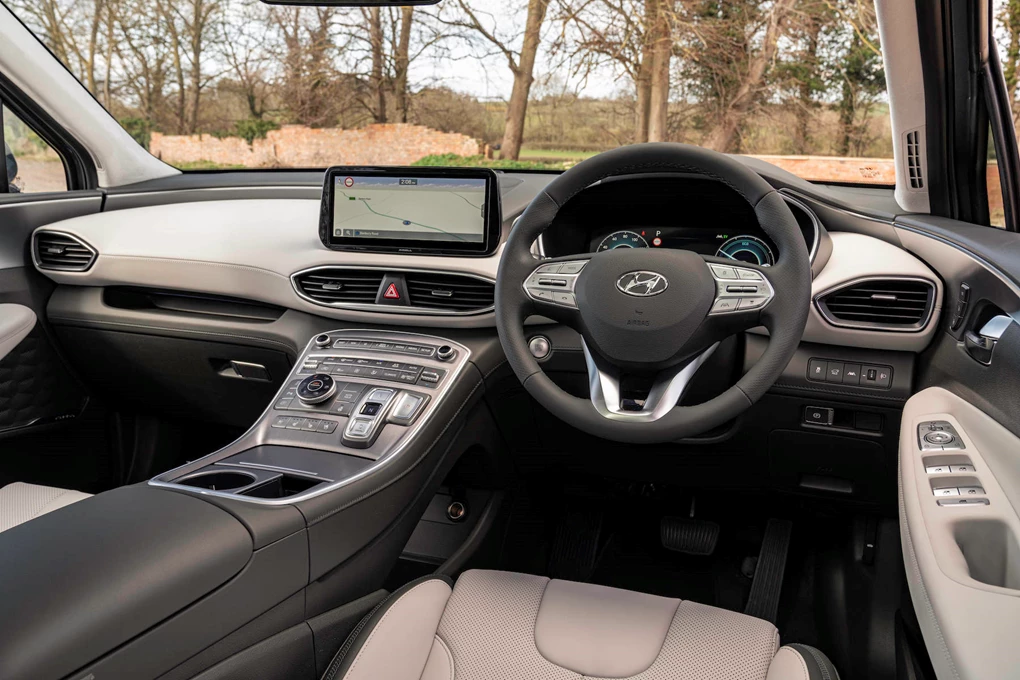 There's a decent amount of scope for personalisation on the Santa Fe. There is a wide variety of exterior colours to choose from, with whites and blues suiting this car particularly well. You can also add a full Luxury Pack, which adds features such as full leather upholstery, suede headliner and brushed aluminium inserts. 
This pack also adds an artificial leather-wrapped dashboard, body-coloured wheel arches and special wheel designs on diesel models.
Enquire on a new Hyundai Santa Fe