Dacia is well-known for offering cars that provide simple motoring for budget prices.
The Duster is the manufacturer's SUV option, and the compact model is now in its second generation – offering the same cheap package as other Dacia cars.
What engines are on offer?
Renault-owned Dacia provides customers with two engine options for the Duster – the SCe 115 1.6-litre petrol and a 1.5-litre Blue dCi 115 diesel. The petrol offers 114bhp and 156Nm of torque, with the engine offered alongside a five-speed manual gearbox with two-wheel drive and six-speed with four-wheel drive.
The diesel option also offers 114bhp, with 260Nm of torque giving extra grunt over the petrol. Both can be paired with either two- or four-wheel drive, while customers can only spec a manual transmission from launch. Apart from the two-wheel drive petrol that has a five-speed, the Duster is fitted with a six-speed manual gearbox.
What trims can you choose from?
With bargain motoring the name of the game with Dacia, the Duster offers four trim levels to give plenty of choice to potential customers. The Access, Essential, Comfort and Prestige specs all come with the essentials to ensure the pricing doesn't go too high, with each model coming with a chrome front grille, daytime running lights, electric front windows, stop and start, an Eco mode and all-round airbags.
Modesty is where Dacia does well, and even top-spec Prestige models don't stretch themselves too much, with climate control, multiview camera and parking sensors, blind spot warning and 17-inch alloy wheels the most premium features fitted. The mid-level trims add air conditioning, a touchscreen infotainment system and leather trim options. There isn't much to add on the options list either, so whatever Duster you go for, it won't cost much.
See Available Dacia Duster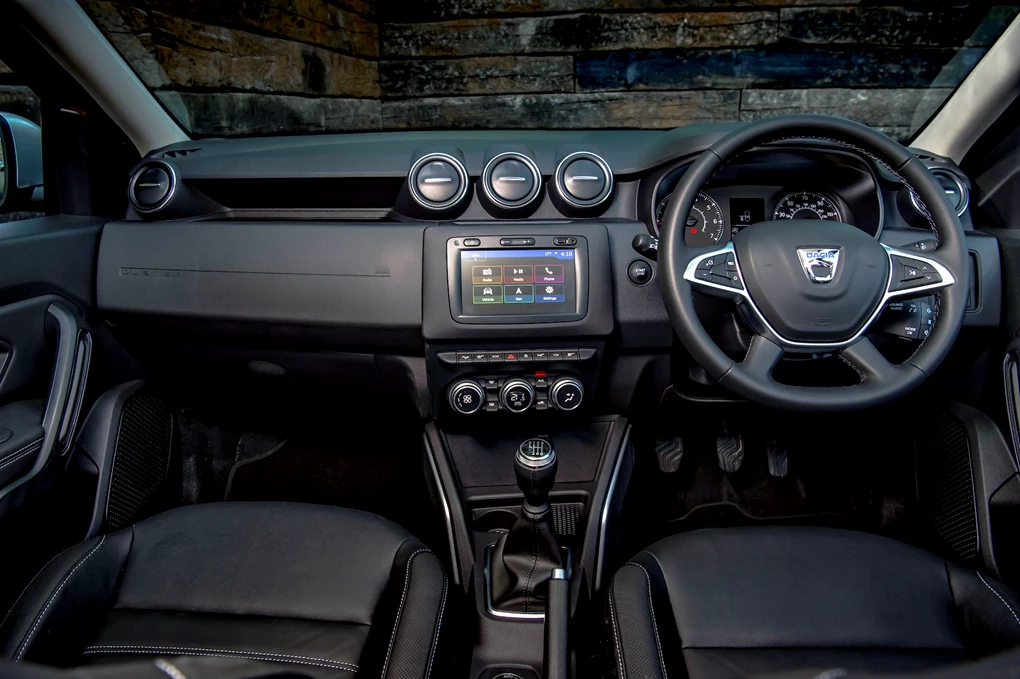 Any safety equipment available?
As Dacia wants to keep the model cheap and cheerful, there isn't much safety tech to add. The only piece of note is the newly-introduced blind spot warning system on the top level model, which indicates to the driver whether a vehicle is out of view to the side. To help with parking, customers can get a rear-view camera and all-round sensors, while airbags are also installed in case of a traffic incident.
Can I customise it much?
For the body colour, Dacia offers eight options – with the Cosmos Blue and Desert Orange the bolder and better looking choices. There are also three alloy wheel sets to pick from, with the standard steel wheels available on the entry-level and Essential models. Customers can select one of three trim options, with the Prestige and leather upholstery the most comfortable.
How much does the Duster cost?
To say the Duster is cheap is an understatement. For what is an entry-level off-roader, it costs £9,995 from the Access spec – which is very cheap indeed. Even top-end Prestige models start from an inexpensive £14,395 – especially when you consider the equipment fitted as standard.
Enquire Now on a new Dacia Duster