It's no understatement to say that Fiat reinvented an icon with its 500 when this model reappeared in 2007.
Since then, the 500 has seen a number of updates and a whole host of special and limited-edition models to keep it fresh. It continues to sell in huge numbers – not least in the UK where it's Fiat's most popular car by some margin.
It's spawned additional variants – including the 500C convertible, 500L MPV and 500X – but it's the regular 500 that remains the coolest of the lot. Here's a look what you need to know about it…
What powertrains are available?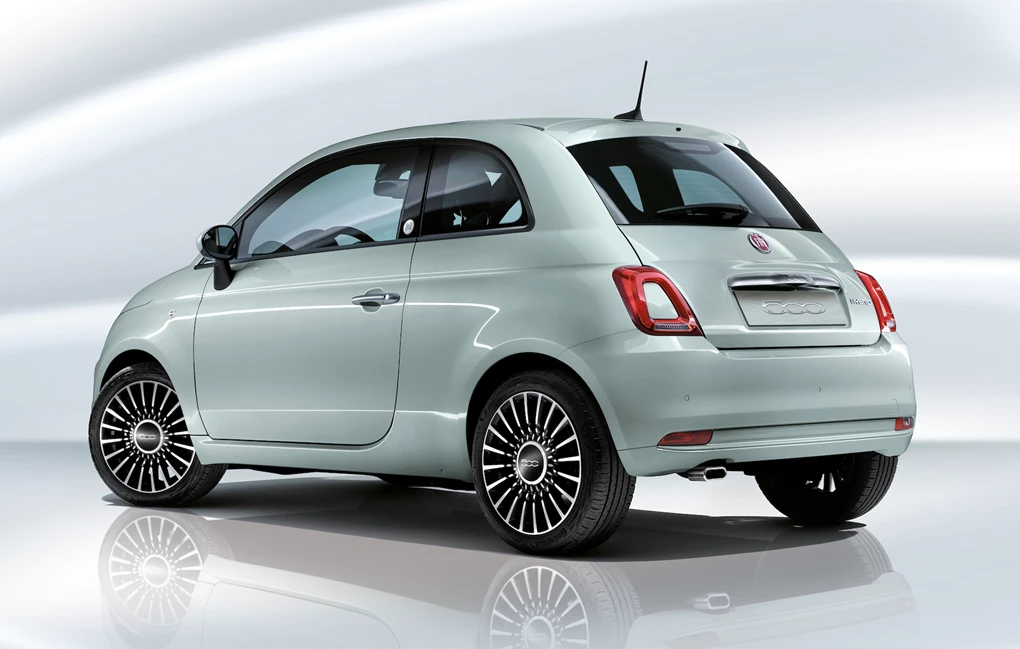 Enquire on a new Fiat 500
Fiat has slimmed down its engine choice recently, with the choice now being dictated by whether you want a 500 with a manual or automatic transmission.
If you're looking for a manual, your option is the new 1.0-litre mild-hybrid petrol engine, which offers improved response and efficiency than its predecessor. It produces 69bhp and 92Nm of torque, so it's hardly powerful. That said, this model's best attribute is its efficiency. Fiat claims it will return 53.3mpg, with CO2 emissions of 119g/km. A six-speed manual gearbox is used.
If you need or want an automatic, the option is a 1.2-litre petrol unit producing 68bhp – with a five-speed auto transmission being utilised, which is known as a 'duallogic'. It's neither as smooth nor efficient as the other engine, though, as Fiat claims it'll return 46.3mpg, with CO2 emissions of 138g/km.
Towards the end of 2020, Fiat will introduce a new electric variant to the 500, too.
What trim levels are offered?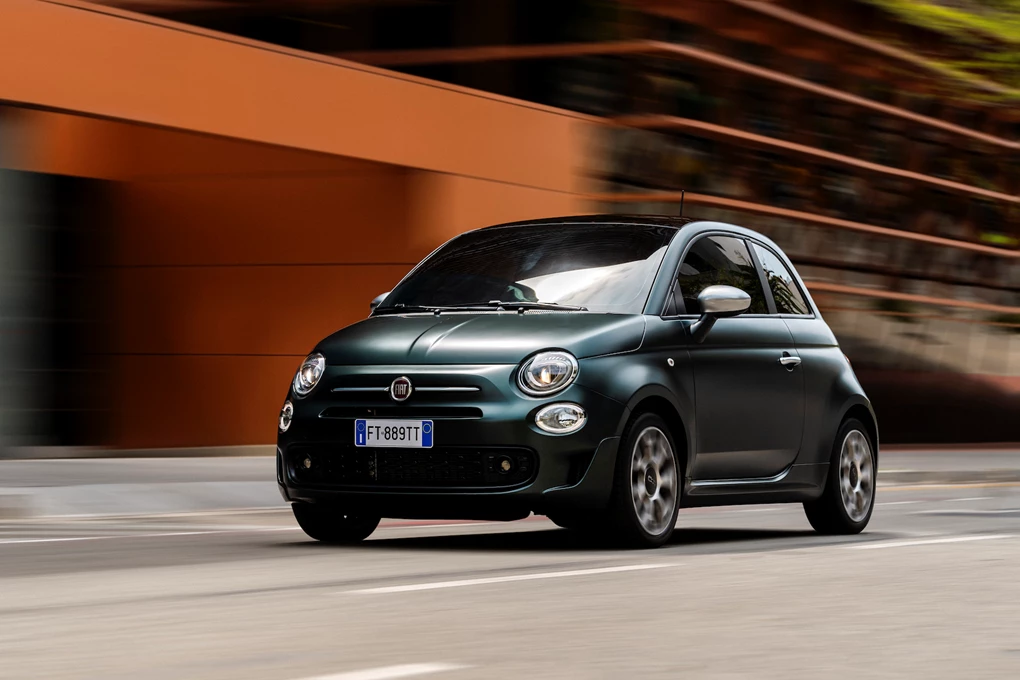 There's certainly no shortage of trim level choice on the Fiat 500, with five available. Equipment highlights and pricing are as follows.
Pop – from £12,770
The list of standard equipment isn't especially lengthy, but this entry-level Pop model comes with electrically adjustable door mirrors, 14-inch steel wheels, electric windows, remote locking and LED daytime running lights. 
Lounge – from £14,500
Lounge is one of the more popular variants – introducing a chrome styling kit, 15-inch alloy wheels, rear parking sensors and cruise control. It also comes with front fog lights and a seven-inch touchscreen with Bluetooth and Apple CarPlay and Android Auto.
Sport – from £14,670
Sport comes with similar equipment to the Lounge, but gains a racier bodykit – including a rear spoiler, revised bumpers, satin grey 15-inch alloy wheels, sports seats and leather steering wheel.
Enquire on a new Fiat 500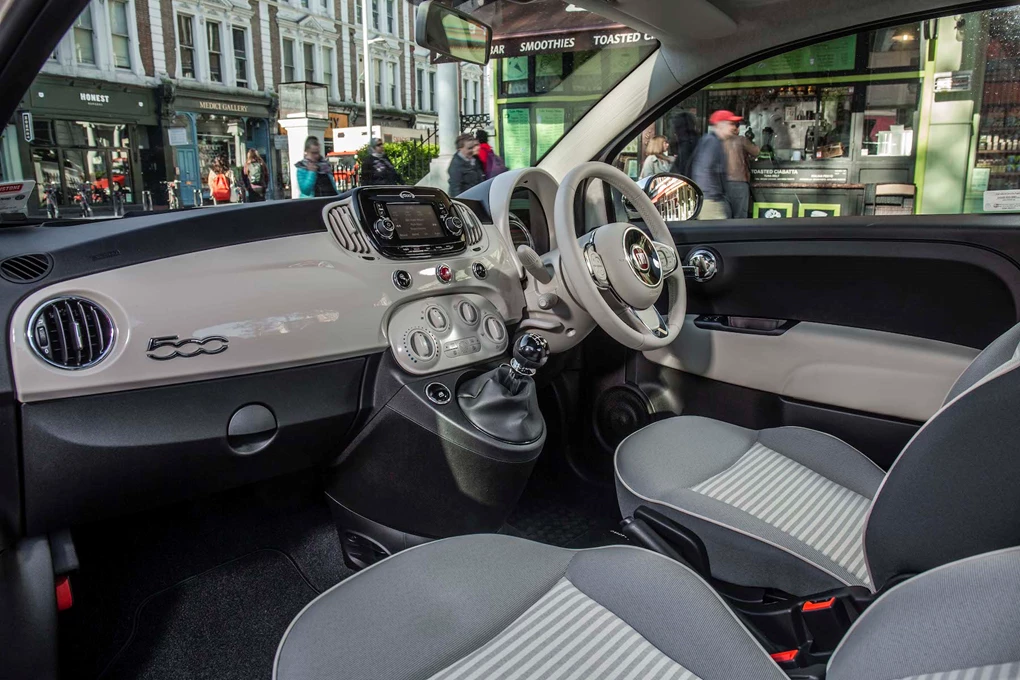 Star – from £16,000
High-spec Star versions build on the Lounge with larger 16-inch alloy wheels, a fixed glass roof and satellite navigation. You can also choose between a matte white or red dashboard and various interior fabric trim.
Rockstar – from £16,170
Rockstar models are an extension of the Sport model, and come with 16-inch alloy wheels, tinted windows, satellite navigation and the option to have a matte grey or matte green dashboard.
Launch Edition – from £16,900
To mark the introduction of the new hybrid powertrain, Fiat is offering a range-topping Launch Edition model. This comes with special 'Hybrid' logos and a cool Dew Green colour, while the seats are made from recycled materials gathered from recycled plastics from the sea.
What about personalisation?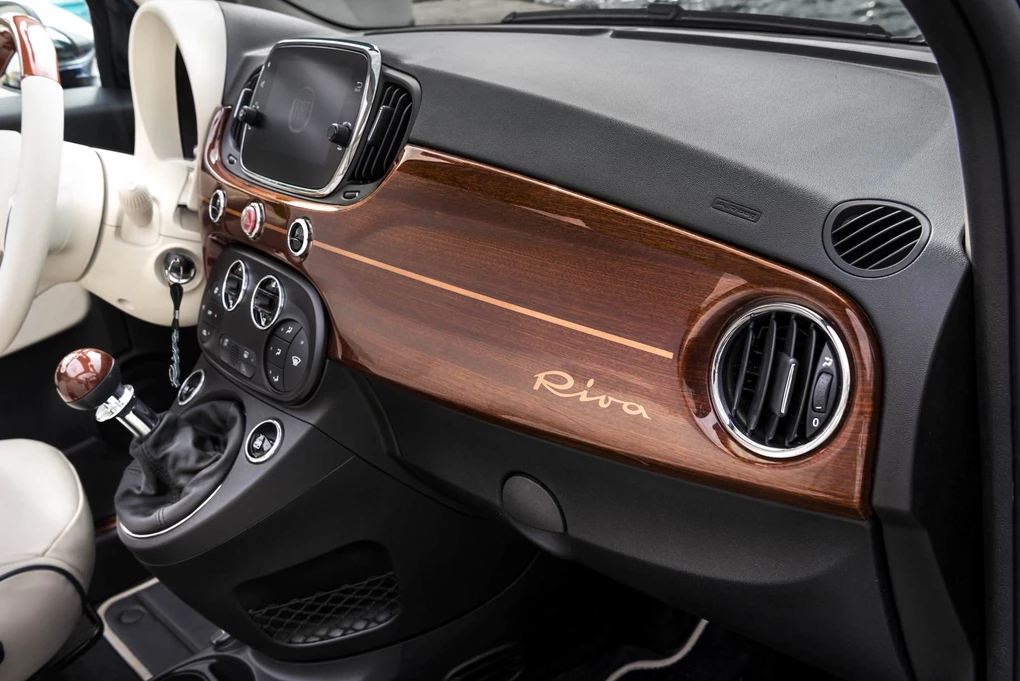 If you're looking for personalisation you're most certainly in the right place, with few cars able to offer the choice that Fiat does with the 500 – it's one of the factors that's key to its popularity.
The colour choice is lengthy in itself, with 15 available, and shades such as Avantgarde Bordeaux (dark red), Smooth Mint (green) and Glam Coral (orange) being cool options.
A whole host of graphics, stripes and chrome touches are also available on the options list.
But the personalisation also extends to the cabin, with some trim levels available with up to six different schemes – including the option to have a wooden finish on the dash and full leather upholstery. That's something quite rare on a city car like this.
In terms of more conventional optional extras, you're able to choose a panoramic opening sunroof and a Beats sound system.
Enquire on a new Fiat 500