Cleaning the inside of your car is an important thing to do not just because it'll look good, but it's better for your hygiene and health too. Ideally, you'll be cleaning your car's interior at least on a monthly basis.
However, past research has shown that a lot of motorists neglect to take proper care. To avoid ending up with a messy interior of your own, here are some straightforward tips you can follow when it comes to cleaning your car's interior.
Get the right cleaning products
Before you begin start cleaning up your interior, you need to be sure you've got the proper tools for the job. Different parts and surfaces within the car will require different types of cleaning product, otherwise you could cause more harm than good.
Ideally, you'll have got yourself a handheld vacuum, a detergent for the car's pedals and a protectant for the dashboard and trim panels.
What you should use for the seats depends on what material they are covered in. If you have fabric seats onboard then a car shampoo product should do the trick. But if you have leather seats, then you should get yourself a leather cleaner and conditioner which caters specifically for this material.
When you've got all your cleaning products together, check the instructions on each products' label just to be sure you've got the right stuff and you know how to use it.
Vacuum thoroughly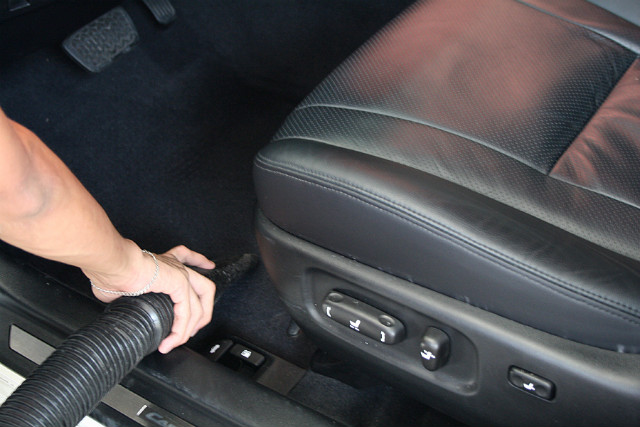 A vacuum is very handy for picking up things like dust, as well as crumbs and other bits of food which could rot and develop bacterial and viral cultures if left to linger in a vehicle.
When using a vacuum, it's best to remove the floor mats so you can clear up anything underneath them. It'll also be easier to clean the mats themselves while they are separated. With the proper attachment, use a vacuum to clear what's under the seats, around the pedals, the area just in front of the seats and the centre console. A soft brush attachment is best to use when vacuuming around the dashboard, centre console, seats and doors.
If your car has leather seats, take extra care with the vacuum hose as it is easy for it cause scratches on this material.
Check the air conditioning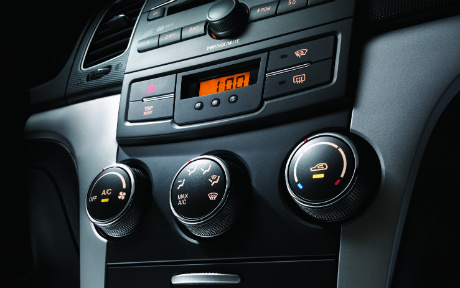 If your car has an air conditioning unit then that should preferably be checked on a monthly basis and serviced every 18 months to two years.
The problems that can cause a neglected air conditioning unit to become faulty are not always obvious from simple observations. Like with a messy interior however, a neglected air-con unit can become an issue of hygiene.
You can read our separate guide about car air conditioning to learn more about the best ways to keep it in the best possible shape.
Images credited to Wikiphoto