A pressure washer can be a quick and easy way to thoroughly clean the exterior of your car, especially when compared to a hand wash.
In this guide, we offer tips on the best way to pressure wash your car, including what kit is best to use, what steps are best to follow and potential mistakes to avoid.
Choosing the right pressure washer
There are different types of jet washer which you can find to buy at stores or when you visit a self-service car wash.
Ideally you'll want a pressure washer with a long hose and variable jet nozzle settings. Having the long hose should make it easier to cover more of the car in a shorter space of time, while having variable nozzle settings will also make it lot safer when cleaning more vulnerable parts of the car.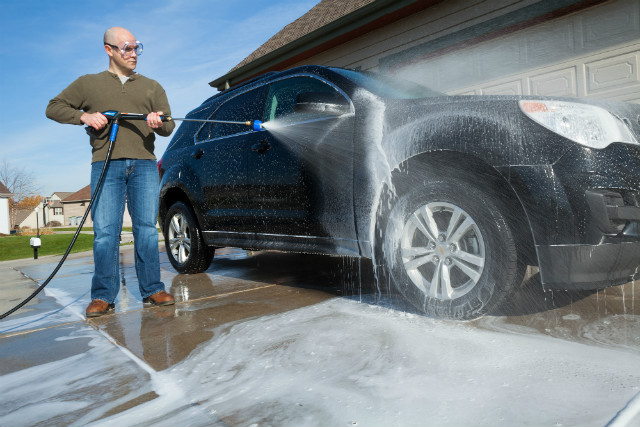 You'll need foam cleaner in order to do a proper pressure wash of your car, so it'd be a good idea to get a jet washer with an attachable foamer bottle. This'll be easier than having to carry a container with the cleaner around separately.
Finally, if you can, get a nozzle attachment for your pressure washer that allows you to change the direction of the spray. This will make it a lot easier to get at your car's hard-to-reach places such as inside the wheel arches.
Washing the car
When first spraying the bodywork with your jet washer, the best setting to use is one that sprays about two to three inches wide. This should be powerful enough to rid the car's body of its top layer of grit and grime, without taking off the paintwork along with it.
A slightly less powerful setting is recommended for the more fragile parts of the car including the windows, lights and mirrors.
If the jet washer you have doesn't have adjustable pressure settings, then just stand further away from the car when dealing with more delicate parts. Standing about three feet from the vehicle should be safe.
When you first turn on the jet washer, it's wise to point it somewhere away from the car (preferably the ground) as the initial burst of water can be stronger than the usual setting applied.
Once you've given the car its first rinse over, it's time to apply the foam cleaner to your jet washer. Either set the nozzle to its widest and least powerful setting, or remove the nozzle altogether, before coating the entire car with a layer of the foam cleaner.
Leave the foam cleaner on the car for a few moments before you rinse it off but don't leave it on so long that it starts to dry up.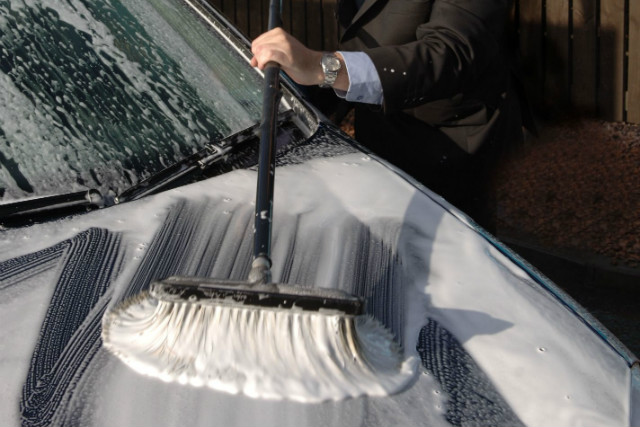 If at this point there's still some stubborn dirt or grease still on the car, it's best to go over this with an attachable car brush. If you're planning on using the same brush to cover the bodywork and the wheels plus wheel arches, then it's better to do the former first. Once you've finished with the brush, give it a good rinse to make sure you get all the grit out of it.
When the brush is finished with, give the car another rinse off with pressure washer. Again, use a slightly higher pressure setting for the bodywork then you would for the glass and other sensitive areas.
Things to avoid
If you plan on using your own pressure washer on your car, then don't use the most pointed of the nozzle attachments. It will probably be too strong and can damage your car's paintwork.
It's also much safer to have your car on a concrete surface when using a pressure washer on it. If the vehicle is on gravel then you could end up hitting the paintwork with stones. Don't spend much time spraying around panel gaps either, as these areas are susceptible to leakage, especially if it it's an older car.
Avoid using a strong spray setting on areas where paint is chipped or on old tyres, and make sure all windows and the boot are closed properly. To avoid serious damage, never use the pressure washer to spray the engine bay or any part of the car's interior.
Finally, it's recommended that you avoid letting children use a pressure washer, even if they really want to have a go. It's simply safer to leave it up to adults.