Want to be a taxi driver? Well, with apps like Uber sweeping the nation, now is your chance. But what kind of car should you be looking for and why?
For those who may have somehow avoided the tour de force that is 'Uber', it is an app-based taxi ordering service that allows its users to book a cab, driven by your average Joe, to your location. So, if you have a car and want to earn some cash as a taxi driver, join Uber and you can.
If you are a budding Uber driver and want to know what makes the ideal cab, then you have come to the right place.
Different vehicles of Uber
First off, it is important to understand the significance of different Uber vehicles. Let's say you have just got out of an important board meeting, suitcase in hand, and are ready to hail an Uber taxi. Maybe you feel like being chauffeured in a luxury car as opposed to a just a family hatchback. Well, with Uber, you can.
There are several different vehicle classifications available to book on the Uber app, with the more luxurious vehicles carrying a higher tariff.
UberX – a hatchback that seats four passengers
UberXL – an MPV that seats six passengers
UberEXEC – a saloon that seats four
UberLUX – a chauffeur-like, luxury saloon
UberTAXI – a normal, licenced taxi driver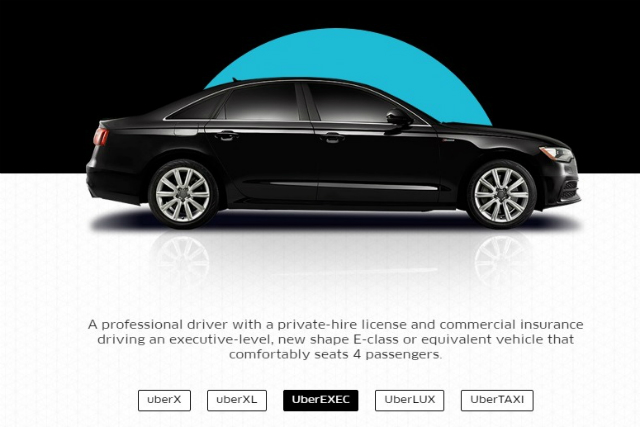 Before choosing what car you are going to use as your Uber cab, you may want to decide what classification you want to be. So, if you want to be a high-flyer, go for a Mercedes S-Class. If you want to favour practicality over luxury, go for a spacious hatchback like the Toyota Prius.
Engines and efficiency
There are, of course, certain engines that favour different types of driving. If you plan on spending a lot of time on the motorway, go for a diesel. On the flipside, if you are likely to do a lot of inner city driving, then go for a small petrol, hybrid or electric car. The bottom line however is CO2 emissions and realistic fuel economy.
The lower a car's CO2 figure then the less VED tax you'll have to pay. The most significant CO2 threshold is the 100g/km mark. In the current new car market (2016/2017) a car that emits less than 100g/km (Band A) is VED tax free, as opposed to a car that emits 121g/km (Band D) for example will carry a £110 tax bill.
But what good is saving money on tax if your car is expensive to run? That is where fuel economy comes in, but be careful of what you read on paper. Unlike CO2 figures which are 'set in stone' so to speak, mpg figures can fluctuate massively, depending on driving style. The higher an mpg figure, the more value for money you will get off a single tank of fuel.
Manufactures will usually quote three fuel economy figures; urban, outer urban and combined, all three encompassing different types of driving. You can either research into realistic mpg figures, which you can do by reading our reviews, or you can go on an extended test drive of a vehicle and put the car's efficiency to the test in the conditions you'll be driving in.
Low CO2, high mpg, that is the key.
Manual or Auto?
Efficiency may be the first thing that comes to mind here – and fair enough, manual gearboxes tend to be slightly more efficient than automatics. However, have you thought about what is best for you as a driver?
Driving an automatic is a bit like taking the reins of a go-kart, with one pedal for stop and the other for go – and who wouldn't want that? Especially considering that you could spend all day sat behind the wheel. Do you really want to be shuffling through gears all day?
An auto also gives passengers a smoother journey and can bring features like active cruise control.
Equipment – to sat-nav or not to sat-nav?
Driver convenience and passenger comfort - these are key in a taxi. Essentially, you want to make life for those in the car as pleasant as possible. If you plan on being an Uber driver, then you want to equip yourself with the best tools possible to get the job done.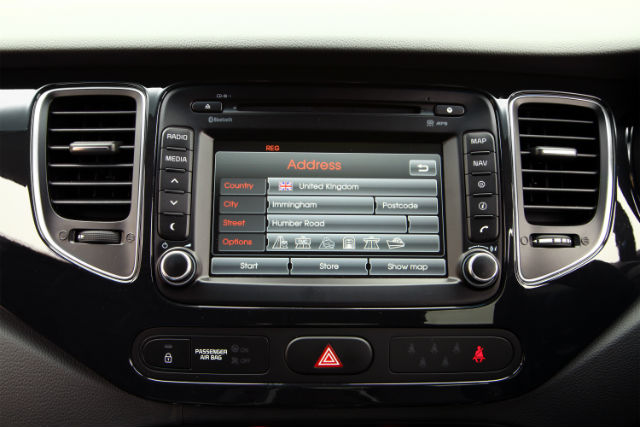 For the driver, this could mean cruise control, blind spot assist or sat-nav. Passenger comfort is paramount though. And remember, Uber allows your passengers to rate their experience out of five. So, you may want to think of creature comforts like air-conditioning, cup holders and possibly even leather seats. Modifications like big wheels and a lowered ride aren't recommended though.
Again, this may come down to what classification of Uber driver you want to be.
Warranty
You will want your car to run as fault-free for as long as possible for as long as possible. A decent warranty will not only give you peace of mind, but it will also cover you for a series of different repairs if required.
The length of a new car warranty may vary between manufacturers. Kia for example is a market leader with its seven-year warranty.
Other impressive warranties from manufacturers include Hyundai's and Toyota's five-year warranty. Speaking of Toyota, the carmaker has actually collaborated with Uber to set-up new leasing options for vehicles, allowing drivers to pay off their lease via their earnings.
Verdict
It may seem a bit overwhelming at first, but once you identify what kind of Uber driver you want to be, picking a car model is quite straightforward.
Regardless of model though, you'll want to choose a car that is efficient, offers good fuel economy, is reliable, comfortable and has a decent amount of kit.
Happy driving.