Mercedes has unveiled a refresh for the S-Class saloon at the 2017 Shanghai Motor Show, which features new engines, styling tweaks and new semi-autonomous driving technology.
On sale in Britain this October, the updated S-Class saloon has only some minor tweaks to its exterior styling, but the changes are much bigger elsewhere. Style updates include new bumpers and restyling for the grille and headlights.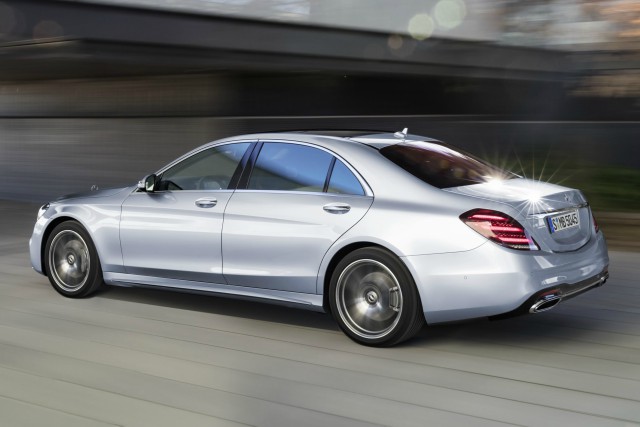 The engine line-up is updated with new six-cylinder diesel units, including 3.0-litre diesels for the S350d and S400d specifications which produce 207bhp and 336bhp respectively.
Also in the range is the S560e hybrid and the V8-engined S63 AMG plus the V12-engined S65 AMG.
The interior of the refreshed S-Class still features two 12.3-inch display screens, but these now appear in one seamless panel rather than as two separate units. The information on these screens can be displayed in different ways via three pre-set modes called Sport, Classic and Progressive.
Other interior updates include a new steering wheel, new LED lighting and wireless smartphone charging.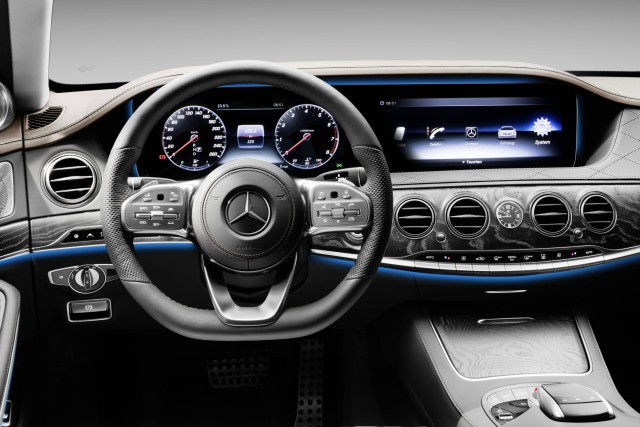 Driving technology now includes the latest version of Distronic Active Proximity Control, which includes mapping data to set up the S-Class for what's ahead. The feature can automatically accelerate and brake the car within a speed limit, plus provide its own steering for up to 30 seconds at a time.
The refreshed S-Class also comes with Active Lane Change which can make the car change lanes automatically when you indicate. The car's Magic Body Control has also been updated to scan nearby roads more comprehensively, and it can now even work out how to make the car smoother and lean less through the corners.