The hot hatch market remains as popular as ever, with British buyers being especially fond of these models, which brilliantly combine everyday usability with performance. 
Ford's Focus ST has often been regarded as one of the benchmark hot hatches, and Seat's Leon Cupra has always been a close competitor too. 
Now, though, there's the new Cupra Leon, the first hot hatchback to come from the firm since it split from Seat. But how does it compare to the Ford? Let's take a look. 
Driving
Arguably the most important factor with a hot hatch is the way it drives, and it's safe to say neither of these options will leave you disappointed. Let's start with the Focus ST, which becomes even more involving behind the wheel in this latest generation. It feels sharp, grippy and seriously capable. It's a very credible all-rounder, that's for sure. 
The Cupra Leon is a slightly unusual hot hatchback, as it gets a plug-in hybrid option alongside a more traditional turbocharged petrol unit, which we'll explore in detail shortly. The hybrid is the more sensible option, but for maximum thrills the regular petrol Cupra Leon can certainly deliver, not least when it comes to performance. 
Engines
Let's begin with the Focus ST, which – like the Cupra – gets two powertrain options, one petrol and one diesel. 
The petrol is the show-stopper, with its 276bhp 2.3-litre turbocharged unit enabling a 0-60mph time of 5.5 seconds. There's also the option of a six-speed manual and seven-speed automatic. For those wanting something sporty but still affordable to run, Ford also sells a 187bhp 2.0-litre diesel. Sure, it's not as exciting as the petrol, but still delivers decent pace (0-60mph taking 7.4 seconds), while returning in excess of 50mpg. 
But when it comes to running costs, the Cupra Leon plug-in hybrid is the one to go for, as it combines a 1.4-litre petrol engine with an electric motor – producing 242bhp in all. Its 36-mile electric allows for some startlingly low fuel costs, with the firm claiming it can return more than 200mpg, with CO2 emissions of just 30g/km. If you're not as fussed about running costs, though, the regular petrol option is our pick. Its turbocharged 2.0-litre unit produces a meaty 296bhp, which equates to a 0-60mph time of just 5.5 seconds. 
Looks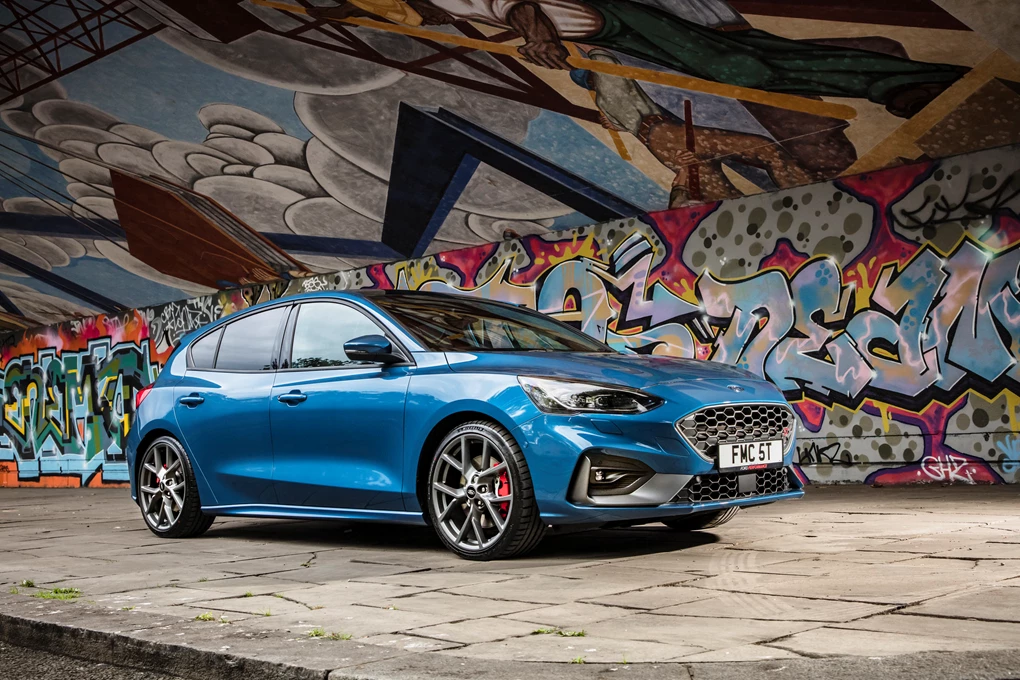 Enquire on a new Ford Focus ST
Hot hatches often look quite menacing and it's safe to say both of these cars succeed at bringing aggressive styling to the mix. Perhaps more so with the Focus, which gains red styling cues, a fancy honeycomb grille and big body kit, including a large spoiler. Bright colours like Ford Performance Blue and Orange Fury also mean that it won't go unnoticed. 
The Cupra is far from being reserved, though, with its lowered suspension, angular front end and large 19-inch alloy wheels certainly giving it plenty of street cred out on the road. It's perhaps just not so brash as the Focus is. 
Practicality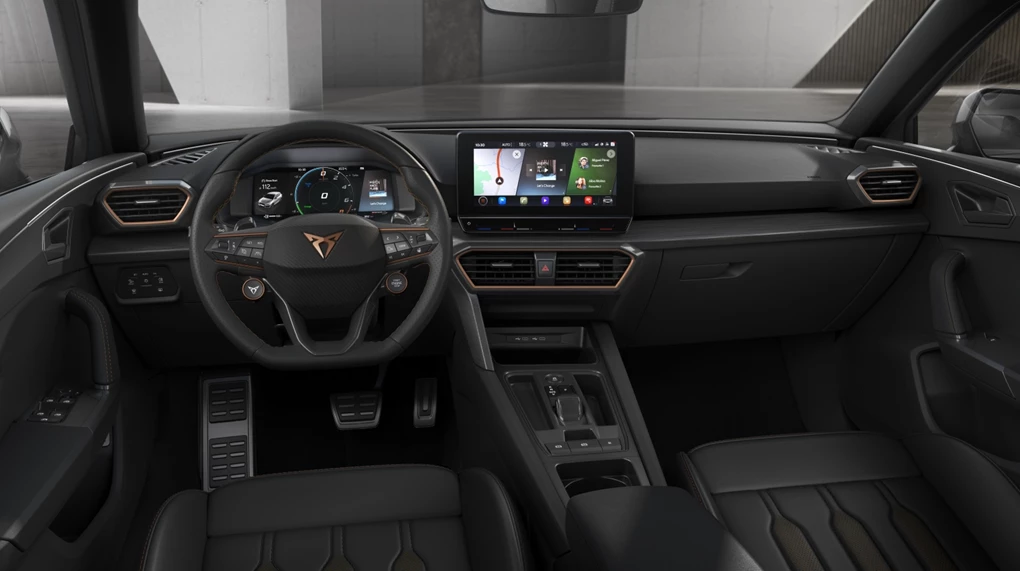 Hot hatches are all about everyday usability and spaciousness plays a big part of that. Neither the Cupra or the Ford will disappoint, either, with each having enough rear space for adults, along with decent-sized boots. Just be aware that the plug-in hybrid Leon's boot is slightly smaller than normal because of the space taken up by the batteries. 
It's important to note that both these cars are available as more practical estates, too, which increases usability even further. 
Value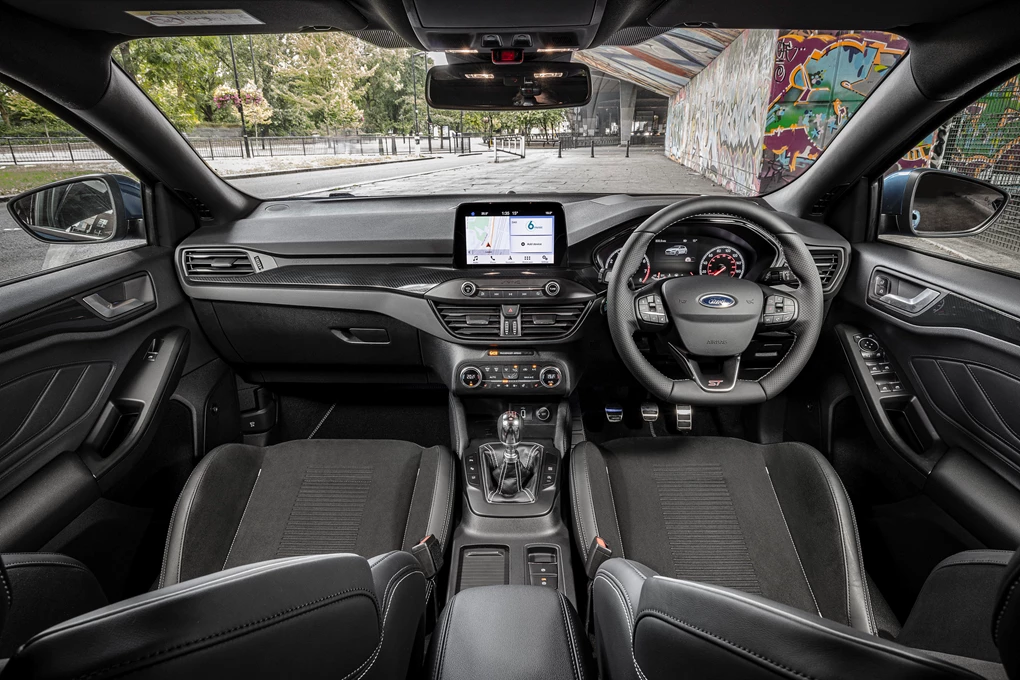 A key draw of a hot hatch is that you don't need to have unlimited funds to be able to get behind the wheel of a performance car. With the Focus ST's engines not being quite as powerful as the Cupra's, prices are more affordable – starting from £30,225 for the diesel and £33,285 for the petrol. 
With the Cupra, there's next to nothing between the prices of the hybrid and petrol, too, with prices beginning from £35,000. 
Both cars also get a generous amount of standard kit, too, including LED lighting, 19-inch alloy wheels, a large touchscreen, full digital dial system and reversing camera. 
Verdict
Both of these hot hatches remain exceptionally credible, delighting when it comes to everyday thrills while also majoring on practicality. 
The Ford Focus ST (at least in petrol form) might remain the slightly more thrilling option, though the Cupra arguably makes up for that with its higher-quality interior and more modern design. The option of a plug-in hybrid is also another draw to the Leon. 
But, regardless of which you go for, you'll be behind the wheel of two fantastic hot hatchbacks.
Enquire on a new Cupra Leon