The world over, motor shows play host to a wide and spectacular range of amazing cars, but they aren't the only things on display.
A cursory Googling of "women at car shows" will result in thousands of hits, a shocking number of them titled something along the lines of "hot girls", "auto girls sexiest moments" or worse. Here in 2016 even major publications still distribute articles, galleries and videos that have little to do with the cars on display and everything to do with the women there to display them.
Over the years, the so-called 'booth candy' has evolved from the girl-next-door style of the 1950s to the stiletto and mini dress-clad show models of today. Sex sells, they say, and its concessionaires are always friendly, always smiling.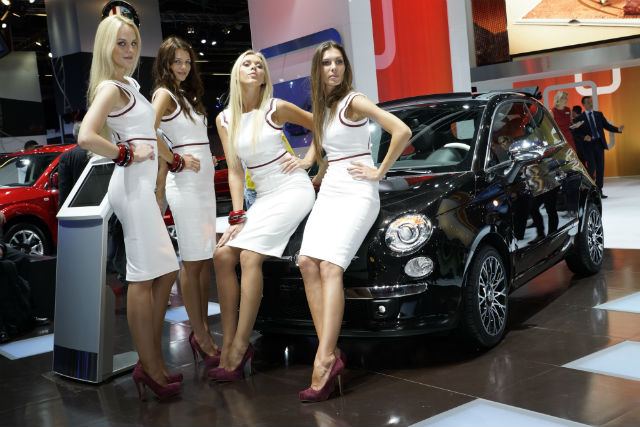 Still, from an advertising point of view it must be said that to a certain demographic it works. Even if it's not quite as popular these days as it used to be, erotic advertising has been a tried and true method for decades.
Take it from M.J Rose, advertising expert and founder of marketing service AuthorBuzz, who says: "Since there have been men buying, there have been ads using women as the bait. Sexist and demeaning advertising isn't something new - it is in fact the oldest ploy in the book."
Throughout most of automotive history, cars were marketed exclusively to men and so to advertising and marketing agencies the use of attractive women to lure in potential male buyers seemed like a no-brainer.
By combining flashy new cars and the so-called 'spin-and-grin' girls, car show attendees were supposedly more likely to enjoy the experience, more likely to stay longer and eventually become more likely to make a buying decision.
"Since there have been men buying, there have been ads using women as the bait."
The majority of women at car shows are agency models there to bolster their editorial and advertising portfolios, while others are beauty pageant winners who travel for months on end following the automotive show circuit around the world.
Days start early and typically kick off with two hours of hair and makeup time, while the models share clothes lockers and perfume in cramped bathrooms during their short lunch breaks. Skyscraper heels and small dresses in air-conditioned conference halls make it difficult to stand and smile next to the latest supercar for hours at a time.
Yet that's exactly what they're there for; often the main instruction they're given by exhibitors at conventions is simply: "Say hi and smile." As a result of the fact that car show girls aren't salespeople, they tend to be seen as far more approachable by the average punter.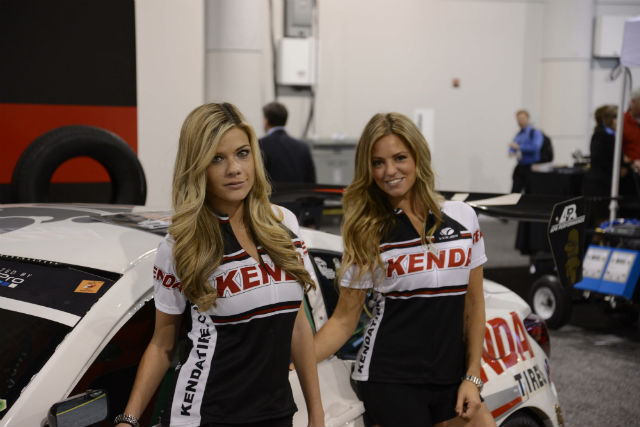 The idea is that guests will be able to chat and learn about the cars at their own pace, be set at ease and overall feel more comfortable with the idea of buying one of these new vehicles. However, attendees can sometimes get too comfortable and the models' friendliness is often mistakenly interpreted as availability.
Ask any of the statuesque blondes or brunettes at a car show what the most-used line from overly eager guests is and they'll more than likely respond with that most classic of toe-curlers: "Do you come with the car?"
"I hear that line 10 times a day," model Chelsea Smith, who has worked with Audi, Ferrari and Lamborghini, says. Her response each and every time? "Sorry, no."
Thing is, maybe sales conversions would be better if the models did come with the cars. Although the world might have been much different in the 1970s, modern research has shown that sexing-up advertisements and marketing campaigns doesn't actually improve brand recall all that much anymore.
"Models' friendliness is often mistakenly interpreted as availability."
A 2007 study conducted by the University College of London found that there was no main effect of erotic advertising, suggesting that the presence of sex in advertising or market does little to actually convince people of a brand or its products.
Likewise, audiences generally are turned off by companies which try to use sex to sell their products according to a separate study of Super Bowl adverts by the University of Wisconsin. Particularly for family-oriented products, which would include the myriad of popular family cars available, sexy images and marketing techniques are rated much lower by audiences than those which don't rely on flesh to make cash.
In recent years, the automotive industry has been gearing up to deal with the Millennial generation, the demographic cohort that follows the Generation X'ers and which its members were born between the 1980s and the late 1990s.
With more than 80 million Millennials born in that period and the first members just starting to make their initial major purchases, they represent the biggest selling opportunity since the baby boomers and are poised to become the largest buying force in human history.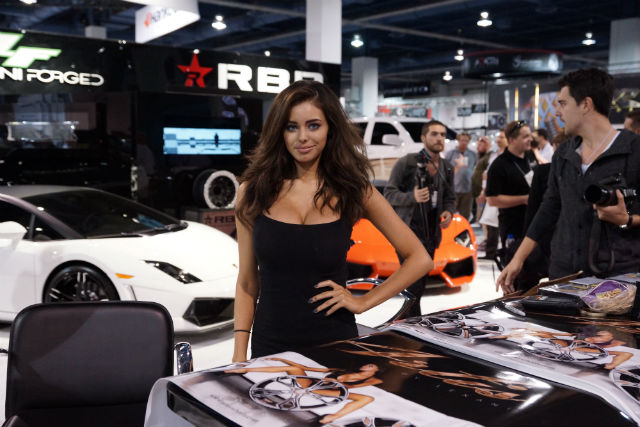 Sadly, not many of them appear to be interested in buying anything that comes with a scantily-clad entourage, and one thing the automotive industry still seems to be struggling with is that an increasing amount of buying power lies in the hands of women, not men.
As well as that, many of the women who are hired to stand alongside the cars at automotive expos aren't just eye candy, they actually like and know about the cars. Unfortunately, unless given specific roles to discuss the vehicles, they often aren't allowed to talk about them.
That's what Margery Krevsky, author of 'Sirens of Chrome: The Enduring Allure of Auto Show Models', found when she first visited a car with one of her friends who was hired to pose with the cars.
Speaking about her industry experiences on public radio network NPR earlier this month, she said: "I said, 'Tell me about this car'. She said, 'I can't tell you about the car - I'm not allowed', and that's where the idea was made."
"One thing the automotive industry still struggles with is that an increasing amount of buying power lies in the hands of women, not men."
Krevsky's idea was to give the women who modelled cars a bigger and more integral role at car shows, both for their own sake and as a result of changing attitudes towards women and towards the car industry itself.
By the 1990s, Margery's work had seen many models given a new job title: product specialists. Instead of spin-and-grin, the women's role instead turned into weeks of training on all manner of the car's specifications. She now runs an agency with automotive marketing expert Hedy Popson, which employs more than 700 product specialists, both female and male.
Popson says: "Margery helped develop that, actually, with Nissan Motor Corporation. They were the first corporation to say, 'We want these people to do a little bit more.'"
At the North American International Auto Show which ran in Detroit earlier this month, Nissan product specialist Rebekah Skiver worked to show off the all-electric LEAF, interacting with consumers and acting as the eyes and ears of Nissan on the convention floor.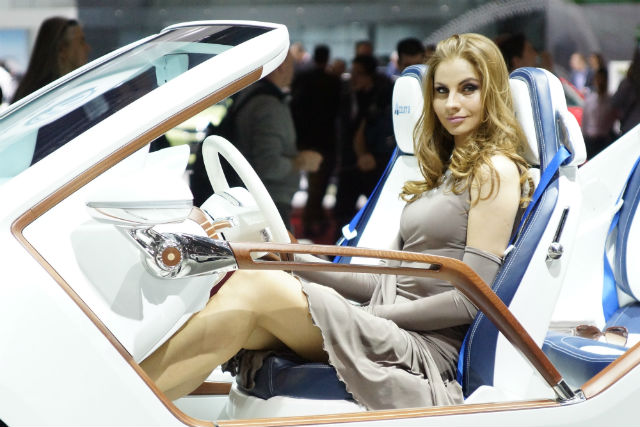 She said: "We write an extensive show report after each show that we submit so it's all documented." Unlike dealers, she's not there to make a sale and she's not there as a piece of eye candy either, but nonetheless Popson believes her role and the roles of others like her still create customers.
"Before, it was very much like going to a museum, looking at a car, looking at a pretty girl, moving on," she says. "Now, it's something that brings people in because there's a result. They're actually going to buy a vehicle."
Even so, setting foot in car shows can still feel a little like being thrown back in time, with a high-heeled model on nearly every exhibitor's stand getting papped by the world's automotive press. Product specialists are now a vital part of the industry and hopefully in the future their jobs will be strictly business.
In the meantime, although attitudes might be slowly changing year on year, some things still stay the same. Always friendly, always smiling.