Manufacturers breaking each other's Nurburgring records with updated machines is no new thing, but Jaguar has taken a prize from itself — with a new benchmark for its XE SV Project 8.
The limited-edition high-performance saloon originally set a 7 mins 21.23 sec time around the 12.8-mile Nordschleife configuration of the 'Green Hell' in 2017 to become the fastest four-door production car at the track, but that time has now been cut to an impressive 7 mins 18.36 sec.
No changes had been made under the skin of the road-legal car for this new run, though a newly-developed set of Michelin Pilot Sport Cup 2 R tyres were fitted to the car to help set this new time. This high-performance rubber isn't limited to manufacturer use — it's available for customers, too.
Adjustable aerodynamic elements of the XE SV Project 8 were set to an optimal position for the circuit too, with its configurable coilover suspension set to 'track' ride height.
See Available XE SV Deals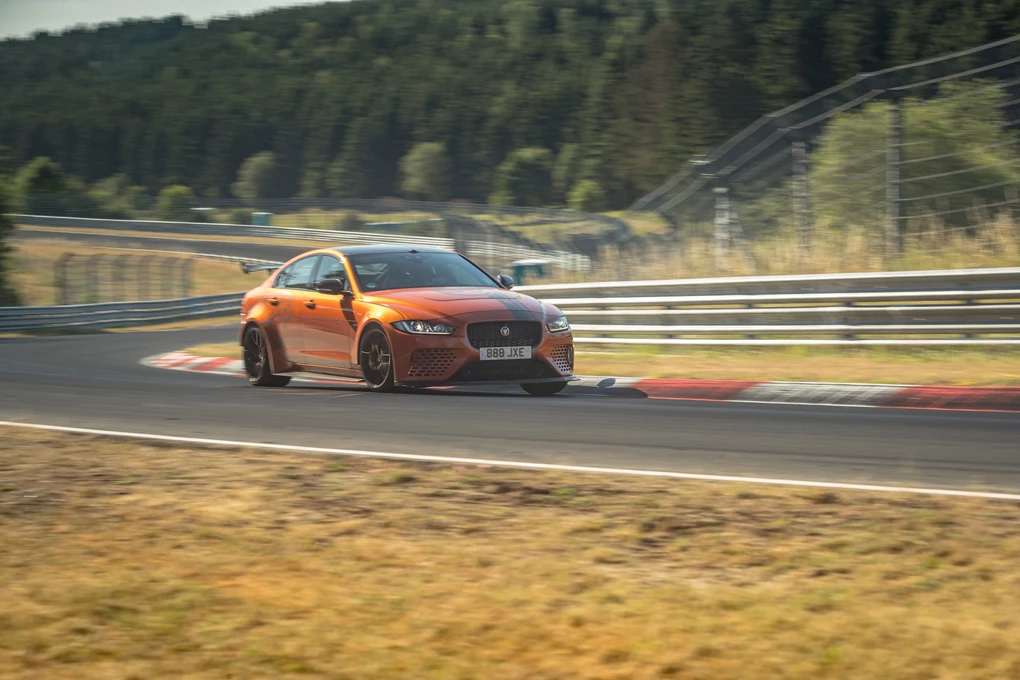 Jamal Hameedi, Jaguar Special Vehicle Operations engineering director, said: "The original Nürburgring time set by Jaguar XE SV Project 8 demonstrated the extreme performance envelope of the world's fastest production sedan, but the SV team is driven by a motorsport mentality and we knew Project 8 could go even faster. This new official record time is a fitting reward for everyone who has played a part in pushing the boundaries for our customers with Project 8."
Pricing for the Jaguar XE SV Project 8 starts at £149,995 in the UK, with a more road-friendly 'Touring' specification available and limited to just 15 units worldwide.