Why the Expansion?
LONDON — Breathing clean air should be a given, not a luxury. For London, a city draped in history and pulsating with modern life, the quest for better air quality is more than just environmental activism—it's a public health mission.
Recent figures from the London Atmospheric Emissions Inventory (LAEI, 2019) place road transport squarely as the major contributor to Greater London's atmospheric contamination, predominantly from nitrogen dioxide and particulate matter. While efforts to combat this invisible adversary have been commendable, they haven't sufficed. The vulnerable – our children and our elders – pay a disproportionate price. Illnesses like cancer, asthma, and even dementia are becoming alarming offshoots of our toxic air. And while the urban heartlands take much of the blame, it's the peripheries, the outer London areas, where the true cost in human lives is most felt.
Will Your Vehicle Comply?
The Ultra Low Emission Zone (ULEZ) standards are setting the pace for a new, more responsible driving culture. From cars, motorbikes, and vans, to the slightly more unconventional motorised horseboxes, if you're on the road, you've got rules to follow. The bright side? If you're behind the wheel of a petrol vehicle from 2006 onwards or a diesel from 2014, you're already a step ahead. Not sure where you stand? A quick check on the TfL website using your number plate should clear things up.
But what if you're part of the minority that doesn't meet the ULEZ cut? The £12.50 daily charge might sound daunting, but every penny gets ploughed back into evolving London's transport, sculpting a green, efficient future.
And hey, nobody likes pesky daily reminders. Register for Auto Pay on tfl.gov.uk/auto-pay, and simplify your life. Set it up with your credit/debit card or a direct debit mandate and let the system work its magic. For those on the go, the 'Pay to Drive in London' app is a handy companion.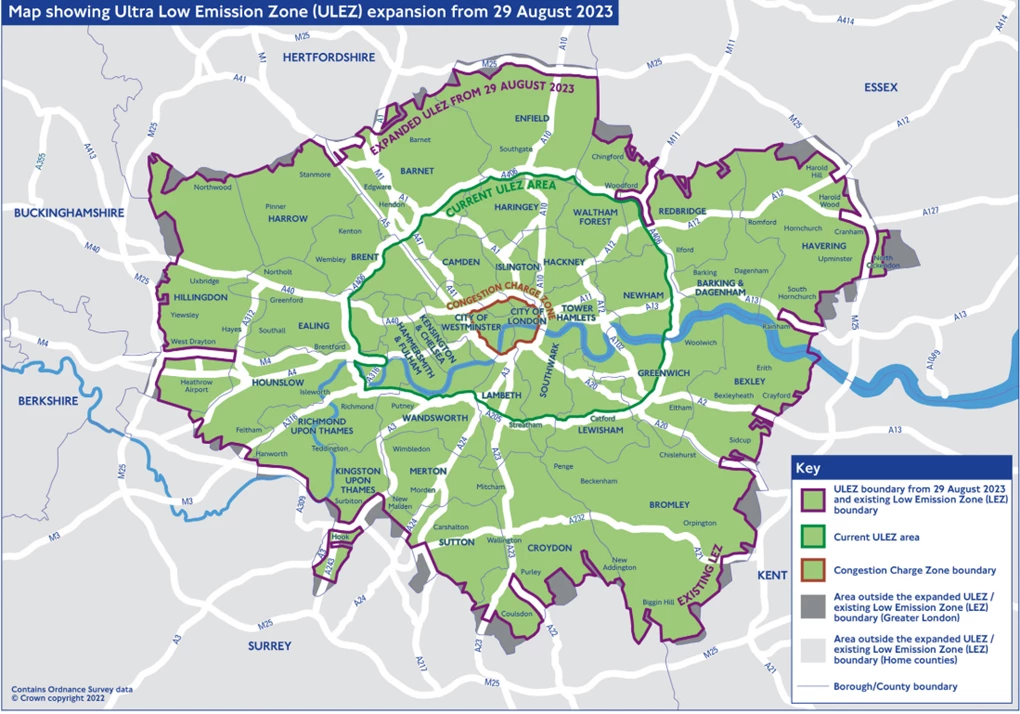 Charges and Reinvestment
If your vehicle doesn't meet the standards, a daily charge of £12.50 applies. Worried about where the money goes? Rest assured, it's reinvested into enhancing London's transport network, making commutes smoother and greener.
 downloading TfL's official 'Pay to Drive in London' app - it is free available via Apple.
Supportive Options for Londoners
Come 21 August 2023, London will unveil a £110 million scrappage scheme. Whether you're keen on scrapping your old vehicle or intrigued by the allure of Annual Bus & Tram passes, there's something for everyone. Even businesses and charities aren't left behind, with enhanced grant opportunities lined up.
A Massive Impact and Community Response
An estimated 700,000 drivers might feel the pinch of the expanded ULEZ. And while the opinions are divided, the majority sees the bigger picture – a metropolis where every breath is a testament to progress and health. This is not just a fleeting policy, it's a promise to generations of Londoners.
As we gear up for this new chapter, stay tuned. Our next feature will dive deep into grants, discounts, and how you could perhaps drive home a brand-new vehicle.
To the drivers of London, as you traverse this magnificent city, remember, every journey you embark on is a stride towards a cleaner tomorrow. Until then, drive responsibly, and keep London's heart beating strong. For more details, and to verify your vehicle's compliance, the TfL website is your best guide. Cheers to a cleaner, greener London!