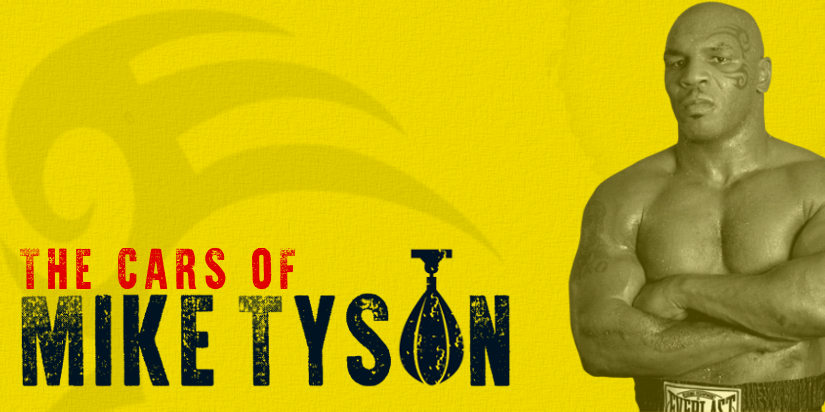 BROOKLYN, N.Y – Hailing from one of the toughest and most populous boroughs of New York City, Michael Gerard Tyson became one of the most notorious figures in history.
Mike Tyson Net Worth
Reaching a $300 million net worth, 'Iron' Mike gained a fearsome reputation through concussive victories and brushes with the law. He blew his million dollar purses on a lavish lifestyle—but what cars did Mike Tyson buy?

Tyson's Cadillacs
Following a successful amateur career, under the guidance of Cus D'Amato, an 18-year-old Tyson started swinging in the professional ranks in 1985. After winning his first 19 fights by knockout with 12 of those demolitions in the first round, Tyson was lauded as the golden child of the division and fittingly bought 'the golden one', a Cadillac Eldorado, to match. When trainer D'Amato died of pneumonia in Nov. '85, Jim Jacobs took over as Tyson's overseer and repaid his emphatic debut assaults with a Cadillac Seville. The early taste of luxury automobiles obviously sparked a passion in Tyson for cars.
As each crushing hook and sickening uppercut laid waste to an overmatched journeyman, word of a ferocious prospect rumbled through boxing circles. Within months, Tyson was the man to watch. Within two years he was in Las Vegas. And one short left-hook to the chin of Trevor Berbick later, he had claimed the WBC world heavyweight title and made millions of dollars – he was now ready to assemble a luxury fleet of cars.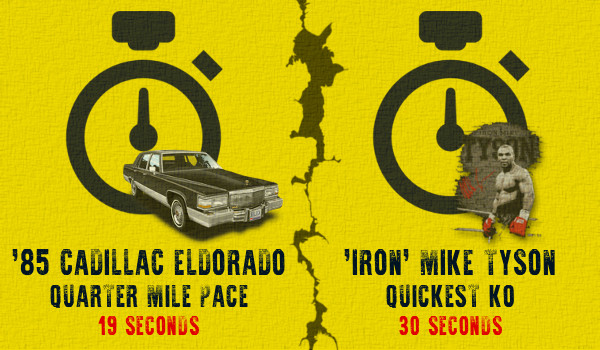 Iron Mike's Rolls-Royce
In the Spring of '86 Tyson beat James Smith, adding the WBA world title to his midriff and then decided his champion status demanded a champion set of wheels. The petulant titlist walked into a luxury car dealership in Manhattan and told the staff he wanted to buy a Rolls-Royce. As the salesman stumbled to grab the keys, Mike's new manger Jacobs put the brakes on, "Wait 'til you're 21," he was ordered. Tyson begrudgingly returned to the dealer on June 30, his 21st birthday, purchasing a blue Rolls-Royce Silver Spur for $119,500. He then snatched Tony Tucker's IBF belt in '87 to hold all three title straps and was rewarded with a Rolls-Royce Corniche for $165,000.
According to legend, crooked promoter Don King bought Tyson two luxury cars in 1988: a black Rolls-Royce Stretch Limousine for $198,000 and another ivory Corniche. It's rumoured this was in response to the boxer crashing his own convertible Bentley, although Jay Bright a friend of Tyson's said, "Don King wanted to buy Michael a gift, that's all."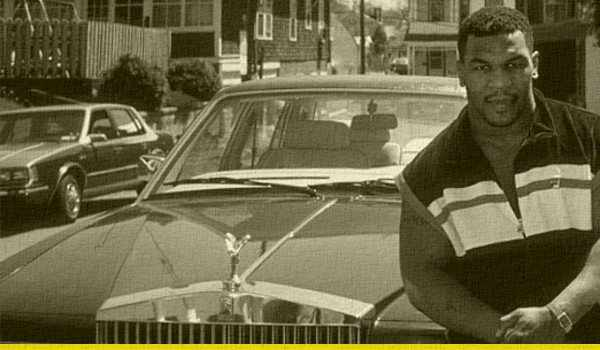 The Win Streak Ends & Mercedes Benz
As the 80's reached its climax, Tyson was putting the lights out on some marquee names like Larry Holmes, Michael Spinks and Frank Bruno. After the dispatching of British Bruno, the champ' splashed out on a white 1989 Mercedes-Benz SL-Class 560SL. It's said the 5.6-litre V8 was a favourite of rapper and friend, Tupac, who might've influenced this purchase from 'The Baddest Man on the Planet'.
In the ring and on the tarmac, the New Yorker's decade started poorly. In the February of 1990, James 'Buster' Douglas knocked out the division ruler, shocking the world and leaving Japan with Tyson's trio of titles. Then in the June, 'Iron' Mike's 1990 Mercedes Benz 500 SL complete with a mobile phone (a big thing back then…literally) was impounded by Hudson police just before his Las Vegas showdown with amateur rival, Henry Tillman.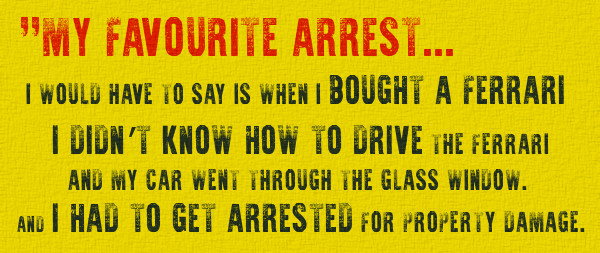 Mike Tyson's Ferrari
After serving a jail stretch during the early 90's, Tyson's return to the ring began with a one round travesty against little known Peter McNeely. Then in true 'Iron' Mike fashion, the bruiser demolished Frank Bruno to regain his WBC title, marking a decade since he first won the green waist piece. With his rediscovered riches, Tyson topped his already blossoming car collection off with Italian luxury – he bought a 1995 Ferrari F50 and a Ferrari 456 GT Spyder in a package deal. The GT Spyder was the last special production 456 produced as a convertible, with a limited number rolled out the factory – two of these were built by Pininfarina especially for the Sultan of Brunei and one for Tyson.
The boisterous boxer liked to live the fast life; to protect Tyson from being held personally responsible for any accident that was likely to occur, his team set up a corporation with only one asset: the champion's cars.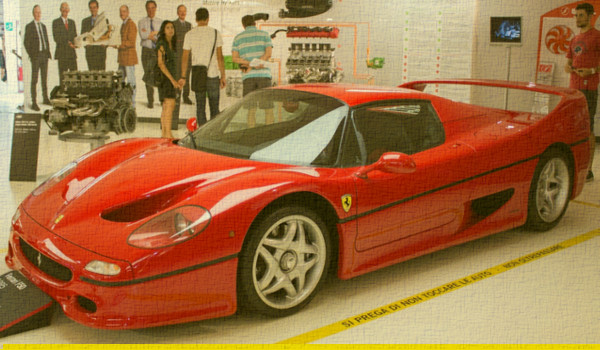 Tyson Car Collection Expands
The Baddest Man on the Planet's comeback was bolstered in '96 when he retained his WBA title in a controversial victory over Bruce Seldon in Vegas; the same night his friend Tupac Shakur was tragically shot and killed. It's rumoured he purchased his classic yellow Lamborghini Super Diablo Twin Turbo around this time, which was probably one of the most enviable motors in his garage.
Just two months later veteran Evander Holyfield shocked Tyson snatching his crown, setting up one of the most hotly anticipated rematches in the sport. Before the infamous second fight (when Tyson bit Holyfield's ear) he purchased a stunning 1997 Bentley Continental T; the car came with an authoritative 6.75-litre turbocharged injection engine that punches with 426hp and a maximum torque of 645 lb-ft.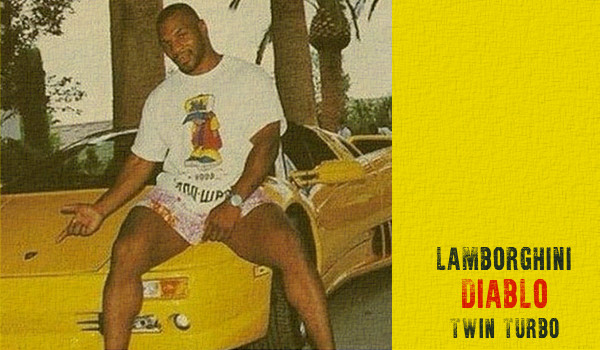 Bentley, Lamborghini and Jaguar
A series of senseless advice and bad decisions saw Tyson's career fizzle as he began to splurge the $30million he earned in his Holyfield defeat. From 1999-2002 Tyson spent an unbelievable amount of cash outside of the ring, while only managing a handful of uninspiring victories and no-contests inside of it. The Brooklyn born slugger picked up the keys to a rare blue model of a 2000 Lamborghini Diablo VT Roadster and one of the fastest supercars available, the Jaguar XJ220. Tyson also dropped around $500,000 on a 420-hp Bentley Continental SC that was also one of only 73 Bentleys of its kind to have entered production.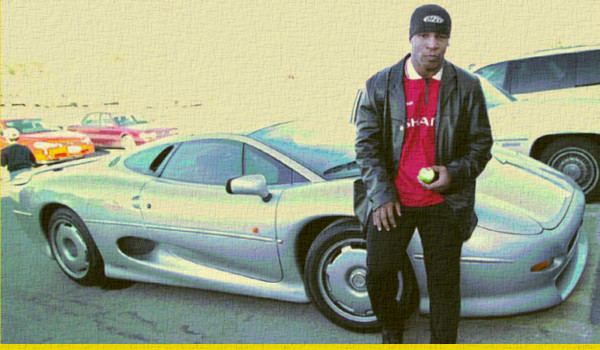 Tyson Bankruptcy
When Lennox Lewis's right hand toppled Tyson onto a Tennessee canvas in 2002, it ignited a sharp decline in Mike's fortunes. 'Iron' Mike filed for Bankrupcy in 2003 after a bout of overspending and with the taxman hot on his heels, not even his Lamborghini could help him escape. The hall of fame boxer had to sell most his auto-assets to auctions and celebrity museums. No one on the planet has traded leather and burnt rubber like him, the car collection of Mike Tyson was extraordinary.
More Mike Tyson Cars:
1995 Rolls-Royce Silver Spirit
Range Rover
Porsche 964 Speedster
Rolls Royce Ghost – rental 2014
Jaguar E-type
Aston-Martin Lagonda
Ferrari Testarossa
BMW 850i
Cadillac Escalade
1986 Lamborghini Jeep LM002
Mike Tyson's Tiger…
The boxer decided a Jaguar wasn't enough. Aside from the cars, Tyson also bought three Bengal tigers worth around £48,000 each – and reportedly spent even more on keeping and feeding them!
Esteemed boxing photographer Chris Farina visited Tyson's mansion in 1995 recalling his first sight of the animals, "He pulls the tiger out of the cage, and I'm moving back. He starts walking with this tiger up the hill, and I'm shooting all these pictures. The tiger is dragging Mike. He doesn't' have the tiger, the tiger is dragging him!"