The Hyundai Santa Fe has become the first passenger vehicle to conquer Antarctica as part of an expedition that saw it trek nearly 4,000 miles across the icy terrain.
Taking place last December, the journey commemorated the 100th anniversary of legendary polar explorer Sir Ernest Shackleton's landmark Trans-Antarctic expedition.
Hyundai teamed up with tech entrepreneur Patrick Bergel, the great-grandson of Shackleton, and supplied him with the Santa Fe in which to complete the journey.
The car given to Bergel was production spec, with only minor modifications made to allow the car to wear giant low-pressure tyres to cope with the ice and snow, along with a larger fuel tank.
A pre-heater was also installed to help the engine warm up in the extreme conditions, while the car was converted to run on jet fuel: the only available on the entire Antarctic continent.
Over the period of 30 days, Bergel and the Santa Fe covered more than 3,600 miles from the Union Glacier to the McMurdo research station in temperatures as low as -28 degrees Celsius.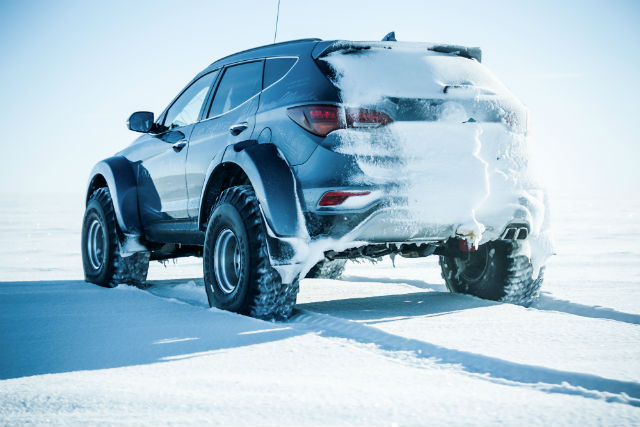 Gisli Jónsson, an Antarctic driving expert who helped prep the car, said: "It was a pretty standard Santa Fe. The engine, the management system, the transmission, front differential and driveshaft were all completely standard.
"We did have to fit big, low-pressure tyres though - they are important as it's all about getting the vehicle up on top of the snow rather than ploughing through it."
Patrick Bergel said: "The journey was incredible and the car was a pleasure to drive. Sometimes it felt less like driving and more like sailing across the snow.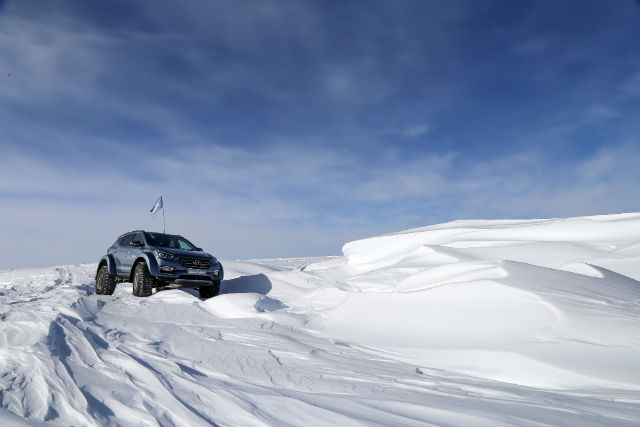 "It was a proper expedition with a challenge to accomplish that nobody else had done before. It was about endurance not speed - we only averaged only 27km/h – and success was about how we and the car handled it."
In the market for a new Hyundai Santa Fe? Compare prices, order a brochure or book a test drive here