Nissan has long been a front-runner when it comes to electrification. Its Leaf hatchback and e-NV200 were some of the first EVs to hit the market, and were the most popular vehicles of their type for some time. 
The Japanese firm has since ventured into the world of hybrids, including with its new e-Power setups available on the Qashqai and Juke, but also with a more straightlaced hybrid system from Renault in the case of the Juke.
With the Juke being one of the most popular compact crossovers around, it's important news that it's now available as a hybrid. Here are some key things you need to know about it. 
The powertrain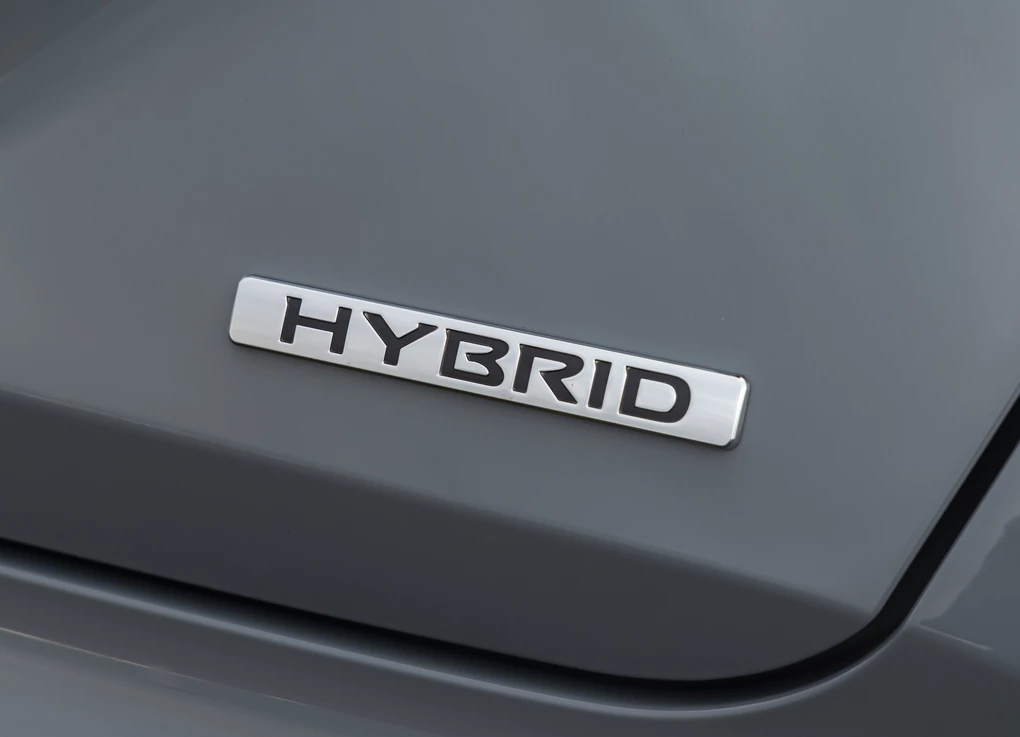 Nissan has utilised the assistance of its Alliance partner Renault when coming up with the powertrain for the Juke Hybrid. Using a 1.6-litre petrol engine and Nissan-supplied main electric motor Renault then provides the high-voltage starter/generator and small 1.2kWh battery. It's paired to an automatic gearbox, which sends drive to the front wheels. 
The combined result is 141bhp, allowing the Juke to accelerate from 0-60mph in under 10 seconds – a significant improvement on the 11.6-second sprint time for a petrol Juke equipped with the automatic gearbox. 
Enhanced fuel economy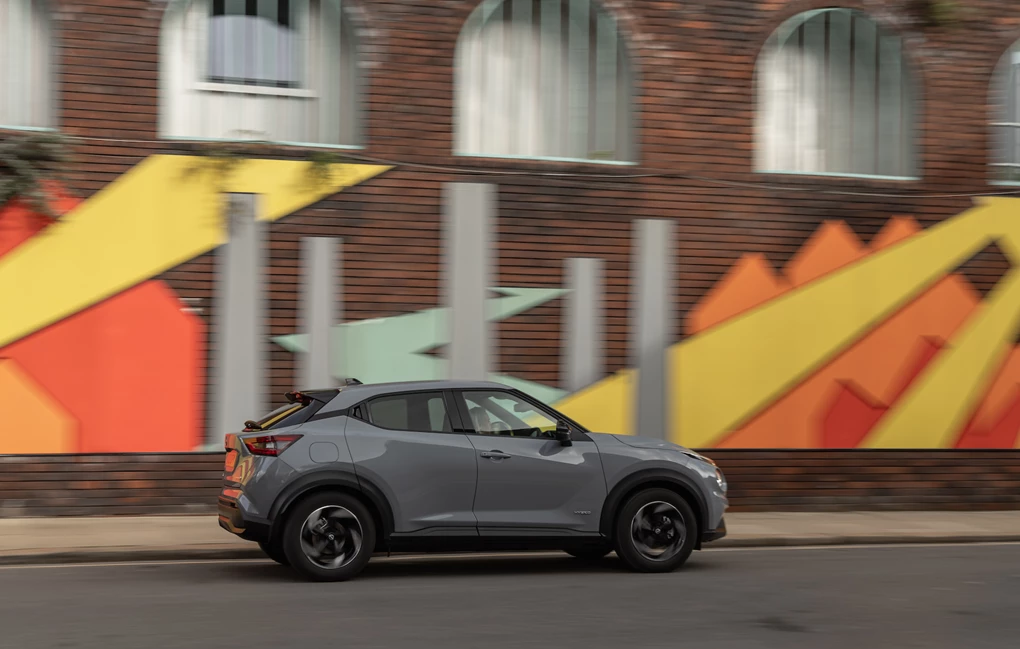 The key advantage to hybrid models is their reduced running costs, and that's certainly the case with this Nissan Juke.
In fact, Nissan claims up to 80 per cent of urban driving can be completed while driving in the EV mode, bringing up to a 40 per cent reduction in fuel consumption. On the combined cycle, this figure still stands at 20 per cent. Nissan claims up to 57.6mpg for the fuel economy of the hybrid, compared to 47.1mpg for a standard automatic petrol Juke. 
CO2 emissions of 112g/km are also drastically reduced compared to 137g/km in the regular car. 
Generous equipment levels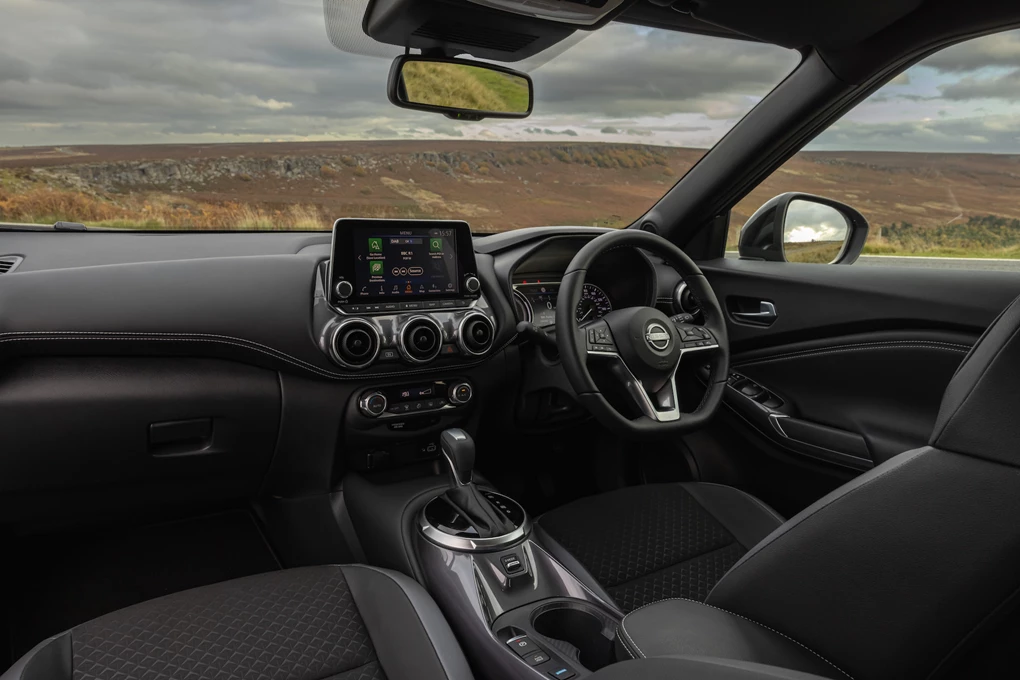 While petrol Juke models are available in 'lesser' grades, for the Hybrid model, Nissan has chosen to only offer it in the higher-spec grades. 
The range kicks off with the N-Connecta, with standard equipment including keyless entry, automatic climate control and an eight-inch touchscreen with Apple CarPlay and Android Auto to name just a few features. 
The Tekna grade then brings synthetic leather upholstery, a 360-degree camera system and a 10-speaker Bose sound system, while the flagship Tekna+ brings big 19-inch alloy wheels and further personalisation. 
EV-like driving experience
Nissan prioritises an EV-like driving experience with its hybrid models, both with its e-Power setup in particular but also with the powertrain in this Juke. 
We've mentioned the Juke being able to complete 80 per cent of its driving around town on electric, but it's also able to move at speeds of up to 34mph without the engine. There's also a dedicated 'EV' button that will put the car into engine-off mode, providing the battery has enough charge. 
Small styling changes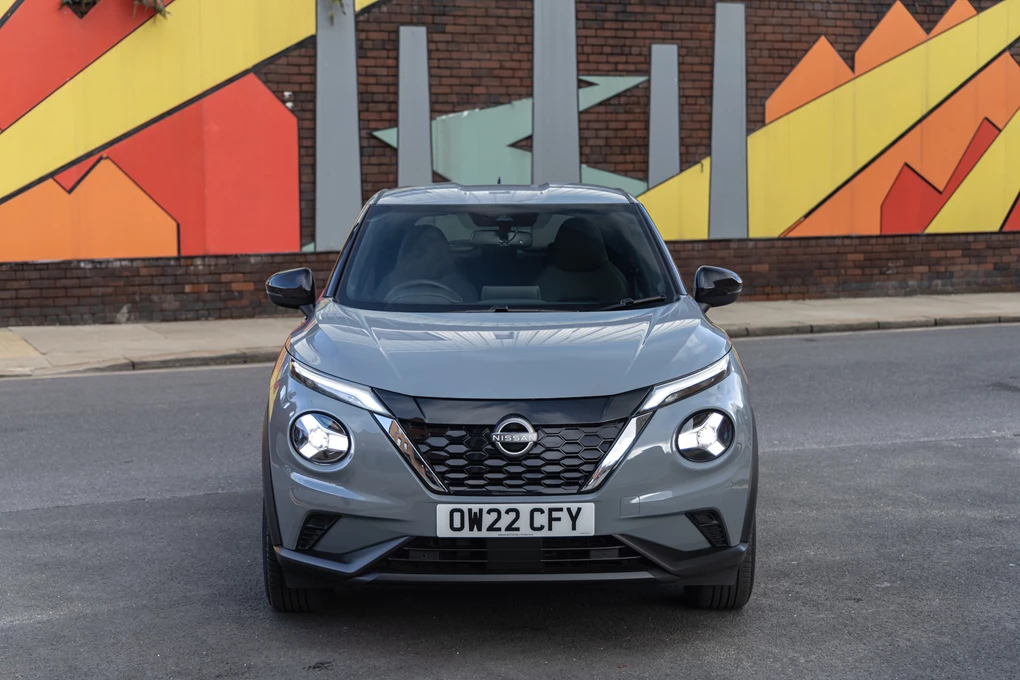 One of the key attractions of the Juke for buyers is the way it looks, and Nissan has retained the same bold and distinctive styling for this hybrid. There are small changes here and there to be aware of, though. 
These include a revised grille, which features a mesh pattern with a smaller opening area to optimise aero efficiency. The rear spoiler has also been revised to allow for cleaner airflow, while specific new alloy wheels are available to help reduce the Juke's fuel consumption. 
The Nissan Juke Hybrid is on sale now, with prices starting from £28,210.
Enquire on a new Nissan Juke Hybrid