Smart has introduced new special edition models called the Edition White and Edition Black for both the ForTwo and ForFour city cars.
On sale now, pricing for both of the special edition trims start at £12,360 for the two-seater ForTwo and from £12,855 for the ForFour.
Extra equipment
Edition White and Edition Black are based on the existing Prime trim for both Smart cars, which already feature luxuries such as leather heated seats as standard. The new special editions add the kit from Smart's Urban Style and Premium packs, which include a leather steering wheel, 16-inch black alloy wheels, a chrome tailpipe and wider wheel arches.
Other standard kit for the new special edition Smart cars include a height adjustable steering wheel and driver's seat, parking sensors, tinted windows and sat-nav.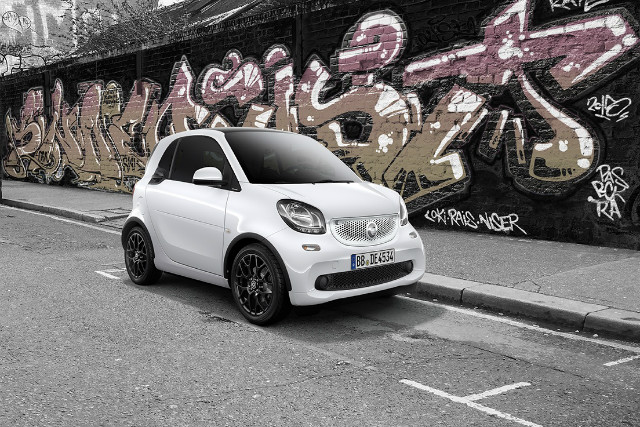 Compared to the Prime trim versions of the ForTwo and ForFour, the Edition White and Edition Black cost £895 more.
Paint jobs and engines
As the names suggest, the main difference between the Edition White and Edition Black is that the former gets a full white paint scheme for the body and grille, while the latter is painted fully black.
Engine choices for these special edition versions of the Smart ForTwo and ForFour include two petrol units, a 70bhp 1.0-litre engine and an 89bhp 0.9-litre unit. For both models and engines, a five-speed manual or six-speed twinamic automatic gearbox is available.