The air date for the opening show of The Grand Tour is getting really close now, and there's plenty of hype surrounding it. Many car fans are keen to see whether the presenters Jeremy Clarkson, Richard Hammond and James May can produce a winning formula similar to the one that made their lengthy stint on BBC's Top Gear a major success.
Consequently, lots of questions are being asked online about what the show will be like and what cars will feature during the first series? We've already covered most of the frequently asked questions before, but here we're going to delve deeper into the motors we can expect to see during the first 12-episode season.
Looking back through various social media posts made by the show's presenters, it's possible to put together quite an impressive list of cars which Clarkson, Hammond and May have put through their paces. So here, for your convenience, is a summary of what cars to expect when The Grand Tour arrives on Amazon Prime.
McLaren P1, LaFerrari and Porsche 918 Spyder
With a skeleton crew, filming for Amazon Prime's new motoring programme has begun. pic.twitter.com/8PaYvke5il

— Jeremy Clarkson (@JeremyClarkson) October 7, 2015
When Clarkson, Hammond and May publicly revealed that filming for The Grand Tour had begun last October, they also revealed that the first segment of the show would involve putting what are currently the most desired hybrid hypercars through their paces.
Seeing the LaFerrari, P1 and 918 share the same track on film will excite plenty of car fans around the world. It's something Clarkson and co. wanted to do when they were still on Top Gear, but getting each manufacturer to unanimously agree on how to run a comparison test proved too difficult in the past.
But finally, it seems a consensus has been reached and we, like many others, can't wait to see which one comes out on top.
Ford Focus RS
Clarkson has posted images on social media of him putting the latest Ford Focus RS to the test during a shoot.
The Focus RS features a drift mode button and we could guess that Clarkson would be keen to demonstrate this, given his affinity for fast Fords and powersliding. His image of one of the Ford's tyres looking in a bad way shows he certainly got a lot of mileage out of this feature.
So, I've been using the "drift" feature on the Focus RS..... pic.twitter.com/7OvhgJgwkF

— Jeremy Clarkson (@JeremyClarkson) May 5, 2016
In a recent Sunday Times column, Clarkson highlighted the Focus RS as one of his favourite ten cars he has driven in the last twelve months.
Ford Mustang GT
Coming soon to an Amazon Prime near you. pic.twitter.com/NUV5xLRB65

— Jeremy Clarkson (@JeremyClarkson) May 4, 2016
Accompanying the Ford Focus RS during The Grand Tour's shoot has been another current Ford performance car, the V8-powered Mustang GT fastback driven by Richard Hammond.
As well as joining up with the Focus RS abroad, the Mustang GT has also been seen in London for filming of the new show, again with Hammond behind the wheel.
Aston Martin Vulcan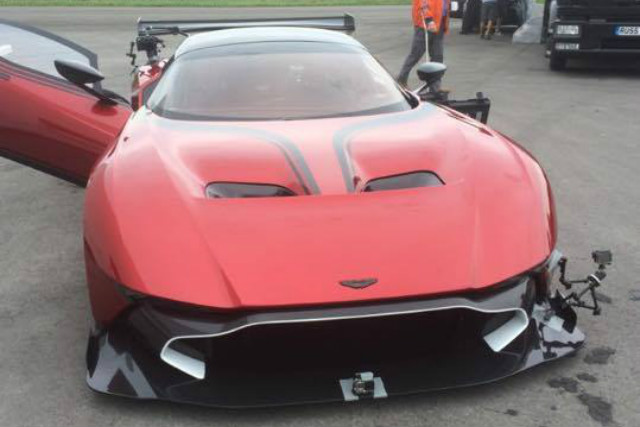 Aston Martin's £1.8 million track monster has been confirmed to appear on The Grand Tour thanks to a social media post by Clarkson.
It's easy to imagine Clarkson having all kinds of fun in this ultra-lightweight track car with its 7.0-litre V12 engine producing around 820bhp.
Aston Martin DB11, Rolls-Royce Dawn and Dodge Challenger SRT Hellcat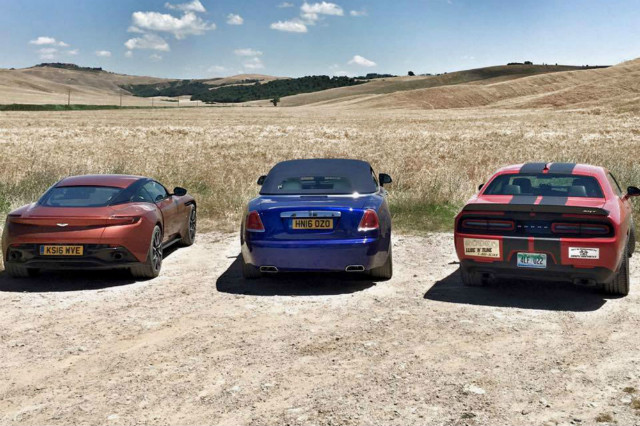 Described online by Clarkson as "the weirdest comparison test of them all", The Grand Tour will feature a segment in Italy involving Aston Martin's latest grand tourer, a super-luxurious Rolls-Royce convertible and an aggressively-tuned American muscle car.
Judging by other social media posts, it's Clarkson who drove the DB11, while May took the Rolls-Royce and Hammond occupied the Dodge.
Alfa Romeo 4C Spider, Mazda MX-5 and Zenos E10
During a break in filming from the Morocco shoot. pic.twitter.com/mb9HRmgrZG

— The Grand Tour (@thegrandtour) June 24, 2016
The Grand Tour will feature a comparison test filmed in Morocco where a trio of current lightweight sports car will face one another.
The MX-5 and 4C are already well known but the Zenos E10 may be seen as a curious and obscure choice. The E10 is an Elise-based roadster with a Cosworth engine and although it's track-focused it is also fully road legal.
Maserati Biturbo 430
It was reported back in December that The Grand Tour's presenting trio were all present in Northern France and three Maserati Biturbo 430s were also present.
If old Top Gear segments involving classic Italian sports cars are any indication, a lot of breakdowns will likely feature in the segment filmed with these cars.
Modified Mercedes
Earlier this year, a video was filmed and posted online by a member of the public who saw The Grand Tour trio driving something bizarre in Surrey.
It appears to be a modified version of an early-generation Mercedes SL convertible, which has been massively jacked-up and fitted with giant off-road wheels.
Reliant Regal
This sort of thing annoys me. The Del Boy Reliant was a Regal, not a Robin.https://t.co/XBwMBlvRhd

— James May (@MrJamesMay) February 18, 2016
The Reliant Robin became a running joke on Top Gear thanks to a famous crash-heavy segment involving Clarkson. The similarly designed Reliant Regal is now set to feature in The Grand Tour, as James May was spotted being filmed driving one in London (and breaking down in it too).
Clarkson, Hammond and May were also seen together in three-wheeled Reliants near the end of last year, although Clarkson said that these were 'company cars' and won't feature on The Grand Tour.