Renault has revealed full details of its upcoming Megane R.S. Trophy-R hardcore hot hatch.
This no-compromise machine was revealed in May, when Renault announced it had broken the front-wheel-drive Nurburgring record with a time of 7:40.1 at the gruelling 'Green Hell'. It had held off on revealing full information on the car – until now, that is.
Based on the regular Megane R.S. Trophy, weight for the R is down by 130kg as a result of lighter bodywork and redesigned suspension components.
First up, the bonnet is now made from carbon-fibre rather than steel in a bid to shave the kilos, while a rear diffuser made from the same material both drops weight and enhances downforce produced by the car.
There's also the standard-fit of 19-inch 'Fuji Light' alloy wheels which trim 2kg off each corner, while optional carbon-fibre units knock even more off. Furthermore, 32kg has been trimmed on the rear axle as a result of the removal of the standard car's 4Control all-wheel-steering system.
Though on the regular Megane R.S. Trophy, this system improves drivability and makes its performance more accessible – though the R is aimed at 'expert drivers', in the words of Renault.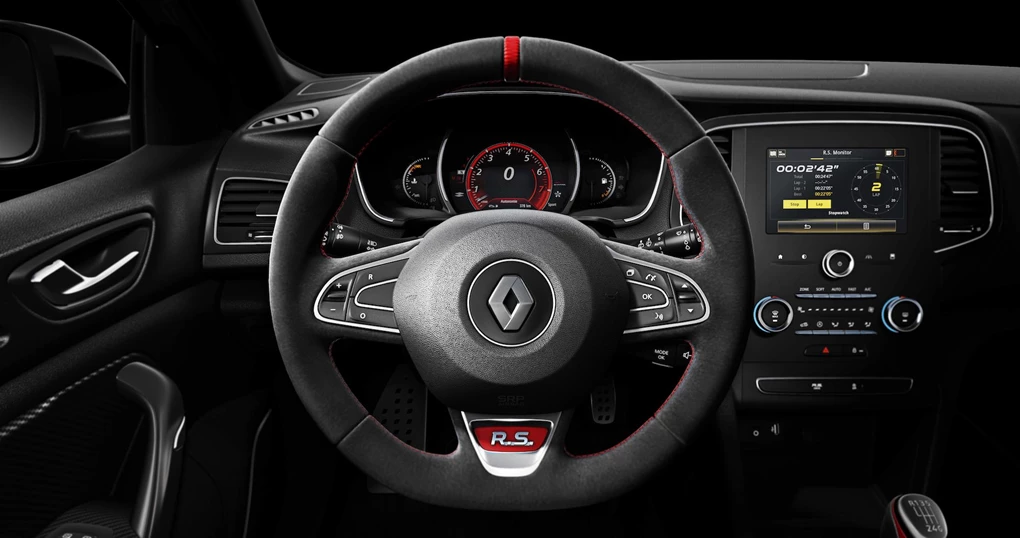 Speaking of things removed from the rear, there are no back seats either, all in the name of weight saving. The rear doors remain operational though, arguably making the car more practical if there are no kids to worry about.
Other weight-saving modifications include the addition of Alcantara-wrapped composite seats up front, thinner windows, the sole option of a seven-inch infotainment system rather than the standard car's 8.7-inch screen, and an Akrapovic titanium exhaust, which both saves weight and adds a brutal note to the engine.
Along with trimming down the excess mass, Renault has introduced a raft of chassis upgrades in a bid to maximise performance. Its front suspension has been revised to make the most of the freshly-fit Bridgestone Potenza S007 tyres, while Ohlins dampers have been added too. A rear strut brace is brought in for improved stiffness, while carbon-ceramic brakes can be specified optionally for improved stopping power.
See Available Megane R.S. deals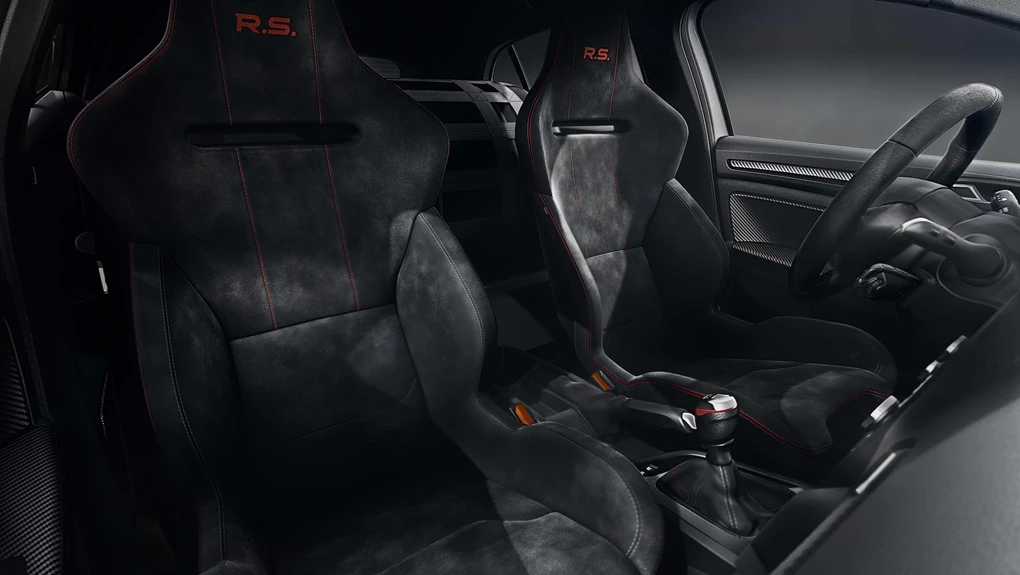 Pricing has yet to be revealed for the Renault Megane R.S. Trophy-R, though order books are set to open in August so it shouldn't be too long before we find out. Deliveries are scheduled to begin in October, with just 30 examples set to come to the UK.