The Citroen SpaceTourer is the next step for those who feel a seven-seat MPV just isn't big enough. Aimed primarily at transport companies, and with the availability of up to nine seats, the SpaceTourer aims to merge car, MPV and van DNA together.
Although seven seats come as standard, the SpaceTourer doesn't really go up against the usual large MPV suspects like the Ford Galaxy. Instead, it aims to tackle more van-derived models like the Peugeot Traveller and Toyota Proace Verso.
But how does Citroen's nine-seat people carrier measure up?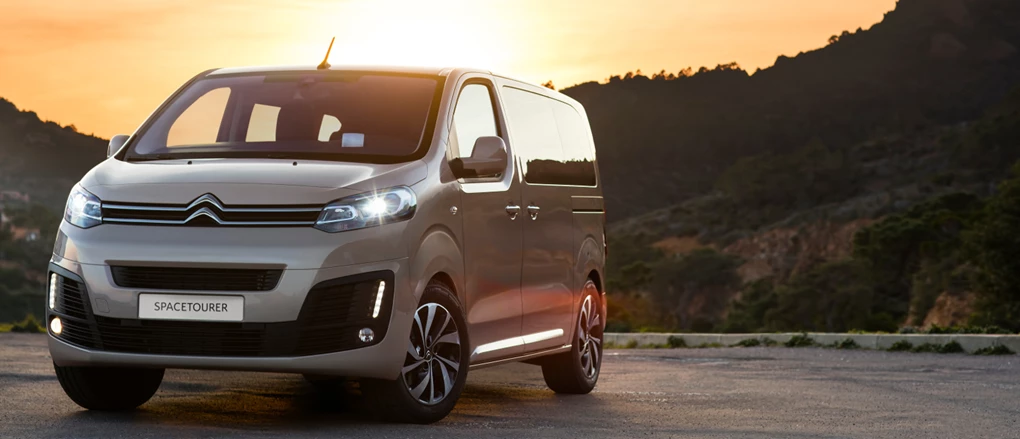 Performance
There's a range of diesel engines to choose from in the SpaceTourer – we tested the 1.6-litre 113bhp derivative. We assumed this unit would feel incredibly lethargic, given that the SpaceTourer weighs over 2.5 tonnes, however, with 300Nm of torque, it feels sprightly enough, pulling well when you need it to.
Driving around town does make this 113bhp diesel feel a little hard-worked though, particularly low-down the gears, but once you are up to speed on the motorway, it delivers incredibly smooth performance.
The six-speed manual gearbox the SpaceTourer comes mated to is snappy enough as well and thankfully doesn't suffer from the long throw you'd usually associate with a van-like vehicle of its size.
Ride and Handling
The SpaceTourer feels rather planted, not enough to encourage fast cornering, but enough to keep the average driver filled with confidence.
Due to its sheer size, the SpaceTourer does feel akin to a van in the way it drives, there's no avoiding that. It feels hefty when navigating tight streets, there's plentiful body roll when cornering and visibility can be tricky at times.
However, with anywhere from seven to nine seats inside the SpaceTourer, there's a bit of added weight when compared to your average unladen van, and this does wonders for its ride quality. Unlike many vans, which are designed to have heavy loads in the rear and as a result crash over bumps when they're not carrying cargo, the SpaceTourer feels rather planted, not enough to encourage fast cornering, but enough to keep the average driver filled with confidence.
But back to its van-like qualities. The steering in the SpaceTourer is rather lifeless, lacking pretty much any feedback, although it is accurate enough for pottering about.
It does benefit from its van-esque DNA somewhat though, with a commanding, high-riding position, which is ideal for long motorway stints and for towering over traffic in a city centre.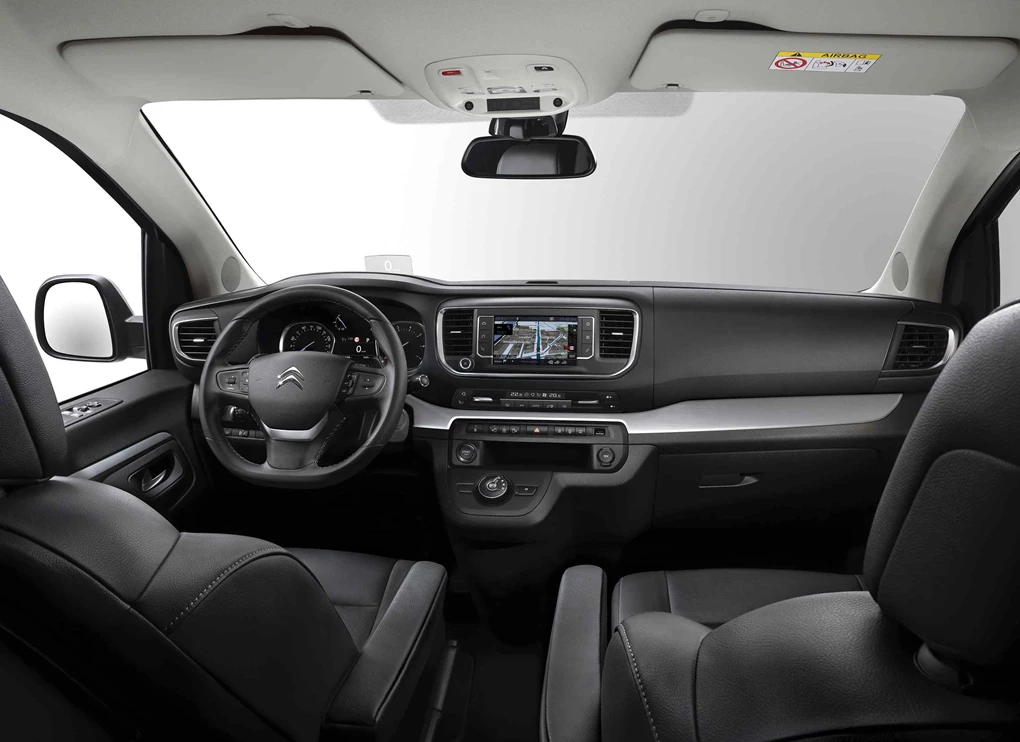 Interior and Equipment
The Citroen SpaceTourer is based on the Citroen Dispatch van.
The SpaceTourer makes up for its van-like demeanour on the road by offering a smart cabin design, which is more in-line with Citroen's car range. There are plenty of dark plastics, but it strikes a nice balance.
On our Feel model, which is aimed at private buyers rather than companies, the dashboard was dominated by a seven-inch touchscreen system boasting DAB radio, Bluetooth, Apple CarPlay and parking sensors. A few handy options fitted to our model, which are certainly worth considering, included a head-up display, integrated sat-nav and a 180-degree reversing camera.
Being an MPV, there's plenty of practicality to go around too. There's arm rests for both driver and passenger, numerous keys and wallet cubbies, large door bins – although they are quite a reach away – a good-sized glovebox and a handy mirror specifically fitted to allow you to keep an eye on all of your passengers.
Seven seats come as standard in the SpaceTourer, but there are two optional seats that can be specified – one in the middle of the third row of seats and one in the centre of the driver and passenger. Our test model had eight seats in total, with the rearmost seats gaining the additional seat. With no seat in between the driver and passenger however, you can easily walkthrough to the passenger seats from the front, an incredibly useful perk that we used several times.
All of the seats in the SpaceTourer are highly-flexible too, allowing for passengers to slide back and forth and even recline. All-round head and leg room is excellent, but these sliding seats add extra flexibility just in case some passengers are bigger, or smaller, than others.
The rear passengers have several useful storage cubbies to play around with as well, including other handy features like sliding rear windows and, if you go for the Easy Entry Pack, a button that opens up the rear sliding doors automatically (these can also be opened by the click of a button on the key fob).
Speaking of the sliding doors, they allow for carefree access into the rear of the SpaceTourer, and come accompanied by grab handles for hauling yourself in and out.
There's not much of a boot to speak of in the SpaceTourer, due to its numerous seats, but the rear seats do fold down to accommodate objects of up to two metres long, 1.2 metres wide and 1.3 metres high. Those after more of a hybrid between a van and people carrier can opt for longer SpaceTourer models, ranging from 4.6m to 5.3m in length.
Cost
We managed an average of around 48mpg, which is pretty good.
The Citroen SpaceTourer sits in the higher, more expensive end of the large MPV market, starting from around £30,000 – or, with a few options, £35,000 in our case. That puts it in the same ballpark as the Toyota Proace Verso, but it's a wedge more expensive than the Ford Galaxy and Citroen Grand C4 Picasso.
The 1.6-litre 113bhp BlueHDi diesel we tested does deliver impressive fuel economy though, with a claimed average of 55.4mpg – we managed an average of around 48mpg, which is pretty good. CO2 is quoted at 133g/km, which for private buyers is around £200 in road tax a year.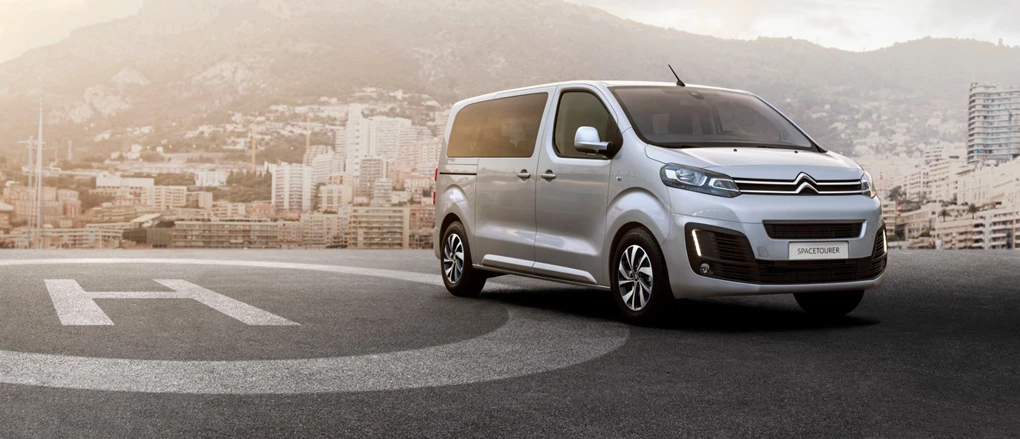 Our Verdict
The Citroen SpaceTourer is designed to be as practical as a van, but with some edges smoothed out and creature comforts added in – and that's exactly what it is.
It's easy to drive, comfortable to be driven in and it's fairly economical. There are many large MPVs on the market, so ensure that the SpaceTourer's seven-plus seating set-up and slightly utilitarian character is exactly what you are after before you take the plunge.