The Honda Civic has been around for a while, since the Seventies in fact, and the new 2017 version adds a tenth notch to its model tally.
And much like David Beckham's hair, or Doctor Who, each iteration has become almost unidentifiable from the last, and yet at the same time, clearly been part of the Civic family.
The new 2017 model is no different. Gone is the plump, lovebug-like shape of the ninth-gen, in place of a more conventional hatchback stance, which is now closer to the stretched, stylish figure of something like the Mazda 3. It's aggressive detailing is still at large however, with an angular grille that looks as if it were designed by an overzealous bladesmith.
Along with creating a new look, Honda has also focused on sportier performance, with the new Civic boasting a wider and lower stance than the previous model, aiding stability on the road and, Honda hopes, giving it a more competitive edge against rivals like the Ford Focus and BMW 1 Series. There are also new engines, trims, tricks and tropes – so let's take a closer look.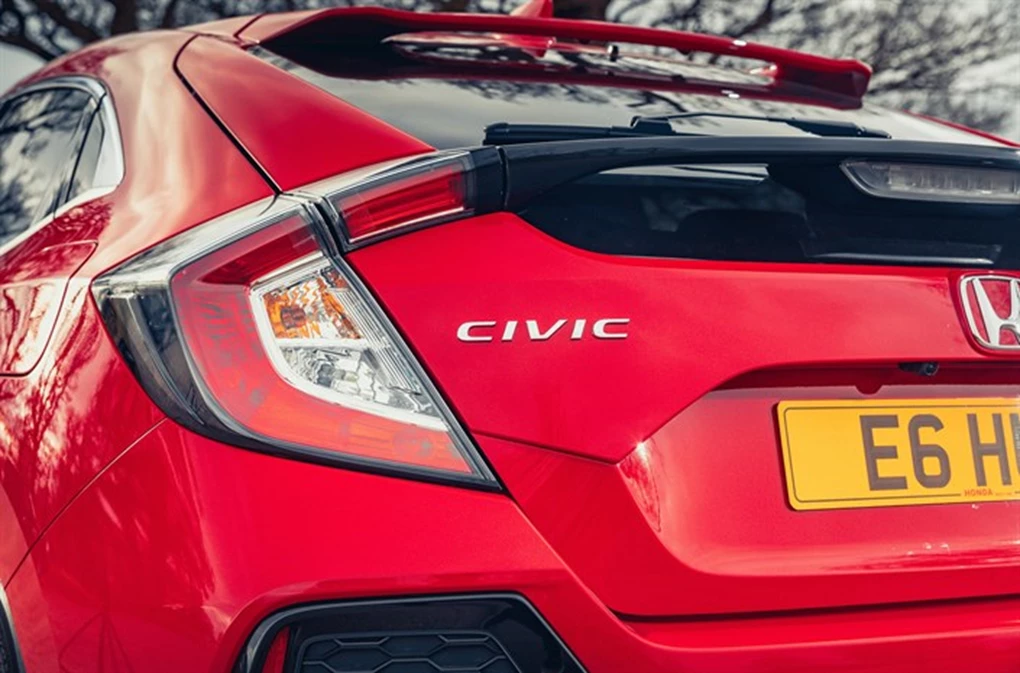 Performance
New to the Civic is a 1.5-litre, four-cylinder turbocharged petrol engine producing 180bhp. This sits alongside a 127bhp 1.0-litre three-cylinder turbocharged unit – no diesel engines in sight, at least not from launch.
Each of the petrols come with the availability of either a six-speed manual or a CVT automatic transmission. Our model came fitted with the former.
The 1.5-litre petrol will happily potter about town if need be, with responsive throttle and brake input. It certainly doesn't feel like a near 200bhp hatchback when shuffling around busy streets. In fact, the 1.5-litre won't really come to life unless you rev it out – as many VTEC Honda fans will know all too well.
There's 240Nm of torque available over a wide rev range - 1,900rpm to 5,000rpm - and the main grunt of that pulling power will come close to the 5,000rpm mark. It's pretty nippy to 62mph from a standing start too, taking just 8.3 seconds.
It can feel a little strained when you're chasing the redline however, letting out a hefty roar under heavy acceleration. Comparatively, however, the 1.5-litre is a smooth motorway cruiser and is certainly the pick of the two petrols for those who plan on totting up high mileage.
Ride and Handling
In short, the new Civic gives you the best of both worlds when it comes to ride quality.
Although a huge part of the Civic's new character on the road is down to its lowered and widened ride, improvements span further afield than that. For example, torsional rigidity has been increased by 52 per cent and there is a new, intelligent multi-link rear suspension. What does that mean for the Civic? Well, first off, the jittery ride of the old model has been extinguished, with the multi-link rear suspension allowing each rear wheel to move independently, which all-round makes for a more comfortable driving experience. In contrast however, the added torsional rigidity and lower and wider stance of the new Civic means it is more planted in the corners, with greater wiggle room for fast cornering. In short, the new Civic gives you the best of both worlds when it comes to ride quality. There's even an Adaptive Damper System to play around with, allowing you to make the ride softer or firmer. The variable rate of the steering goes hand-in-hand with the Civic's sporty character, making it easier to navigate tight corners by requiring you to steer less. The steering remains a little vague in terms of feedback though, although it is plenty accurate and well-weighted. Realistically, its lack of handling finesse will only bother enthusiasts.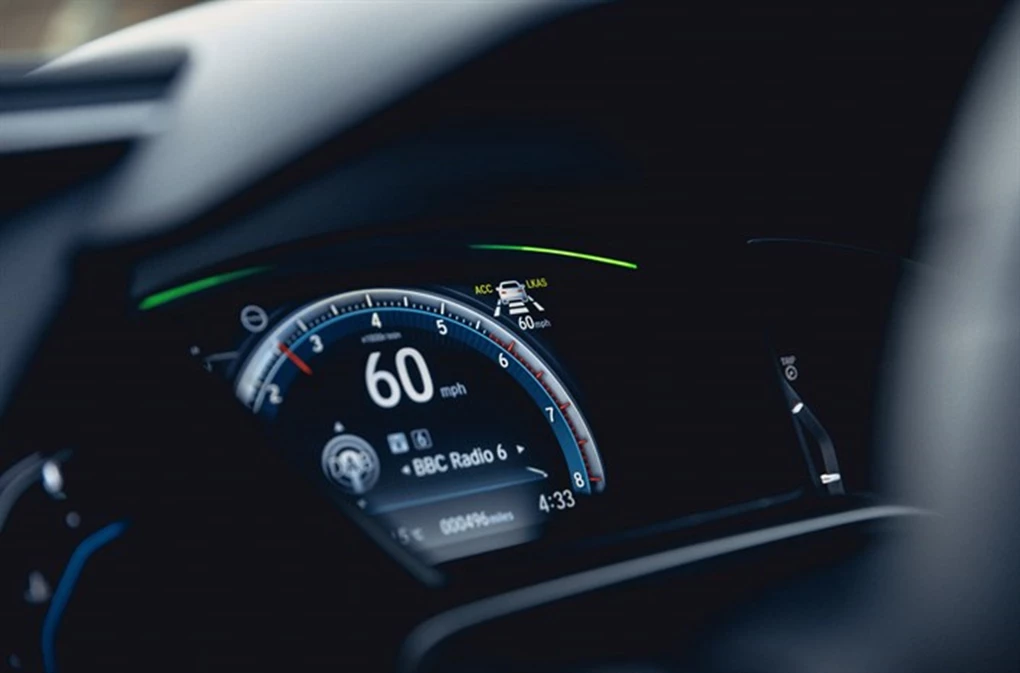 Interior and Equipment
The new Civic hatchback represents the largest programme development ever undertaken by Honda.
Getting comfortable in the driver's seat of the previous-gen Civic was always a little difficult, and that was for multiple reasons. First off, due to the fuel tank being located under the driver's seat there was limited height adjustment available. Secondly, the dual instrument cluster, which had a raised speedometer on top of the dashboard, limited visibility out of the windscreen somewhat. Thankfully, Honda has fixed both these niggles. The rogue speedometer is now integrated into a digital display behind the steering wheel, which houses everything from the speedometer to media and sat-nav readouts, and the fuel tank has been moved to underneath the rear seats. The rest of the cabin interior layout makes sense too – it's simple, easy to follow, offers a mixture of high-quality and hard-wearing materials, and comes with an upgraded Honda Connect system which now boasts both Android Auto and Apple CarPlay. Confusingly however, available trim levels in the new Civic will depend on which petrol engine you go for. The 1.5-litre comes available with either Sport, Sport Plus or Prestige. We tested the Sport Plus model which came equipped with heated front seats, wireless phone charging, Blind Spot detection and a Cross Traffic monitor. This equipment is on top of the generous standard kit of all Civics, which includes front and rear parking sensors and parking camera, seven-inch Honda Connect touchscreen with Garmin sat-nav, dual-zone climate control and 17-inch alloys. Although there is now greater adjustment in the driver's seat with the fuel tank being located under the rear passenger seats, the payoff is no magic seats - Honda's famous cinema-style folding rear seats that opened up space for loading tall objects. Leg room is still ample for passengers though, but the new, less-plump exterior shape means that headroom suffers a little. Boot space is still top notch though, with up to 420 litres of storage space when loading cargo up to the window.
Cost
Honda's bargaining tool is its kit though, with all models coming packed-full of useful, advanced gadgets.
The new Honda Civic is certainly one of the more expensive hatchbacks on sale, starting from £25,405 for our mid-range 1.5 VTEC Sport Plus model. For that price, you could have a well-specced VW Golf. Honda's bargaining tool is its kit though, with all models coming packed-full of useful, advanced gadgets. Fuel economy is impressive too, with the 1.5-litre claiming an average return of 48.7mpg – around 40mpg is definitely achievable. CO2 is quoted at 133g/km.
Our Verdict
The Civic has had some ups and downs over its ten generations, but the new Civic is better in almost every way to the outgoing model, with enhanced comfort, dynamism and gadgetry. Together with its new petrols, it should have no problem tempting Ford and Volkswagen customers to convert. The 1.0-litre turbo petrol does make the most sense though, especially in lieu of a diesel engine. But the 1.5 is a solid unit and will favour those who want decent fuel economy and a bit of vigour in their daily drive.