Hyundai's new Prius-tackling hybrid hatchback

Introduction
Hyundai has launched a new triple threat to the electrified car market in the form of the IONIQ Hybrid, IONIQ Electric and the IONIQ Plug-in Hybrid hatchback, the latter of which will be introduced sometime next year.
This triad of efficient models makes the IONIQ the first ever car to offer three different electrified powertrains on the same platform, an attempt by Hyundai to appeal across the board to all-kinds of budding eco-drivers. And Hyundai expects the hybrid derivative of the IONIQ to take most sales.
With the hybrid nametag comes inevitable competition from the Toyota Prius, the world's best-selling hybrid, although Hyundai will be hoping the IONIQ's savvy pricing and enhanced practicality may just steal potential Prius customers.
So, what's Hyundai's IONIQ Hybrid like then?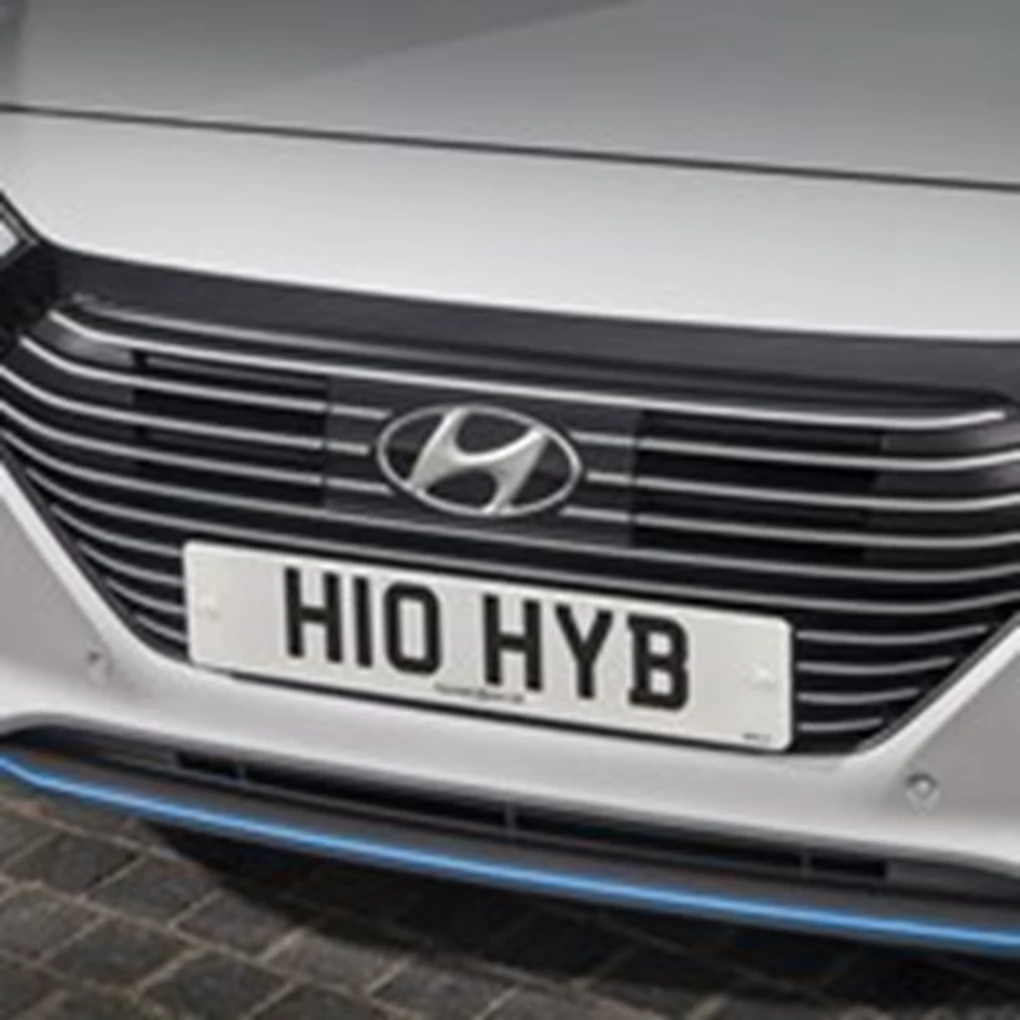 Performance
On the combustion front, the IONIQ utilises a four-cylinder 1.6-litre GDI direct injection petrol engine producing 104bhp. This engine combines with a 32kW (or 43bhp) electric motor - which is powered by a 1.56kWh lithium-ion-polymer battery – to produce a total output of 139bhp and up to 265Nm of torque.
Like most other hybrid powertrains, the IONIQ has a full EV mode that allows for pure electric driving. Unlike the Prius however, this hybrid system can technically allow for full electric driving at speeds of up to 70mph, depending on road, driving and weather conditions of course. You are unlikely to achieve full-electric driving at 70mph though, with EV mode only really kicking in when feathering the accelerator at lower speeds or coasting towards a red light or down a hill.
The switch from EV mode to petrol power is almost unnoticeable however, with the only real indictor of the switch being a quiet hum from the engine. The 1.6 GDI can sound a little strained when flooring it, but you will rarely encounter peddle to the metal scenarios if you are aiming for maximum efficiency. 
The 139bhp on offer feels more than enough power for a hybrid too and, when necessary, will allow for swift overtaking manoeuvres and a zero to 62mph sprint time of 10.8 seconds.
What really makes this powertrain set-up shine though is the six-speed dual clutch automatic transmission it is mated to. Allowing for seamless changes up and down the gears, the six-speed DCT is integral in making the IONIQ feel like a regular pure petrol-powered car.
It also come with a Sport Mode, which weights up the steering, holds onto gears slightly longer and turns the speedometer red, delivering a surprisingly fun drive.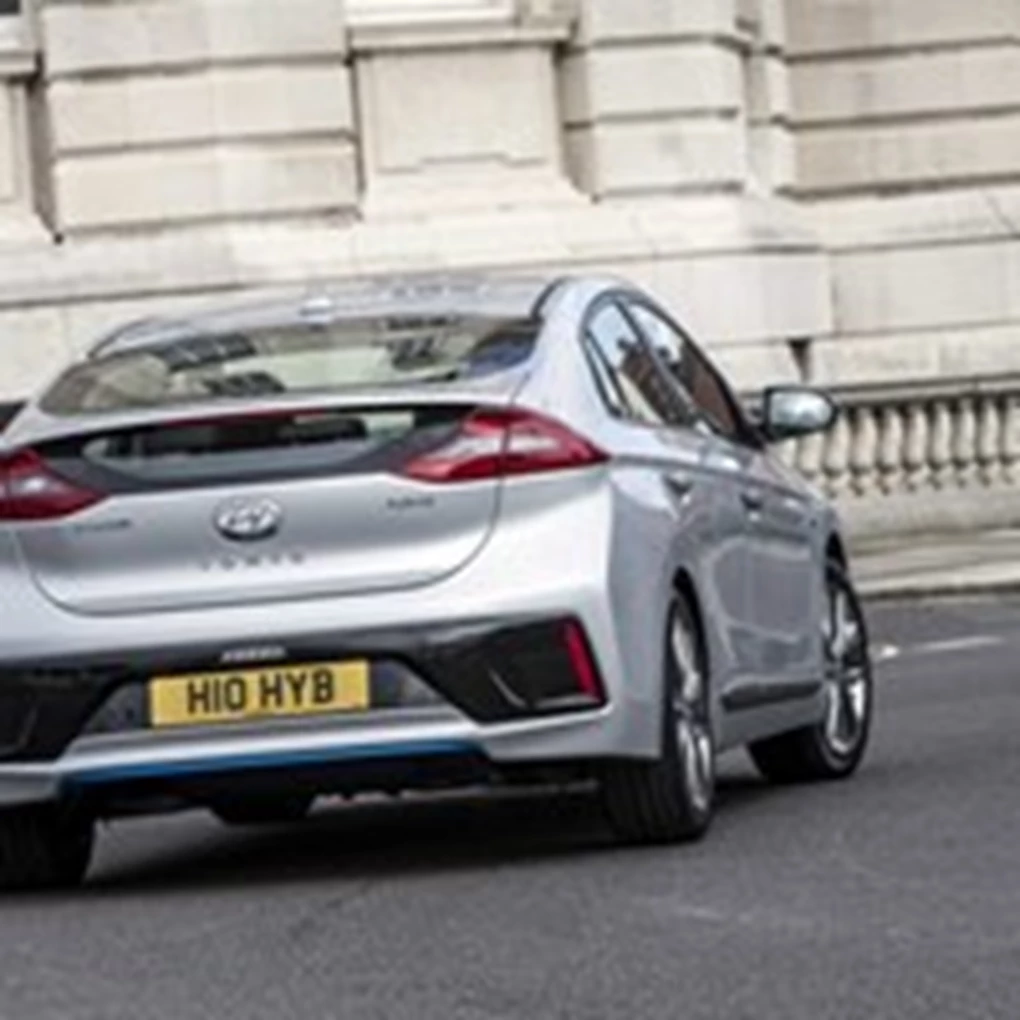 Ride and Handling
When it comes to hybrid or electric cars, most people will ask whether it feels like a 'regular car' to drive. The IONIQ certainly does, for all the right reasons. Cruise around urban roads, crammed city streets and stretches of motorway and the IONIQ is arguably the most hatchback-like hybrid on sale, not just in terms of its drive but also its looks.
Many hybrid and electric cars, including the Toyota Prius, Nissan LEAF and the BMW i3, feel quite bulky and alien, at least at first, to drive. The IONIQ feels much more conventional, like a Ford Focus or Vauxhall Astra.
Also, due to its more conservative hatchback shape, over-the-shoulder visibility is impressive, although the split tailgate design does hinder rear visibility, in a similar way to the Honda Civic's tailgate.
It's actually more entertaining than many mainstream non-hybrid hatchbacks surprisingly, mainly due to its slightly firmer ride set-up that ensures a planted entry and exit into bends and minimal body roll.
There's sharp steering to go along with this too – although feedback is lacking a bit. Still, if you really feel up to it, you can whack the gearstick into Sport Mode, eat up some twisty roads and be left feeling rather enthralled.
Sure, you can clearly feel the car's limits when cornering at speed, but you shouldn't really be driving a hybrid erratically anyway.
It's actually more entertaining than many mainstream non-hybrid hatchbacks surprisingly, mainly due to its slightly firmer ride set-up that ensures a planted entry and exit into bends and minimal body roll.
Did you know?

The six-speed dual-clutch automatic transmission in the IONIQ Hybrid boasts a best-in-class transfer efficiency of 95.7 per cent.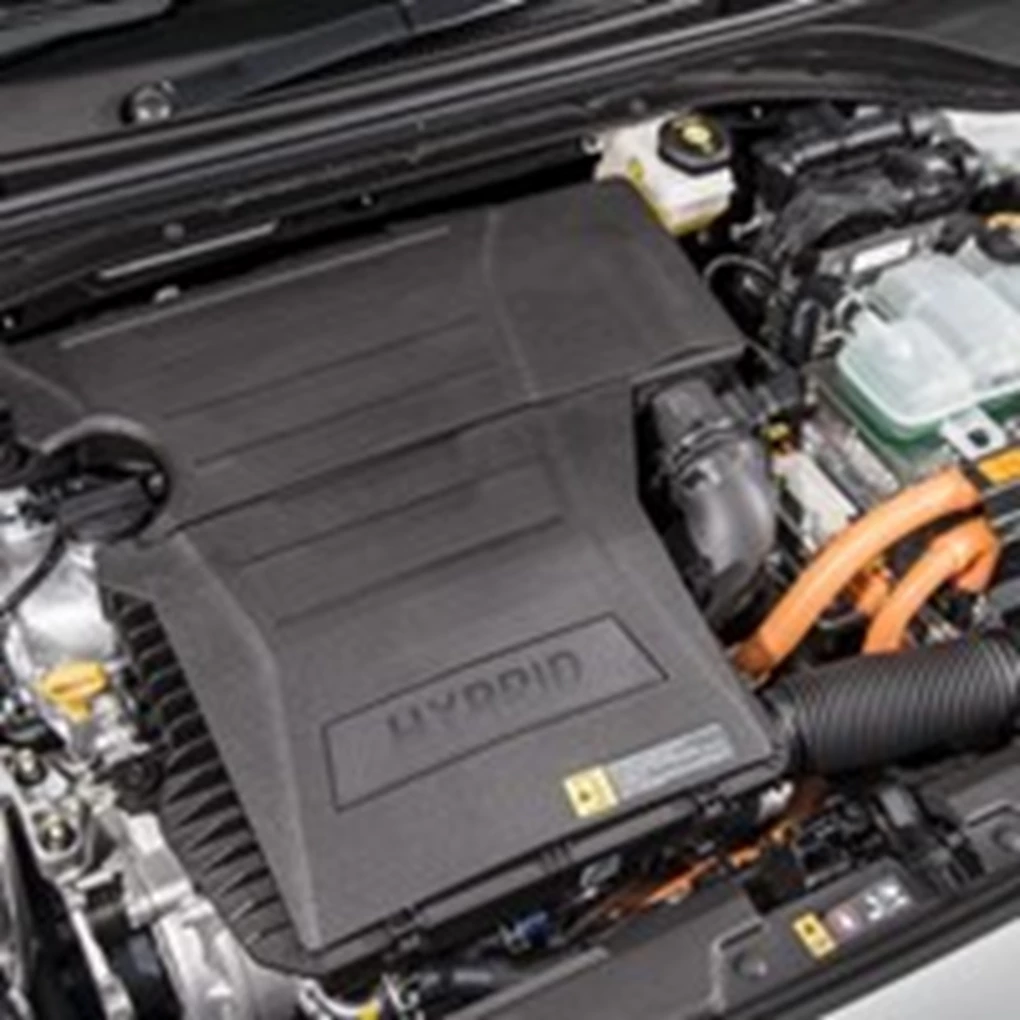 Interior And Equipment
In a similar way to Germanic cars, Hyundai's interiors aren't the most adventurous, but they are ergonomic and well-equipped – and the new IONIQ is no different.
Those familiar with recent Hyundai's will feel at home in the IONIQ with a simple layout of buttons centred around a touchscreen infotainment system and a strip of function buttons underneath it. There's a decent mixture of materials too, with a soft touch dashboard that blends into scratchy plastics the lower down you get. Great for those looking for a versatile family hatch, not so great if you are after luxury.
The aforementioned touchscreen comes as standard in all IONIQ models in a five-inch configuration. Our flagship Premium SE model on the other hand came with an upgraded eight-inch touchscreen with integrated sat-nav. Premium SE models also benefit from wireless smartphone charging, a seven-inch TFT information screen behind the steering wheel, heated and ventilated seats, front parking sensors, leather seat facings and electrically adjustable driver's seat with memory function.
The touchscreen system also offers Apple CarPlay and Android Auto functionality – a first for any Hyundai model in Europe. Rear passengers will be happy enough in the IONIQ, with practicality on a par for the hatchback segment. There's more than enough leg room and just about enough headroom for most, although the sloping roof design does make hitting a speed bump a little uncomfortable for six footers.
Thanks to the IONIQ's battery being covertly stashed underneath the rear seats, boot space manages to trump almost all hatchback rivals, with 443 litres with the seats up (around 100 litres more than the Prius) and 1,505 litres with the seats down.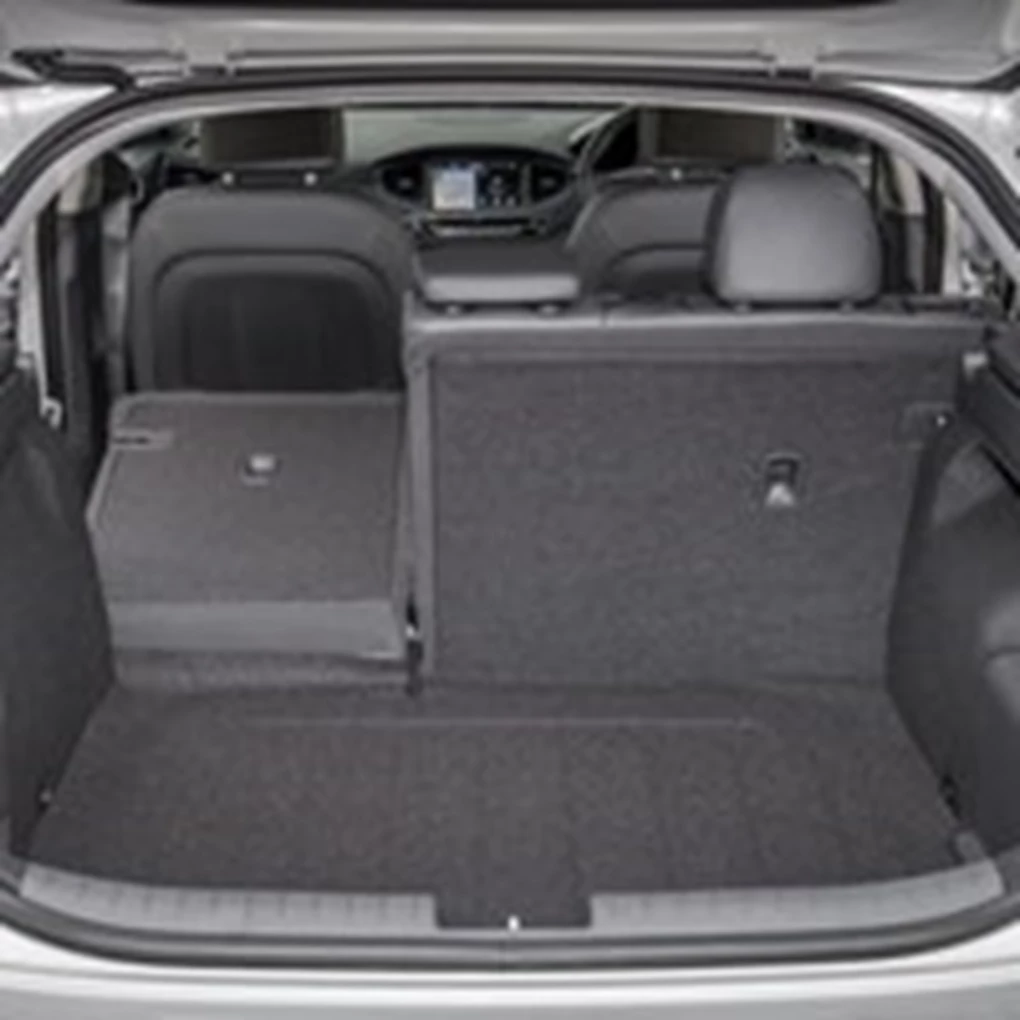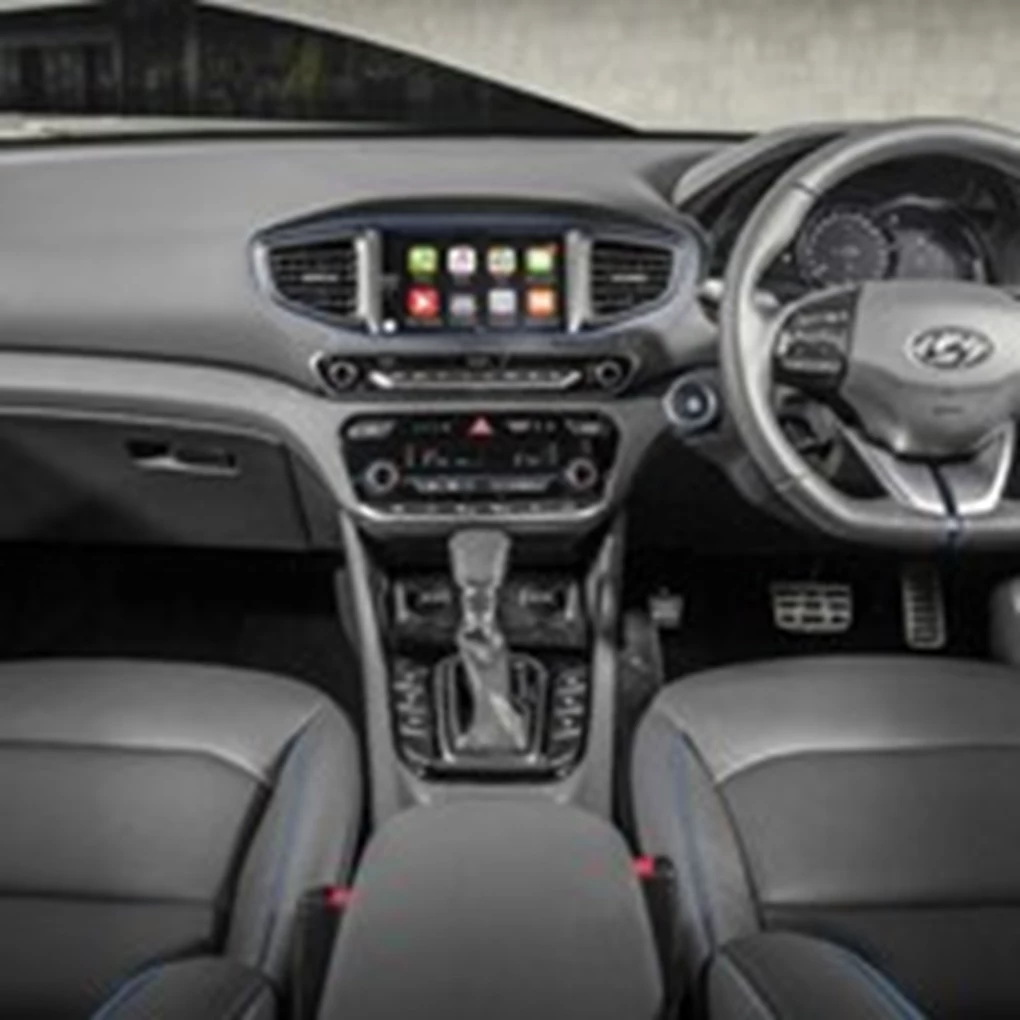 Cost
This is where the IONIQ stands out. The Hybrid is the cheapest model in the IONIQ range with a price tag starting from just £19,995 – that makes it £3,600 cheaper than a Prius and £1,300 cheaper than the Kia Niro. Of course, a higher trim like the Premium SE is pricier, starting from £23,595, but that is still highly competitive for a hybrid.
This lower price tag comes accompanied by Hyundai's five-year unlimited mileage warranty. The battery for the Hybrid also comes with an eight-year 125,000-mile warranty.
Efficiency wise, Hyundai claims the IONIQ can achieve a combined 83mpg. Testing it on a route that consisted of city, country and motorway roads, we managed to get 55-60mpg. 70mpg isn't totally out of the question, especially if you utilise its urban-friendly EV mode, but you'll be pushed trying to get 80mpg.
CO2 figures are stronger though, with the IONIQ emitting just 79g/km- meaning it is exempt from VED tax.
The Hyundai IONIQ is cheaper than the Toyota Prius. This lower price tag comes accompanied by Hyundai's five-year unlimited mileage warranty. The battery for the Hybrid also comes with an eight-year 125,000-mile warranty.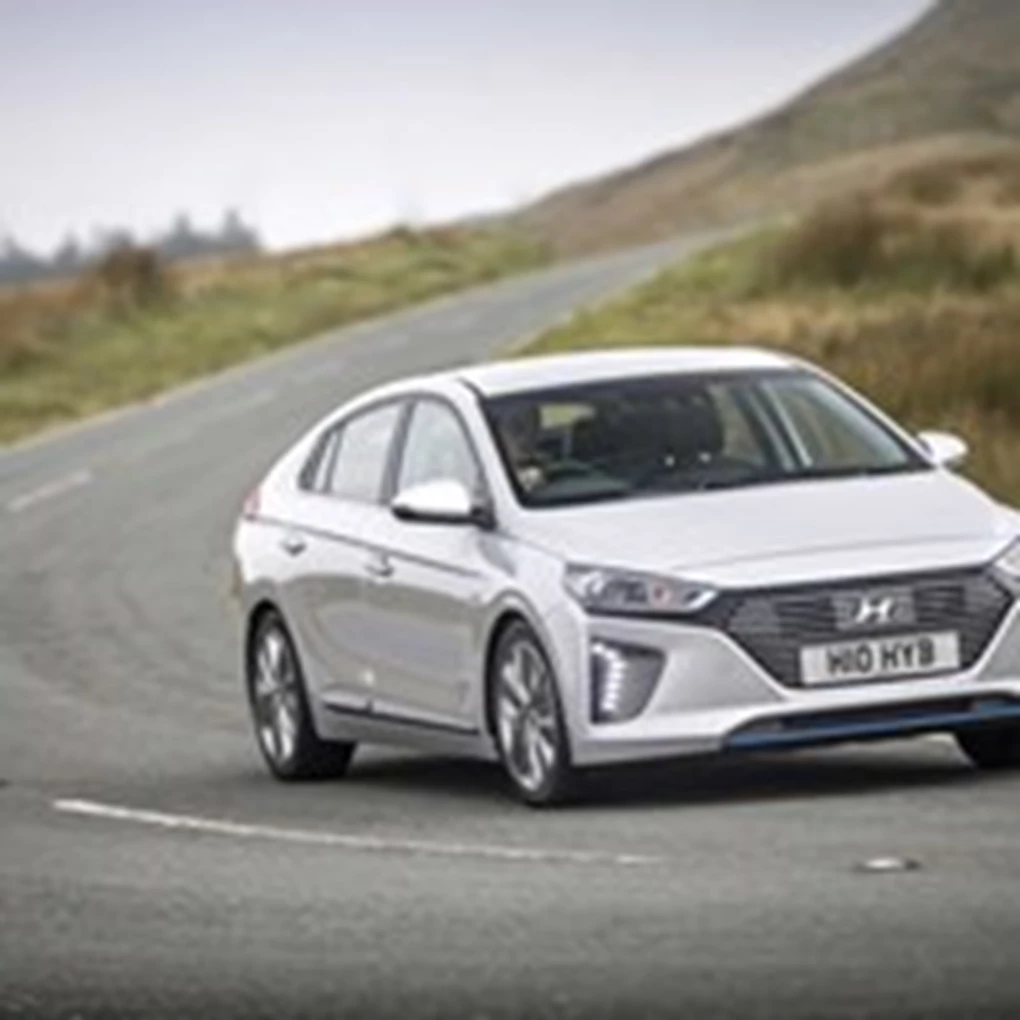 Our Verdict
Yes, hybrids have been around for a while now, so the IONIQ isn't going to win first prize for originality. But in terms of being a competitive hybrid that does what it's supposed to, it is spot on.
It's one of the most conventional-feeling hybrid hatchbacks to ever be released, though it still manages to tick the efficiency boxes. It's not quite as frugal as the Prius, but the lower price tag and added practicality – plus the fact that it is something a bit different - may just see it become the new familiar, poster boy hybrid on our roads.