Whatever type of new car you're after, there's hardly anything that's more satisfying than getting something that feels like value for money. In today's car market there are plenty of affordbale cars to consider for those prioritising things like practicality or efficiency.
But what if you're main focus is performance? What if you want a proper sports car that's fun but also cheap? It sounds like a dream combination, but it's a more realistic prospect than you might think.
It's true that many cars with 200bhp or more require extravagant budgets. However, there are some interesting new cars out there which you can buy for roughly £25,000 or less and get near 200bhp or possibly even more in return.
In recognition of these special cases, here are out top five choices of best cheap performacne cars.
What are the cheapest and best affordable sports cars?
This list of best affordable sports cars features a mixture of hot hatches, coupes and convertibles:
Audi S1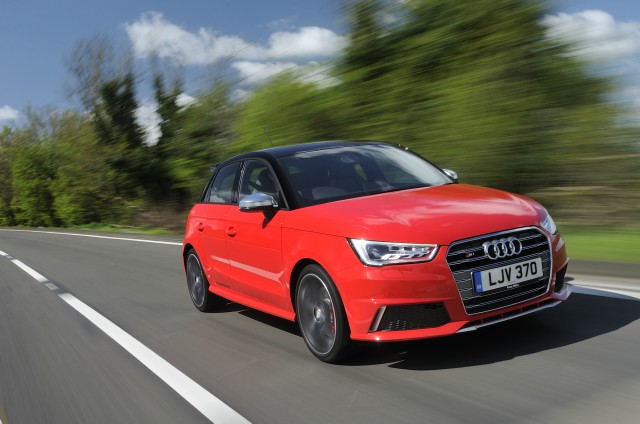 This Audi is riced from just over £26,000, which at first glance can seem like an awful lot to spend on a small hatchback. However, when a car feels as fast and fun to drive as the Audi S1 does, it'll feel like money well spent.
Under the bonnet of this little hot hatch is a 2.0-litre TFSI petrol engine, connected with a six-speed manual gearbox. With 228bhp under the bonnet, the S1 delivers stunning performance figures.
The S1's top speed of 155mph is 16mph higher than the Ford Fiesta ST. The Audi can also complete the 0-62mph sprint in just 5.8 seconds, which is over half a second quicker than the Volkswagen Golf GTI.
The driving experience is also in a different league compared to the standard Audi A1. That's thanks in large part to the switch from front-wheel-drive to Audi's excellent four-wheel-drive quattro powertrain. Drivers should be impressed with the level of grip offered by the S1 while going through twisty turns. While some enthusiasts may prefer a little extra weight in the steering, it's still direct and inspires confidence.
The Audi S1 is available in three and five-door guises and though it's one of the most expensive superminis around, it's still cheaper when compared to many other performance cars on the market today and more practical too. Crucially, it has all the necessary tools to always feel special when you drive it and put a smile on your face as a result. It really is one of the top cheap performance cars available.
Find prices for the Audi S1 hatchback
Ford Focus ST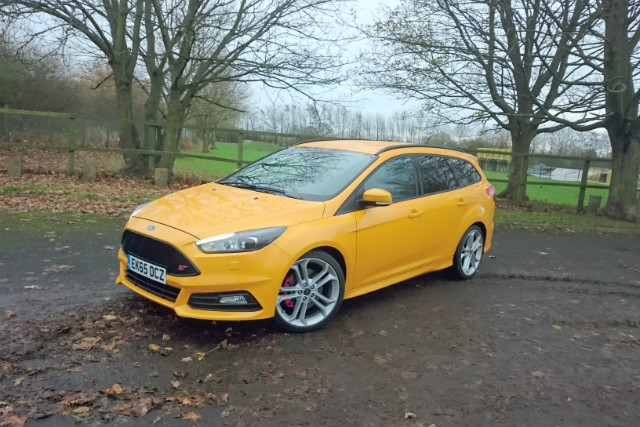 The Ford Focus ST is not the fastest, or most hardcore hot hatch on the market (it's not even the hottest Focus), but it still feels very brisk. The handling is also impressive and the steering is, while somewhat artificial, also well-weighted and responsive on turn-in.
It's competitively priced for a performance car of this nature too, starting at just over £25,000 for the hatchback version or just over £26,000 for the estate. You can have a new Focus ST with either an 182bhp 2.0-litre diesel engine or a 247bhp 2.0-litre EcoBoost petrol unit. With the petrol engine onboard, the Focus ST feels really quick but it's still pretty nippy with the diesel unit.
The diesel-run Focus ST is really efficient for a performance car, in the hot hatch model it can realistically average 60mpg during motorway driving.
This car has enough speed to please driving enthusiasts but is also packed with standard kit and is every bit as practical as a standard Focus hatchback. It's therefore comfortable at completing mundane duties, whether that's the school run or a trip to the supermarket.
The Focus ST is not just easily one of the cheaper entries in the hot hatch market, there's a lot to like about it too.
Read our full review of the Ford Focus ST
Mazda MX-5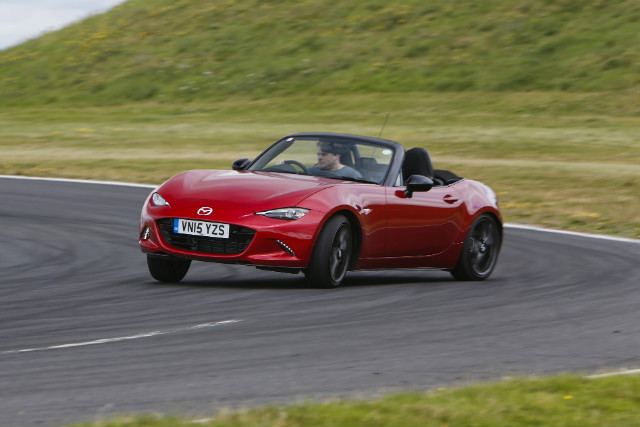 The little MX-5 has been one of the most beloved sports cars in Britain for many years because of the fun it can offer at a low price. It's no real surprise that it features on our list of best budget sports cars. Happily, the latest incarnation of the Mazda continues to offer these qualities, giving motorists an affordable way of owning a sports car. Nowadays you have the choice of either a manaul fabric soft-top or an electric metal-folding roof on your MX-5 (the latter is known as Retractable Fastback).
It is true that the MX-5 doesn't have that much in the way of power compared to most other sports cars, or even the other sporty models in this guide. You can get the latest MX-5 with one of two petrol engines, either a 1.5-litre unit with 136bhp or a 2.0-litre unit with 158bhp. That may not sound like a great deal at face value, but the lightweight MX-5 still feels agile, covering the 0-62mph sprint in 7.3 seconds with the 2.0-litre unit. The engines deliver sweet-sounding revs which make building up speed an exciting experience in itself.
Besides, the MX-5 is a sports car that's always been less about how fast it is and more about how it makes you feel. Because it's light, well-balanced, has responsive engines and rear-wheel drive, the latest MX-5 makes you feel really special when you're behind the wheel.
If the value of cars were measured by how easily they can make you smile, the MX-5 would be considered almost priceless.
Read our full review of the Mazda MX-5
Find prices for the Mazda MX-5 convertible
Toyota GT86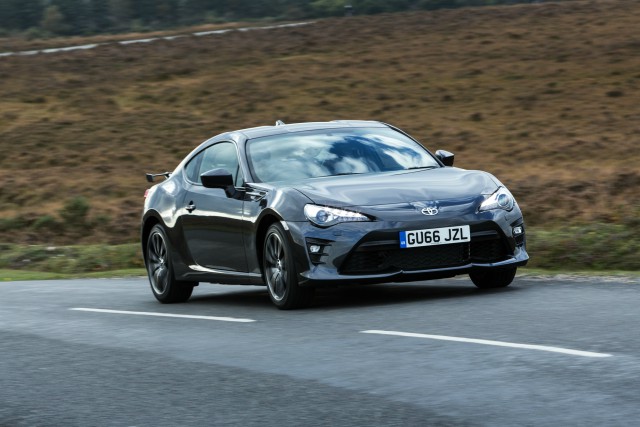 This two-door coupe from Toyota is one of the most affordable models that's aimed squarely for driving enthusiasts and track day fans.
Consequently, the GT86 largely sacrifices practicality but owners are unlikely to care because you can have plenty of fun behind the wheel.
Utilising a front-engined, rear-wheel drive powertrain, the GT86 has a 2.0-litre naturally aspirated petrol engine with 197bhp. This is linked to a slick six-speed manual gearbox and the 0-62mph sprint time is less than eight seconds. A six-speed automatic transmission can be installed for just under a grand.
The Toyota is very agile and the steering is very responsive to the driver's inputs. With prices starting from just under £27,000 for the standard trim, there are very few other sports cars which offer such a dynamic drive for this amount of money.
Read our full review of the Toyota GT86
Find prices for the Toyota GT86 coupe
Subaru BRZ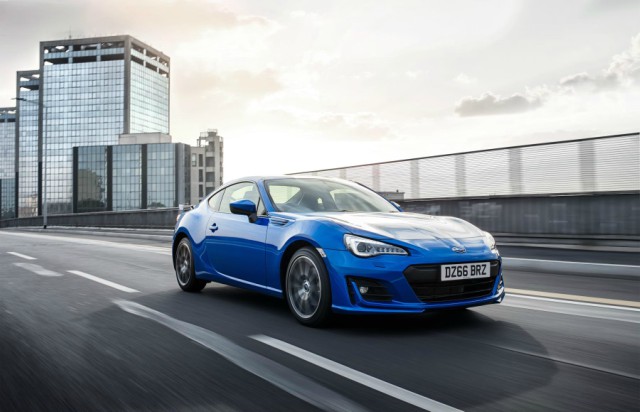 The Subaru BRZ shares almost everything in common with the Toyota GT86 - the two cars were created in a joint effort between the two brands.
So pretty much everything that has been said about the Toyota above can also be said about the Subaru. Crucially, this is an affordable sports car starting at about £26,500 and offering lots of fun behind the wheel.
If you're more attracted to the Subaru brand and its distinct blue paint job, or you think the subtle styling tweaks (like the standard spoiler) are better, then the BRZ should prove more appetising.