The Range Rover Velar is the latest creation from the luxury British firm, blending style and elegance with serious off-road capabilities the motoring world has come to expect from the manufacturer.
It's one of the hottest machines on forecourts now — so we wouldn't blame you for considering one as your next car. Tempted? Take a look at our guide to the Range Rover Velar to help find the right spec for you…
What engines are available in the Range Rover Velar?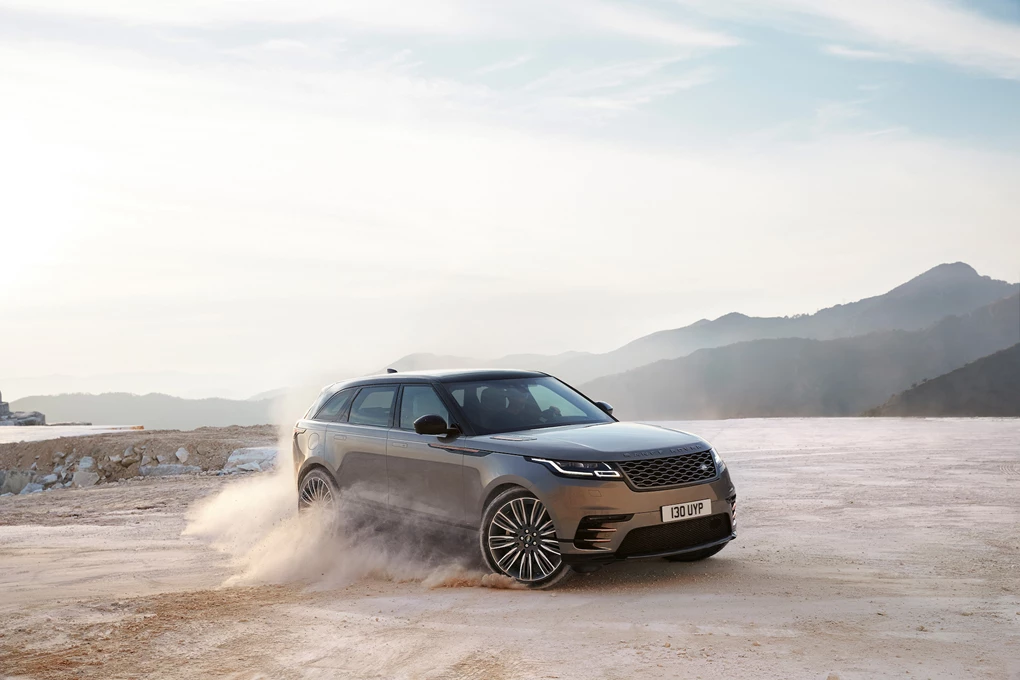 The Range Rover Velar boasts a versatile range of engines — both petrol and diesel.
Let's start with petrol, and kicking off the range is the 2.0-litre, four-cylinder 'P250'. Developing 247bhp and 365Nm of torque, it sends the SUV from 0-60mph in 6.5 seconds before reaching a 135mph top speed. Combined efficiency is a claimed 37mpg with CO2 emissions of 173g/km.
There's also the 'P380' unit. This 3.0-litre, supercharged V6 produces 375bhp and 450Nm of torque — allowing the Velar to cover the 60mph sprint in 6.5 seconds and hit a 155mph top speed. As for efficiency, Land Rover claims it's capable of 30mpg while emitting 214g/km of CO2 emissions.
As for diesels, there's three here — D180, D200 and D300. Both the D180 and D200 variants are based on the same 2.0-litre four-cylinder 'Ingenium' block, but have mechanical differences suited to each application.
Find local Velar prices and offers
'D180' models produce 178bhp and 430Nm of torque, resulting in an 8.7 second 0-60mph time with a 130mph top speed on the cards. It's claimed the unit can achieve 52mpg with emissions of 154g/km CO2.
'D240' takes things up a notch with 237bhp and 500Nm of torque, equating to 0-60mph in 7.1 seconds and a top speed of 135mph. Land Rover says it can do 49mpg on the combined cycle along with CO2 emissions of 154g/km.
Finally, 'D300' is a 3.0-litre twin-turbo V6 outputting 296bhp and 700Nm of torque, sending the Velar from 0-60mph in 6.3 seconds and on to a 149mph top speed. As for efficiency, 44mpg is claimed on the combined cycle while CO2 comes in at 167g/km.
All engines are paired up with an eight-speed automatic gearbox, sending power through all four wheels.
How about trims and equipment?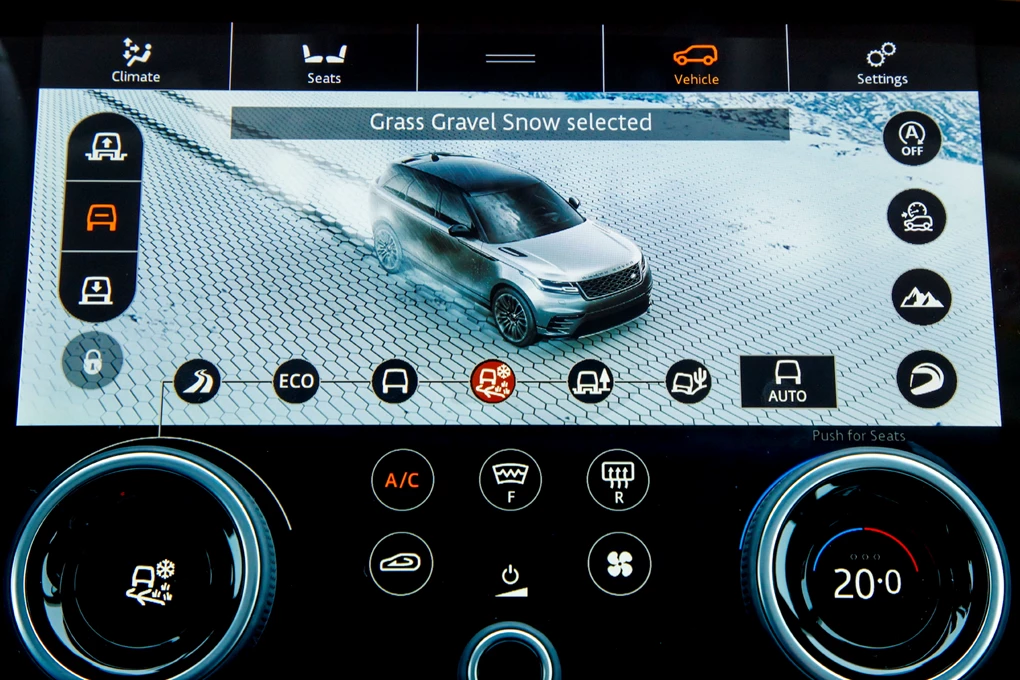 There's two trims in the Velar line-up — the base model, and R-Dynamic.
Standout equipment included on the base car includes automatic LED lights both front and back, 18-inch alloys, an eight-speaker sound system, dual-zone climate control, keyless entry and cruise control.
R-Dynamic builds on this with model-specific treadplates, a leather steering wheel, unique bumpers, satin shift paddles and gloss black mirror housings.
Optional equipment across the range includes Drive Pack — adding driver monitoring, blind spot monitoring and traffic sign recognition — which can be furthered with the Drive Pro Pack, bringing lane keep assist and adaptive cruise control into the mix.
There's also the Park Pack, adding a 360-degree parking camera along with reverse traffic detection. The Park Pro Pack takes this a step further with a parking assist.
Is it colourful?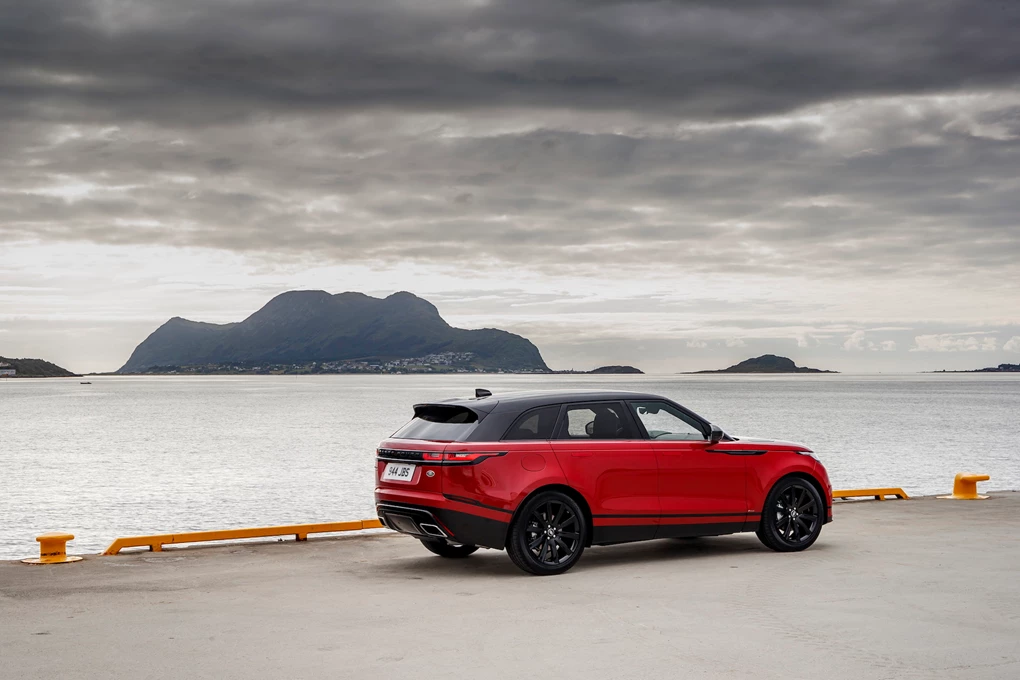 There's a good variety of colours available for the Range Rover Velar — both inside and out. Exterior hues include Fuji White, Indus Silver, Corris Grey, Firenze Red, Byron Blue, Aruba Yulong White, Kaikoura Stone, Carpathian Grey, Santorini Black and Silicon Silver.
As for the inside, there's an unprecedented selection — with nine colour combinations on offer. Ranging from dark tones to bright white ones, with some luxurious brown in there too.
How much will it cost me?
Pricing for the Range Rover Velar begins at £45,135 — which to us is a fair price to pay for the levels of luxury, elegance and badge appeal on offer here.
Stepping up to R-Dynamic will cost from £47,755 for the extra lust that trim brings along with it.