Personalised registration plates are popular among motorists who have the motivation and money to give their car a more personal touch.
Whereas a regular number plate indicates where and when a car was registered (and has three random letters in addition), a personalised plate could have nearly anything, like the owner's name for instance.
As evidence of their popularity, when a fresh batch of personalised number plates went on offer to British motorists during December 2015, an estimated £2 million was spent within the first 24 hours of the sale.
In this guide we explain what's required in getting your own personalised registration plate put on your car.
Different types of personalised plate
There are four kinds of plate style you can get when choosing a personal registration. One is the standard style used for regular licence plates – which starts with two letters, finishes with three letters and has two numbers and a space in between (e.g. AL15 SON).
There's also prefix style, which starts with a single letter and is followed with three numbers and then three letters (e.g. Y347 KLA). This style was used for regular number plates in Britain before September 2001. Then there's Suffix Style plates, which basically reverse the prefix style (e.g. KLA 347Y).
Then there are the dateless style licence plates, which carry the most coveted and expensive kind of personal registration numbers. These, unlike other plate styles, do not have numbers or letters positioned in a way that on a regular number plate would be used to identify the registration date or location of a vehicle (e.g. 1 LEE or LEE 1).
Buying a personalised registration
Motorists in Britain acquire personalised registrations by buying them directly from the Driver and Vehicle Licensing Agency (DVLA). While some personalised plate options can be reserved and then purchased anytime online (depending on what you search for exactly), others which are considered more coveted are made available for a limited time period during auctions.
About six auctions for personalised registrations are held by the DVLA every year. Reserve prices are estimated to start at £130. You can check online to see in advance what registrations will be on sale at the next auction. People can make bids for registrations by either attending the auction in person, or by participating via phone, online or in writing.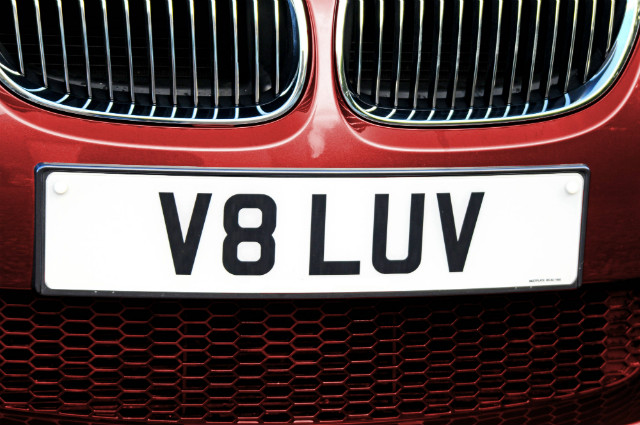 If you buy a personalised number, then what you are buying is the right to assign this number to a vehicle. This can mean a vehicle in your name or in the name of somebody else.
It is also possible and legal to buy a personalised number plate from a dealership or from a motorist in a private sale. If you decide to go down this route, make sure you get either the V750 certificate of entitlement or V778 certificate of retention as part of the purchase.
Restrictions with personalised plates
There are a few restrictions you need to be aware of if you're planning on getting a personalised registration for your car or someone else's.
For one thing, it's illegal to use a personalised registration that makes a vehicle look newer than it actually is.
So if, for example, your car originally came with a number plate that began with 'DB14' as the first four characters, it would be unacceptable switching to a personal plate that started with something like 'BA15' at the beginning. That's because the original plate revealed that the car was registered somewhere between March and August 2014, whereas the example personal plate mentioned could mislead people to think it was actually registered during the following year.
Another rule to be aware of is that personalised registrations cannot be used for Q registered vehicles. Q number plates are used for vehicles whose age or identity are in doubt. Once a vehicle gets a Q number plate, the identification is unlikely to ever change again.
One other rule to know about in regards personalised plates is that when you have one on your car, you should not alter any of the spacing on the plate or use fixing bolts to alter the appearance of the plate.
Transferring a personalised registration
If at some point you buy a replacement new car, it's possible you may have a personalised number plate on your older vehicle. You may also want to transfer this personalised plate over to the newly bought vehicle, or to a second vehicle you still own or to a vehicle registered to someone else.
You'll be able to transfer a personalised registration from one vehicle to another as long as both vehicles involved meet certain criteria. The two vehicles involved in the transfer must be of a type that requires an MOT certificate (or heavy goods vehicle test certificate). They must also both be registered with the DVLA, taxed and available for inspection.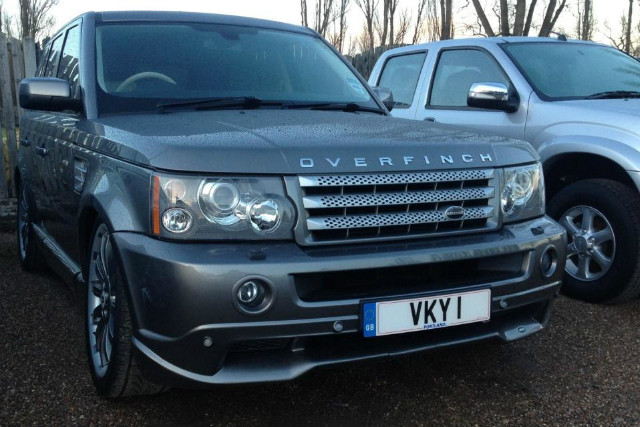 If the vehicle which currently holds the personalised plate is not taxed, you can still apply to have its plate transferred. That's provided the tax only expired within the last 12 months and there's was no break between when the car's tax expired and the Statutory Off Road Notification (SORN) started for it.
When you're ready to transfer the personalised plate, Form V317 (available online) will need to be filled in and sent to the DVLA. If the two vehicles involved in the plate transfer are owned by two different people, then both owners will need to complete this form. It costs £80 (paid to the DVLA by cheque or postal order) to retain a personalised registration for ten years.
Having a personalised registration plate made
It's possible to have a number plate produced showing the personalised registration that you already own. This can come in handy if say, the original personalised plate is destroyed.
You can only get a number plate made for you from a registered number plate supplier. The government has an online page for searching the nearest registered plate suppliers to your address.
You will also need to bring proof of name and address to the plate supplier, along with proof of entitlement to use the registration number you want put on the new plate. Documents such as the retention certificate or V5C log book should suffice as proof.