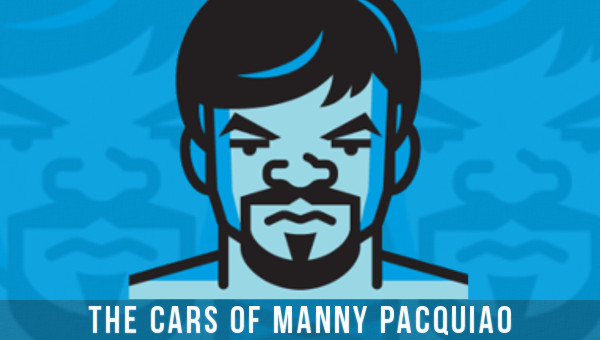 MANILA, Philippines – Manny Pacquiao was boxing's first octuple world champion, seizing titles from 112lbs to 154lbs over an 18-year period, he's a true sporting superstar. Having been named 'Fighter of the Decade' for the 2000s and amassing over $500 million in career earnings, it's no surprise that the Filipino has a car collection that would make anyone greener than a WBC belt with envy.
Manny's Mitsubishi
Pacquiao made his professional debut in 1995, largely applying his craft in his homeland, winning and subsequently losing a world title before the 90s closed for business. With those early fight purses, Pacquiao purchased a Mitsubishi Pajero (an unfortunate Spanish translation led to the 'Shogun' name change).
The Pajero is a relatively inexpensive, rugged SUV—it's a favourite choice for those living in remote areas of the Philippines who commute to metropolitan areas regularly. This SUV is still in the Southpaw's fleet to this day, probably as a reminder of more humble times.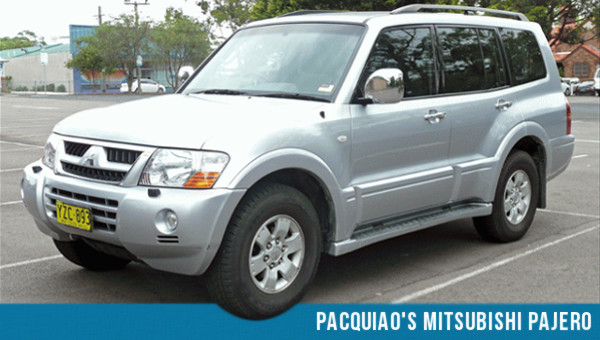 Pacquiao Car Collection Begins
Whispers of a ferocious super bantamweight within boxing circles soon amplified to roars of the MGM Arena, when Pacquiao burst onto the mainstream scene by demolishing Lehlo Ledwaba for the IBF title in 2001. In the following years Pacquiao waged war on Mexico, dethroning the legendary Marco Antonio Barrera and initiated one of boxing's all-time great rivalries against Juan Manuel Marquez.
With his enhanced earnings from those fights, 'Pac-Man' purchased a few subtle motors to match his humble personality like a Hyundai Santa Fe, Chevrolet Suburban and another Mitsubishi, the Grandis.
Pacquiao's Porsche
The Pacquiao assault on Mexico was briefly halted as Tijuana toughman Erik Morales tallied a win for the Mexicans in 2005. Although the Filipino flag was flying once again when Manny stopped Hector Velazquez then knocked out Morales in a rematch for good measure. It was after this victory that Pacquiao picked up the keys to a Porsche Cayenne Turbo with a 4.5-litre V8 engine pumping out 520hp and 530lbs-ft of torque.
It's rumoured a blunder by the broker caused issues for the champion having skipped more than $11,000 of import duty after trying to return home with the vehicle.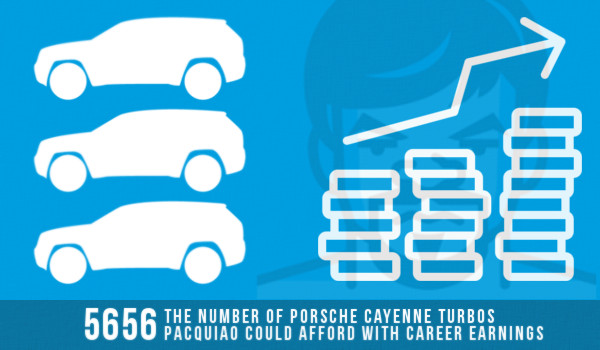 Pacquiao's Lincoln Navigator
The Lincoln Navigator is a vehicle Manny prefers for his daily commute and long distance treks – he's even favoured it over interstate flights at times. It's also said he prefers his Navigator during fight preparations over his flashier rides. Pacquiao owns the second-generation Lincoln model, which is powered by 5.4L of Triton V8 engine.
Manny's Mercedes SL550
Training out of the Wild Card Gym with Freddie Roach granted Manny an LA lifestyle, and that requires a lavish set of wheels. Paparazzi have frequently snapped the southpaw stepping out of an ebony Mercedes-Benz SL550 worth $100,000.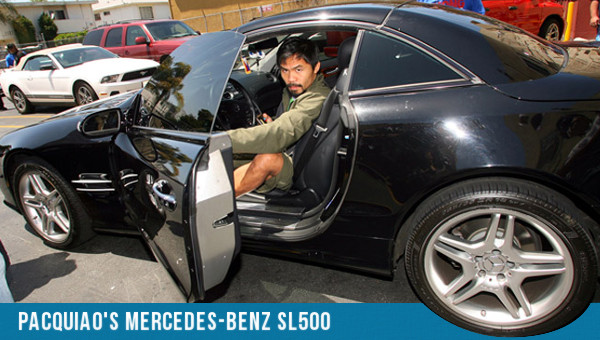 Ferrari 458 Italia : Grey Edition
Pacquaio's favourite car is his Ferrari 458 Italia : Grey Edition. The powerful pugilist purchased the Ferrari in 2011 shortly before his third meeting with Juan Manuel Marquez, in which he won a razor-thin majority decision. Known for his lighting paced movement, Pacquiao can now travel in excess of 200mph – without all the training!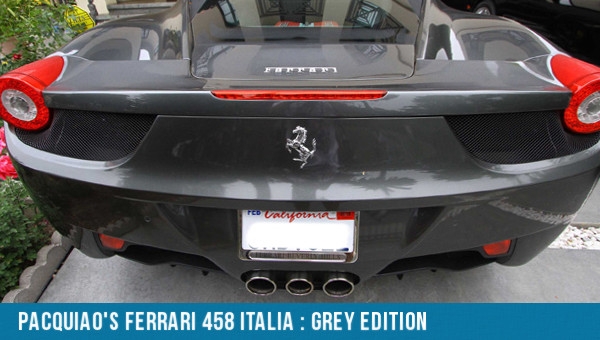 Politician Pacquiao's Armoured Cars
If dodging punches wasn't enough danger at work, as boxer turned politician, Pacquiao had other safety concerns which led him to purchasing two bulletproof vehicles from International Armouring.
He purchased a super-secure Cadillac Escalade and a Hummer H2. Vice President of International Armouring Philippines, Tom Fleenor, said: "We built a vehicle for him, for his protection, not necessarily for Manny himself, but for the protection of his family, for his wife and his children."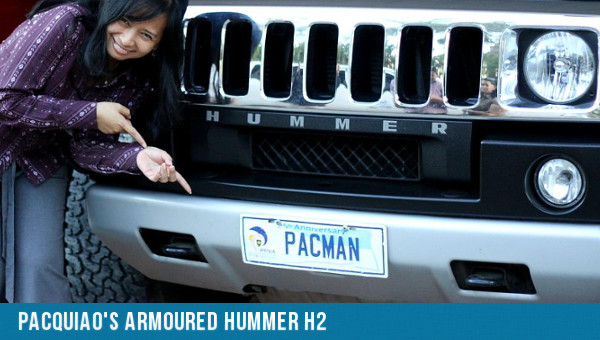 PacMan & Kia
After back-to-back losses in 2012, including being on his back against old foe Marquez, Pacquiao struggled to emulate his previous PPV figures as his focus on boxing waned. The champion subsequently collaborated with automotive company Kia who sponsored his new venture - basketball.
Pacquiao was named Player Coach of the Kia Sorento team in the Philippine Basketball Association league during the 2014 season. However, Pacquiao never actually owned a Kia, but he did drive a Sorento for a promotional video.
Mayweather Rivalry
In the build-up to the near decade delayed 'Fight of the Century' against Floyd Mayweather, analysis became so absurd that the fighters' lifestyles and car collections were even being compared. Unfortunately, automotive was just one of few areas in which Pacquiao came up short against his rival. The Cars of Floyd Mayweather are unrivalled.