In today's new car market there are a lot of sleek, cool and properly fast sports coupes available to buy. But which sports coupes offer the best package in terms of cost, speed, handling and comfort?
The number of sporty coupe offerings in the UK market has grown substantially within the past couple of years alone. Take, for instance, the eye-catching BMW M2 – a 365bhp two-door sport coupe monster.
But while some new sports coupes offer exceptional speed and handling, other options are fast but also are relatively well priced and offer a surprising amount of comfort.
If you're looking for the sort of coupes that emphasis performance above everything else (like supercars), then you're probably better off checking out our best sports cars guide. This guide is dedicated more to the quick coupes that offer more of an everyday use package.
Here's our guide to eight of the best sports coupe cars on the market right now.
Porsche Cayman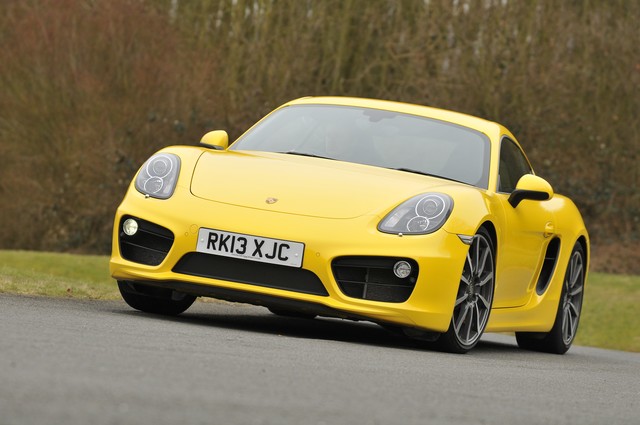 Essentially a hardtop version of the Porsche Boxster, the Cayman may not have the iconic status of the 911, but it is a superb sports coupe in its own right.
Priced from around £40,000 to £64,500, the Porsche Cayman offers impressive speed and a delightful engine note from either the standard 2.7-litre petrol unit or the 3.4-litre unit which offers several different outputs ranging from 321bhp to 380bhp. Even the lowest priced Cayman can cover the 0-62mph sprint in less than six seconds.
Even better than the acceleration is the way the Cayman handles. The grip levels and agility of this car is excellent, but the ride is also surprisingly comfortable for a sports car. Practicality and interior quality are also both impressive for a car of this type, making the Cayman an all-round appealing package.
Find prices for the Porsche Cayman coupe
BMW 435i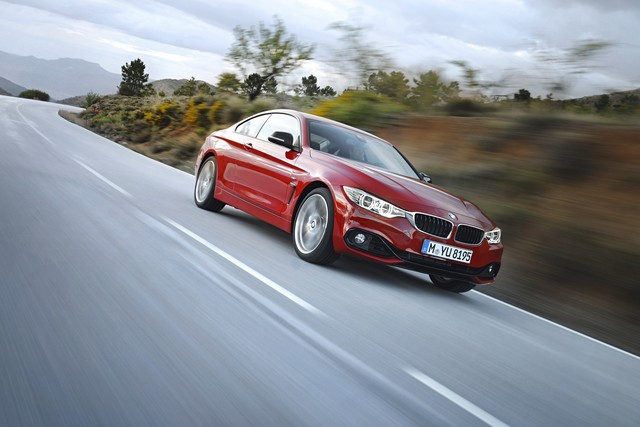 The BMW 435i is the most driver-focused model you can find in the 4 Series line-up, with the exception of the blisteringly fast M4.
While the M4 is very fast and a lot of fun, the 435i is no slouch either and it costs over £10,000 less to buy. 435i models cost around £42,000 compared to over £57,000 for the M4.
With the 435i, you get a BMW coupe armed with a 302bhp 3.0-litre petrol engine. It delivers enormous thrust throughout the rev range. The interior is also smart and crammed with luxuries such as sat-nav and leather upholstery. This is a coupe that's very sporty but also user-friendly enough for everyday motoring.
Find prices for the BMW 4 Series coupe
Mercedes C63 AMG Coupe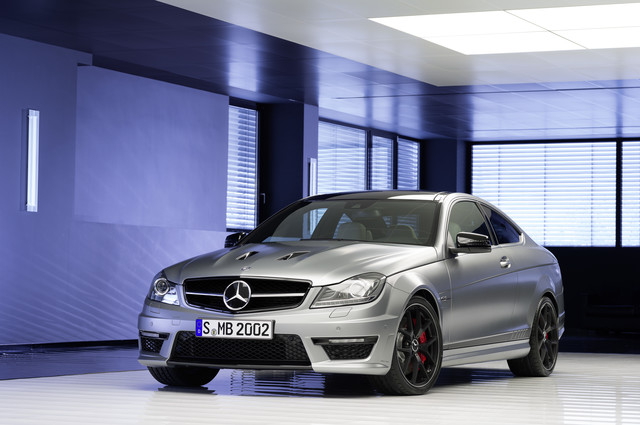 The flagship model in the C-Class coupe range, the Mercedes C63 AMG delivers a wild and entertaining drive with its naturally-aspirated 6.2-litre V8 petrol engine. It can accelerate from zero to 62mph in just 4.5 seconds, or 4.2 when you pick the extra-aggressive Black Series model.
It's not just all about the engine though, as the C63 also has driving features like a hydraulic damper system designed to eliminate as much body roll as possible.
Priced from around £61,000, the C63 AMG does come with high running costs, but few coupes are as loud, manic or fun to drive as this.
Find prices for the Mercedes C-Class AMG coupe
Audi RS 5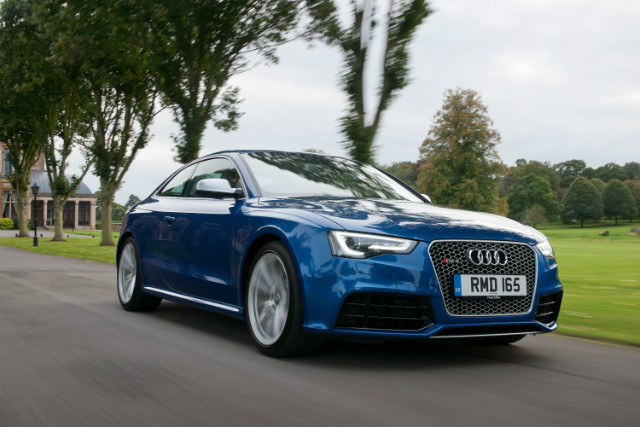 The Audi RS 5 coupe offers delightful performance from its 4.2-litre V8 petrol engine that boasts 444bhp. This car also utilises a Quattro four-wheel drive powertrain that offers plenty of grip in all weather conditions.
Thanks to its different driver settings, the RS 5 can switch between being a comfortable cruiser or a very racey motor depending on preference.
Some of the other premium coupes around do offer a bit more fun behind the wheel, but the RS 5 is still a very capable machine with a practical interior to boot as well.
Find prices for the Audi RS 5 coupe
Ford Mustang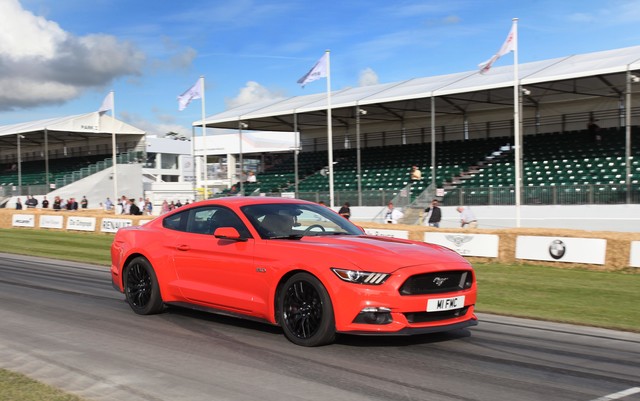 If the chance to own an American icon sounds appealing, then the Ford Mustang (available in 'fastback' coupe guise) is already well worth a look.
Thanks to Ford's current global strategy (known as the One Ford plan), the Mustang is now officially sold in countries outside of its homeland, including Britain, and in right-hand drive too.
Starting from only about £30,000, the Mustang offers cool muscle car styling and a couple of punchy petrol engines. There's a 2.3-litre EcoBoost, which may not sound that spectacular but returns reasonable running costs, produces 309bhp and allows the Ford to cover the 0-62mph sprint in just 5.8 seconds.
The alternative engine is the spectacular 5.0-litre V8 boasting 413bhp which results in a 0-62mph sprint time of just 4.8 seconds. In terms of the drive, the Mustang feels more like a fast GT car than an out and out sports car, so it fairs best on long, sweeping stretches of tarmac.
It's not class-leading for handling, and running costs are high (especially with the V8) but the Mustang looks great and boasts a healthy slice of character.
Read our full review of the Ford Mustang coupe
Find prices for the Ford Mustang coupe
Mercedes S-Class Coupe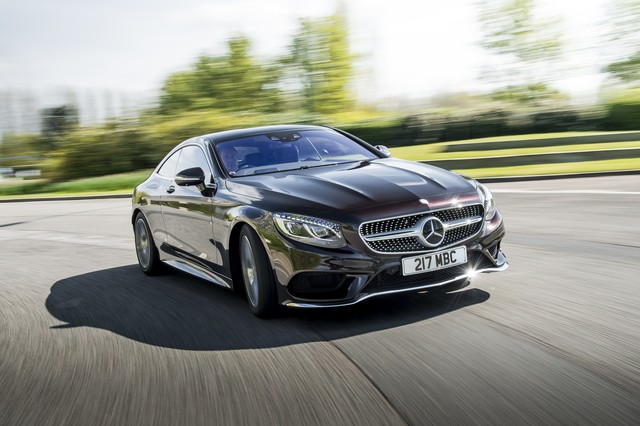 Definitely one of the poshest coupes money can buy nowadays, the two-door S-Class coupe is just as comfortable and class as its saloon counterpart.
There are a few petrol engines available for the S-Class and all offer plenty of performance, including a 0-62mph sprint below five seconds. The standard S500 uses a 449bhp 4.7-litre bi-turbo V8 while the S63 and S65 AMG models use a 5.5-litre V8 and 6.0-litre V12 respectively.
The AMG models use a sporty seven-speed automatic gearbox, but the nine-speed auto 'box in the S500 model feels even smoother. Pricing starts at just over £96,000 so you will need a very substantial budget. But the S-Class is famous for its luxury and innovative gadgets and here pretty much any luxury feature you can think for modern-day cars is accessible in this coupe.
Find prices for the Mercedes-Benz S-Class coupe
Volkswagen Scirocco R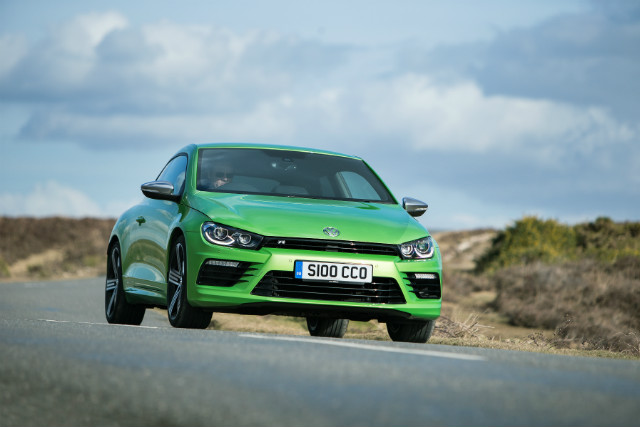 Compared to some of the other coupes in this guide, the Scirocco appears a lot more civilised in comparison. Having said that, the optional and flamboyant Viper Green paintjob available for the R model goes some to emphasising how this particular Scirocco is a lot sportier and colourful than the others.
Offering 276bhp from its 2.0-litre turbocharged petrol engine, the Scirocco R goes from zero to 62mph in 5.7 seconds with the standard manual gearbox or just 5.5 with the optional DSG automatic.
The Scirocco R chassis is actually based on that used for the previous-generation Volkswagen Golf, but it's still impressive to drive. The steering is sharp and there's loads of grip on offer. Plus, you can take advantage of the VW Dynamic Chassis Control as standard, which lets you alter suspension, throttle response and steering to suit the circumstances.
Priced from about £32,500, the Scirocco R is a niche but interesting and relatively well priced choice for car buyers after a truly fast coupe.
Find prices for the Volkswagen Scirocco coupe
Subaru BRZ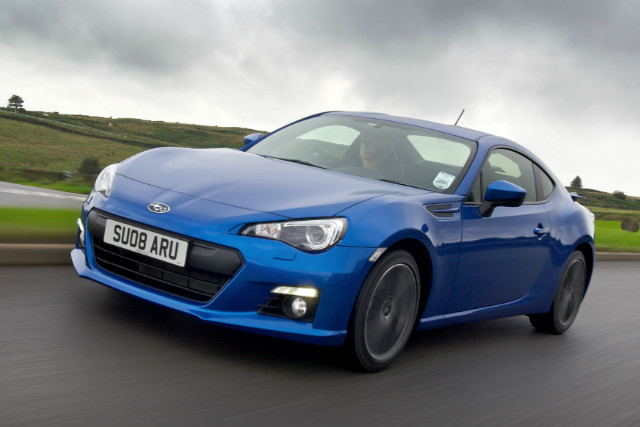 The Subaru BRZ (along with the near-identical Toyota GT86) is nowhere near as powerful or fast as the other coupes in this guide. But if you're interested in a quick coupe and you're on a tight budget then it's an attractive option. Pricing starts at about £24,000.
It produces 197bhp from its 2.0-litre Boxer petrol engine, leading to a respectable zero to 62mph sprint time of 7.6 seconds. Helping you get up to speed is the car's six-speed manual gearbox which glides through gears seamlessly and feels satisfying to use.
A bigger highlight than this car's performance, however, is the superb handling. The steering is sharp and well-weighted, while the suspension keep body roll well in check, without creating much firmness to the ride either.
The cabin is compact and pretty straightforward, but still accommodates some luxuries like cruise control and dual-zone climate control. Sat-nav and Bluetooth can be added optionally.
The BRZ may not quite replicate the blistering pace of alternative, turbocharged coupes, but it does feel like a proper driver's car.