Who'd have known that the British head of state was such a massive car fan? Although she prefers to uphold an air of royal serenity in public, behind closed doors lurks a blue-blooded petrolhead of the highest calibre.
Despite not being required to have a licence by virtue of her royal status, the Queen learned to drive during the Second World War when she operated a first-aid truck for the Women's Auxillary Territorial Service.
She also happens to love her cars and the royal family's country estate in Sandringham is home to an absolutely gorgeous collection of ultra-rare vehicles.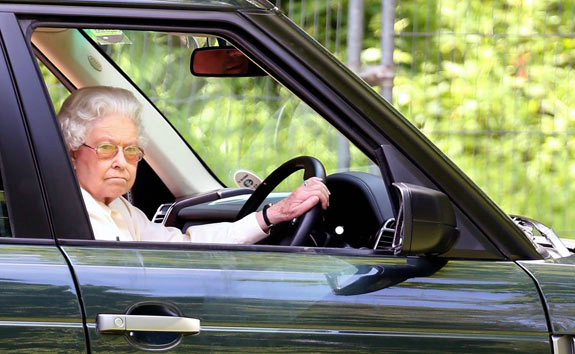 Most precious of all is a Daimler Phaeton from 1900, the very first royal car. There's also numerous vintage Rolls-Royces, Jaguars and Bentleys, with the royal collection estimated to be worth upwards of £10 million.
However, as with so much of what the Queen owns, some of it has simply been gifted, while for other pieces it's never been felt necessary to establish official ownership of the vehicles.
The Queen nonetheless has a pretty impressive list of vehicles, so here's our list of some of the best and most interesting cars in her collection.
Custom State Bentleys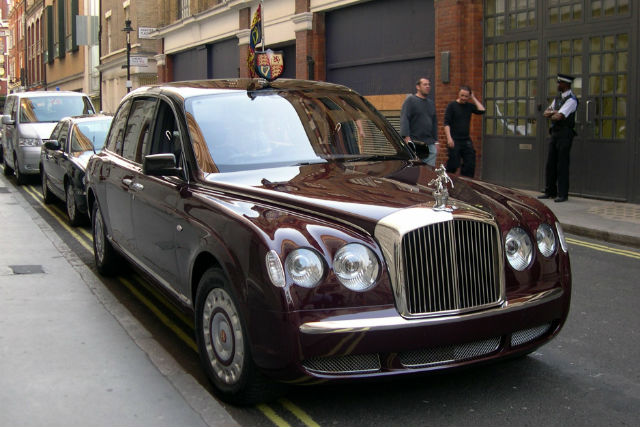 For the majority of her public engagements, and for some ceremonial occasions, the Queen is chauffeured in official State cars which have been built to unique and exclusive specifications.
The Queen's State fleet consists of three Rolls-Royces, three Daimlers and two Bentleys, all of which are kept in the Royal Mews at Buckingham Palace, while other vehicles in the Royal fleet include a number of Volkswagens as support cars.
Of all the State cars, the twin Bentleys are easily the most interesting. Unlike other bespoke Bentleys, which are based off production vehicles, the Queen's cars are built specifically for her to her own discerning specifications.
Measuring in at 6.22 metres long, each car is nearly a metre longer than a standard Bentley Mulsanne, itself one of the longest production cars in the world. Monocoque construction increases strength and also allows for greater use of interior space, while the rear doors are hinged at the back to allow the Queen to stand up straight before stepping out.
Although power comes courtesy of a meaty 6.75-litre twin-turbo V8, the twin Bentleys come with a four-speed automatic gearbox manufactured by General Motors, and rarely break speeds of nine miles per hour on processional occasions.
Rear seats come with Hield Lambswool Sateen cloth, while the rest of the interior is made of a light grey Connolly leather hide. Finally, both Bentleys are also fitted with a unique removable roof covering, which exposes a clear inner lining to give an all-round view of royal passengers to onlookers.
2002 Land Rover Defender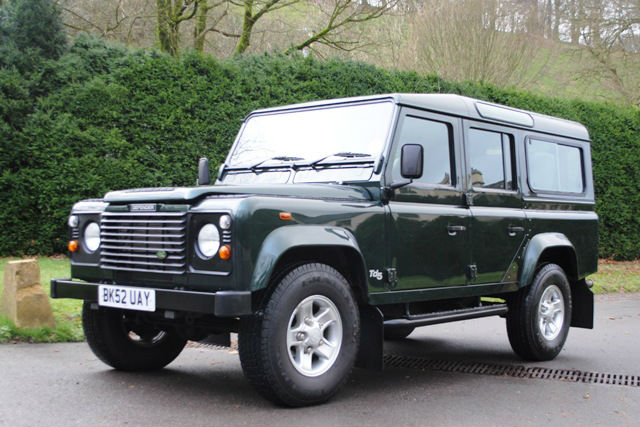 Although she's been seen behind the wheel of many cars in the course of her lifetime, the Queen's favourite has always been the Land Rover Defender. Having owned more of these than any other, the unofficial count hovers at around 30 royal Land Rovers.
Back in 2002, Land Rover built her a custom Defender and sold it to Sandringham, making it doubly special as the estate typically only leases its vehicles and hands them back after a few years.
Like the rest of her cars, the Defender was pimped out to Her Royal Majesty's specification, with a few extras atypical to the range like heated seats, electric windows and a slightly raised suspension to make it easier for her to drive across her estate.
According to specialist auctioneers Brooklands, who auctioned off the car for £30,240 a few years back, the Defender was used for hunting parties, and shotgun cartridges were found left in the glovebox. Clearly, the Queen isn't the sort of lady you want to cut off in traffic.
Unlike many of her other cars, the 2002 Defender eschewed the lambswool upholstery in favour of custom green leather, while power came courtesy of a great big fiery 4.2-litre V8 engine.
2001 Jaguar Daimler V8 Super LWB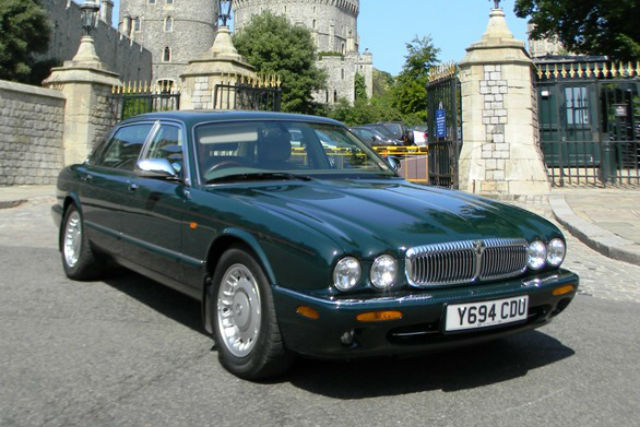 Delivered to Buckingham Palace in 2001, this Jaguar Daimler V8 Super LWB would go on to serve as the personal transportation of the Queen for the next three years.
Unlike the State cars, in which the Queen is usually chauffeured, this car was personally driven by her, and used for journeys around her estate at Windsor Castle and to visit friends and dignitaries.
On the surface, it might look like a regular Jaguar Daimler V8, but the car features a range of unique modifications at the Queen's request, which includes an armrest with a sliding holder designed to hold her specific type of handbag.
The reigning monarch also mentioned to Daimler that she liked fresh air when driving but she didn't like it directly on her face, so engineers fitted unique switches to allow her to funnel air to the sides.
It also comes equipped with enough gadgetry to make James Bond blush, with the cigarette lighters featuring a secret button that activates hidden neon lights to allow secret service to identify her and also to offer extra visibility in the event of a smoke attack.
The boot also features a radio which can be used to directly contact the Home Office and Downing Street, while the interior comes upholstered in the same lambswool cloth as the custom Bentleys.
Bentley Bentayga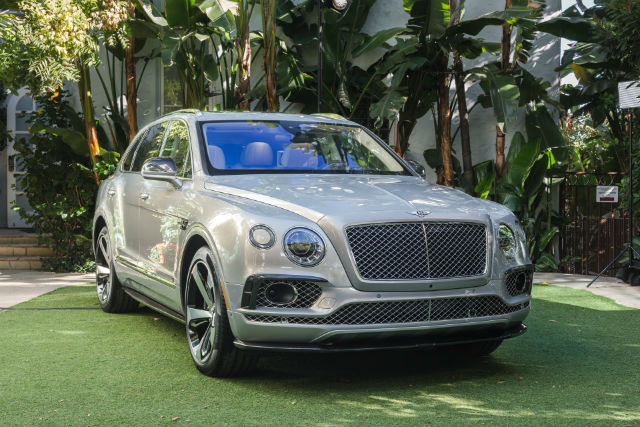 As well as being the proud owner of several custom Bentleys and a huge range of vintage models, Her Majesty will also become the very first customer for the new Bentley Bentayga.
Capable of 187mph, the 600bhp W12-powered Bentayga is the fastest and most powerful SUV in the world, and is also being billed the most expensive, with a list price that starts at £160,200 for the basic entry-level model.
If the base car seems a bit too reasonable, customers can stretch the price past half a million and beyond if they want to, with the optional Breitling Tourbillon clock on the dashboard costing a mind-blowing £110,000 alone.
According to Bentley, the Queen will be able to spec her own car and won't be forced to stick with the 'standard' options, so it's likely that it will come outfitted with at least some of the Queen's favoured upholsteries.
2015 Range Rover LWB Landaulet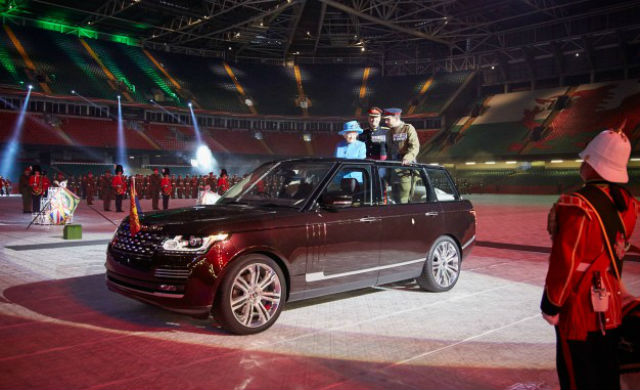 Like the State cars, the Queen's new custom 2015 Range Rover features the same backwards-opening doors and an open-air top which she can wave from.
Based on the long wheelbase Rangie, the LWB Landaulet is the fourth vehicle that Land Rover has provided for State processions, which started with a Land Rover Series 1 back in 1953. Although the original 1970 Range Rover was luxurious only by British Army standards, this latest version comes equipped with a full range of mod-cons fit for a, er, Queen.
As well as the custom modifications, it also features the royal flag mounted on the bonnet and an elegant shade of maroon paintwork, in addition to Range Rover's new diesel hybrid powertrain.
Combining a 3.0-litre turbodiesel V6 with an electric motor, the LWB Landaulet can produce a maximum 335bhp with a healthy 700Nm of torque.
Aston Martin Volante DB6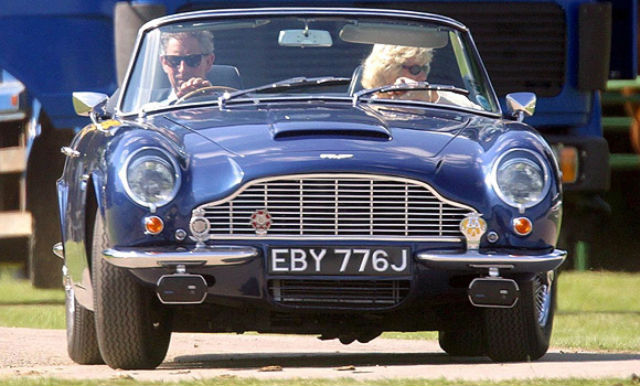 While it's not technically a car that the Queen owns or drives, the Aston Martin Volante DB6 was bought by her as a present for Prince Charles' 21st birthday.
Having been driven by the Prince of Wales for a number of decades, Charles converted the car in 2008 to run on special bioethanol fuel made from wine. The vintage wine-powered vintage car is similar to the rest of Charles' cars, which include Jaguars, Audis and Range Rovers all converted to run on biodiesel.
According to royal aides, the famously eco-conscious prince request the conversion as part of his ongoing effort to reduce emissions from the royal household by 25 per cent within ten years.
The car is kept at Highgrove and clocks up only around 300 miles a year. Averaging ten miles to the gallon, the wine-powered DB6 uses the equivalent of four and a half bottles of wine for each and every mile.
Strict EU limits on wine production state that any excess produce is not allowed to be sold on the market, and one way to distribute the leftover alcohol is by selling it for use as environmental fuel.